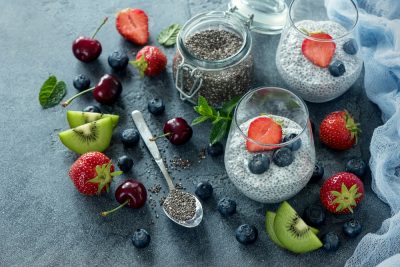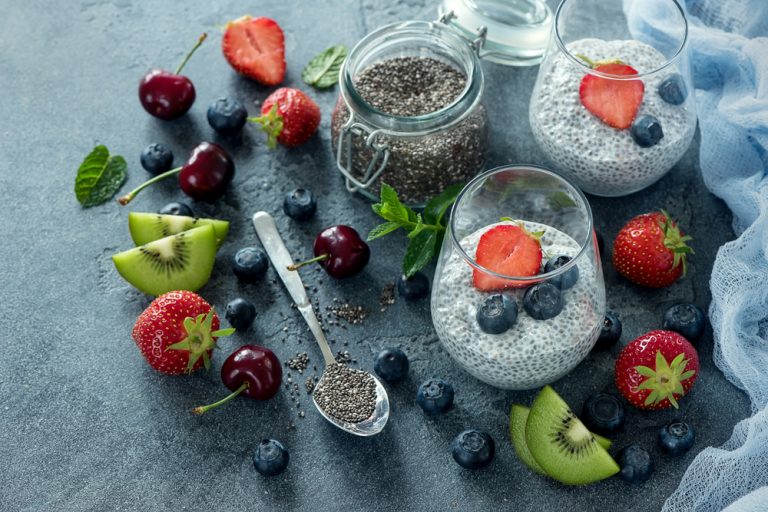 Chia seeds are a nutritional powerhouse chock-full of fiber, omega-3 fats, vitamins, fiber and minerals.  They've been termed a "superfood" by nutritionists who value them for their versatility, easy digestibility and their ability to aid in health and wellness routines.
The seeds originated in Mexico but today they can be found in markets and health food stores around the world. Mexicans have valued them for their medicinal properties and nutritional value for centuries and in some areas of Mexico they were even used as currency.
What are Chia Seeds?
Nutrient-dense chia seeds date back to the Aztec civilization and have been a staple of Mexican diets throughout the centuries. The seeds, which are prepared by soaking them in water till they expand and become gel-like, pack a punch of energy-boosting power that fills the stomach without adding any calories. In the Mayan language "chia" means "strength." Ancient runners and warriors would ingest chia seeds when running long distances or during battle to fuel their bodies.
According to recent research the benefits of chia seeds are astounding. Ingesting chia seeds promotes healthy skin, reduces signs of aging, builds muscles and bones, aids in weight loss, supports the heart and digestive system and more. Some researchers even think that adding chia seeds to a diet can help in reversing diabetes.
Nutritional Information
Adding chia seeds to the diet is a fast, easy and not-expensive way to add nutrition to your meals and keep your weight in check. 28 grams (one ounce) of chia seeds contain about:
137 calories
4.4 grams protein
12.3 grams carbohydrates
10.6 grams fiber
8.6 grams fat
Manganese
Calcium
Zinc
Potassium
Essential fatty acids alpha-linolenic and linoleic acid
Vitamins A, B, E and D
Iron
Magnesium
Niacin and thiamine
Antioxidants
How do you Eat Chia Seeds
Chia seeds have a mild, nutty taste. You can dissolve them and drink them in a cup of water or tea or add them to different types of dishes as a garnish. Nutritionists suggest soaking them as the best way to access the seeds' vitamins and mineral to get the most out of the seeds. Add them to a smoothie or use them in place of eggs since after soaking, the gel-like texture replaces eggs as a riser in many dishes. .
To soak chia seeds, just soak approximately in approximately a 1:10 ratio of chia seeds to water. You can soak a large amount at one time and then store the unused portion in the refrigerator. Leave it for about 30 minute to gel and then start adding them to your food.
One use of chia seeds, especially in the summertime, is to prevent dehydration. Chia seeds hold up to 12 times their weight in water so it's a great way to stay hydrated. REMEMBER that if you don't soak them first, they'll absorb your body liquids once you've swallowed them to BE SURE to continue to drink plenty of liquids after ingesting the seeds.
There's no need to grind the seeds, though some people do prefer to prepare them by grinding them before adding them to recipes like breads, pastas, muffins or pancakes.
The seeds pack a large punch of Omega 3 fats but to get the full benefits you must store them properly. Keep them in a sealed glass container in your freezer or refrigerator.
Benefits
Eating chia seeds helps to improve your health in numerous ways. Some of the top chia seeds health and beauty benefits include:
Energy and Metabolism Boost
According to a study that was published in the Journal of Strength and Conditioning,  consuming chia seeds enhances exercise performance for 90 minute workouts. If you maintain a healthy exercise routine and leave the Vegas games online for quiet evenings of sedentary relaxation, you'll feel better if you have a daily dose of chia seeds in your system.
Weight Loss
Adding chia seeds to your diet helps you lose weight by helping you to feel filled. They help your body to increase leptin, the chemical that regulates appetite. Your digestion will be slowed and you'll feel fuller longer and experienced fewer sugar cravings.
Building Muscle
Chia seeds are one of the top plant-based protein sources which promotes your body's ability to burn fat and balance its blood sugar levels. When you exercise your body loses antitoxins but the chia seeds help replace some of those nutrients. Since they're high in essential minerals such as iron, magnesium, calcium and niacin a gulp of a cup of water that's laden with chia seeds gives you back some of the minerals that you lost through your exercise routine.
Good Skin
Chia seeds have been shown to possess a total natural phenolic concentration that's nearly two times higher than previously thought. Those antioxidants were shown to stop up to 70 percent of free radical activity which then speeds up the skin's repair systems and prevents further damage to the skin. Other research has demonstrated that ingesting chia seeds prevents premature skin aging that occurs to free radical damage and inflammation.]
Strong Bones
Chia seeds possess a large store of calcium which is fundamental for good bone health. Eating chia seeds help to maintain bone mass and strength. An additional mineral in chia seeds, boron, metabolizes phosphorus, calcium, magnesium, and manganese which promotes healthy growth of bones.
Dental Health
The calcium, phosphorus, vitamin A and zinc that are contained in chia seeds makes it a top food for dental health. You'll have less tartar on your teeth because the zinc will keep the plaque from mineralizing. You'll also have fewer problems with bad breath with a higher zinc intake. Phosphorus and Vitamin A are also important for strong teeth and a healthy mouth.
Summary
With all of the benefits that chia seeds offer, it's hard to understand why they're not more widely used. If you like the taste (a bit nutty) you can add them to different foods, both raw, baked and otherwise cooked. If you don't like the taste you can down some in a glass of water, after they've been soaked, so that you don't experience any after-taste.
To fully enjoy the benefits of chia seeds remember to:
Start out with a small amount and work your way up so that your body adjusts to the increased fiber intake
Drink plenty of water, especially if you are eating them raw
Slip them into cooked foods for guests and family members – they'll never notice and you'll have the satisfaction of knowing that you're giving them a health, wellness and beauty boost.