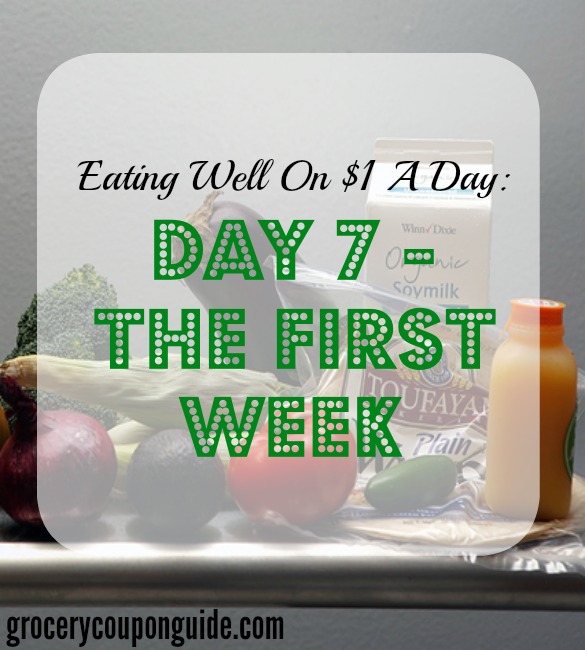 Well, it has certainly been an interesting first week with this challenge. It definitely didn't get off to a good start with me heading to the emergency room (luckily the final verdict was that it wasn't caused by my food preparations) and me getting antibiotics which have put some restrictions on when I can eat certain foods, but as the week came to a close, I am pretty happy at where I stand.
The number one positive is that I haven't been hungry this week. I was able to start with nothing on May 1 and get a good foundation of food for less than $10 that should mean that I can concentrate my future spending on a bit more variety (depending on what kind deals I can find). I have actually donated quite a lot of the food away and decided I could part with a bit more as well for the US Postal Service Stamp Out Hunger food drive today.
***************************************
This is part of a month-long challenge to eat well while spending an average of only $1 a day on food. You can find the beginning and the rules of this challenge here
***************************************
I would like to add a little meat if possible since the first week was a vegetarian diet, but I'm also a bit hesitant as I don't want to come to the end of the month without enough money. I also would like to try some soups this week to get a bit more vegetable variety.
Overall I think the meals have been relatively healthy thus far, and healthier than I had been eating before I started this. This is mainly because I can't snack like I would normally (I have been having some sugar withdrawals and am hoping there are some chocolate deals at the stores this coming week) and I am eating until I am full instead of everything that happens to be on the plate. One of the goals was to stay the same weight as I was when I started – I have actually lost a couple of pounds, but I think that was more to the two days I ended up in the emergency room and didn't get a chance to eat for most of the day. I'll worry a bit more if my weight decreases this next week
Breakfast
I had a lot to do in the morning and thought I might only have the time to eat breakfast early (not two hours after taking the antibiotics when the food restriction eased), so I went with 2 packages of oatmeal and half a banana in the early morning: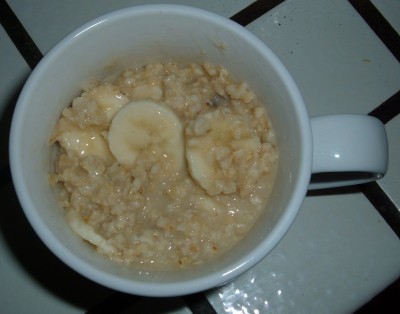 I did end up getting some free time at around 10 and ended up putting together a bowl of Corn Flakes with half an apple chopped on top: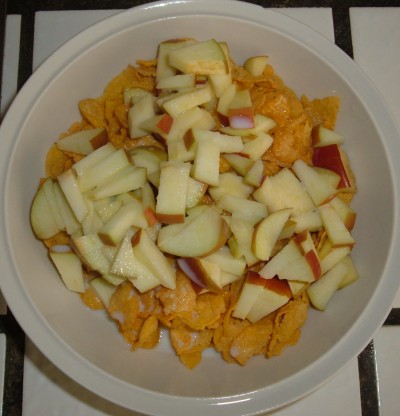 Lunch
I love my peanut butter and banana tortillas. I have a feeling that I will continue to have them even after this challenge is over. I ate the last half of avocado (with salsa on top) that I had (they are still on sale for $0.33 a piece until Tues at Safeway, so I am going to try and pick up a couple more). I also added and then a handful of Wheat Thins and one of the cream cheese minis (this is actually a pretty good tasting snack as well):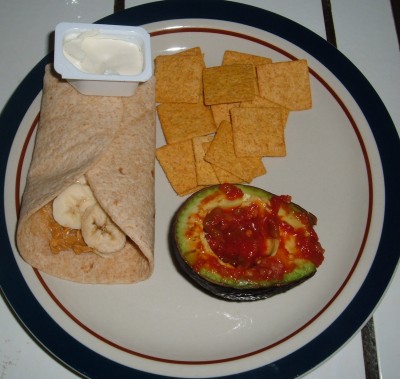 Dinner
I decided to do something a little bit different from burritos (hey, I love burritos of any kind, so I will probably have a lot more for the rest of the month). I took some of the leftover black beans I had and mixed them with salsa. I then hard boiled a couple of eggs, took out the yolks and mixed them with a bit of salsa as well. I then steamed up some carrots and had myself a meal: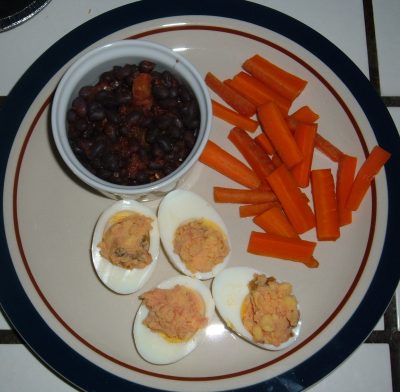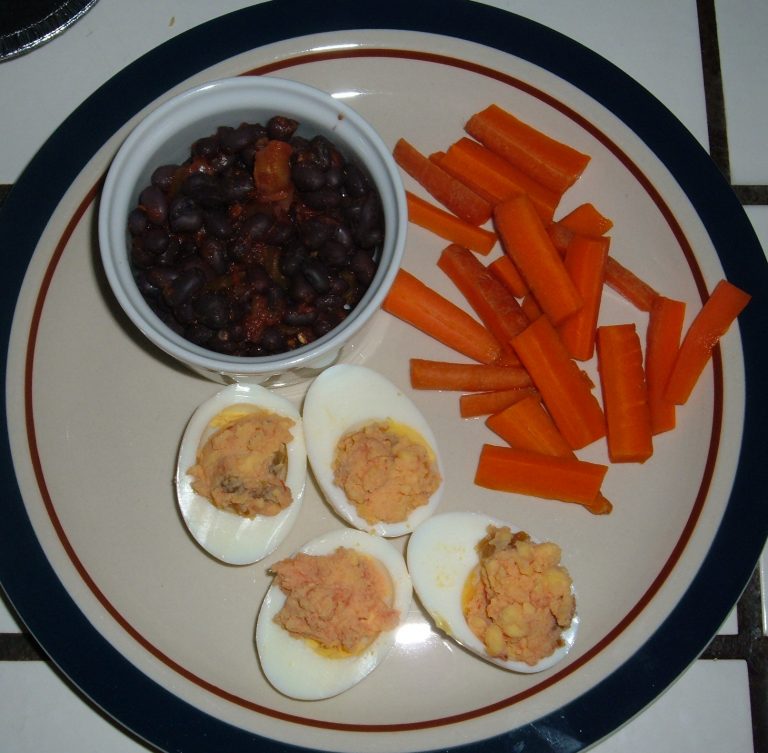 I didn't buy anything new for a second straight day, but I will be making some purchases in the next couple of days. After one week, this is what I have still available to me (this photo is slightly off as I took it midday before lunch and dinner: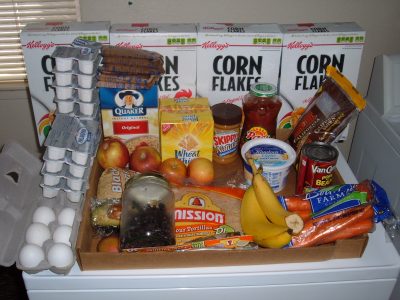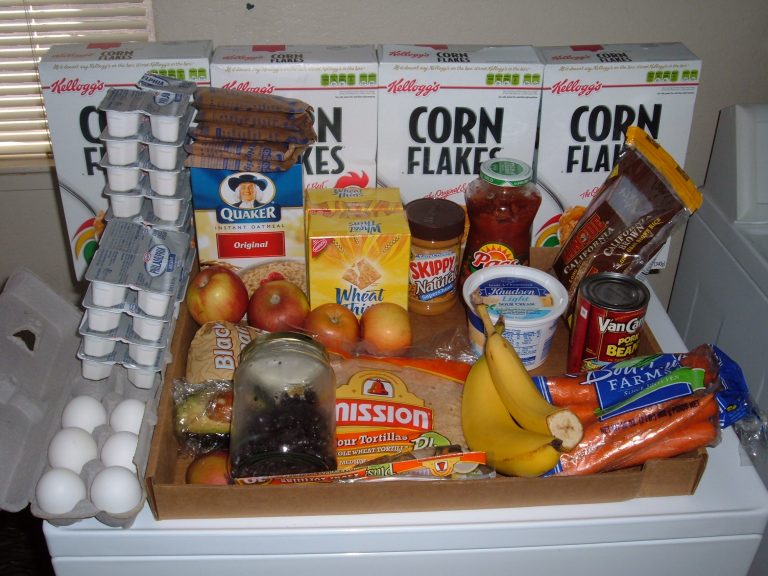 0.5 jar of salsa
0.75 bag of black beans
0.5 half gallon of milk (not in photo)
2.5 boxes of Corn Flakes
6 eggs
0.5 avocados
1.75 bananas
1.33 boxes of Quaker Instant oatmeal
13 packs of Philadelphia Cream Cheese Minis
0.75 package of Knudsen Light sour cream
4.5 apples
1.5 lbs of carrots
1.5 boxes (small) of Wheat Thins
0.5 jar of Skippy All Natural peanut butter
0.5 bag of long grain brown rice
8 100% whole wheat tortillas
This is the current list of what I have purchased:
Money Spent $9.71
Money left to spend: 21.29
Retail Value of everything bought: $263.24
1 jar of salsa
1 bag of black beans
1 half gallon of milk
4 boxes of Corn Flakes
1 dozen eggs
2 avocados
5 bananas
2 boxes of Quaker Instant oatmeal
14 packs of Philadelphia Cream Cheese Minis
1 package of Knudsen Light sour cream
10 apples
2 lbs of carrots
4 boxes (small) of Wheat Thins
1 jar of Skippy All Natural peanut butter
2 cans of pork and beans
1 bag of long grain brown rice
2 packages of Mission 100% whole wheat tortillas (10 count each)
Donated Food to Food Bank that was purchased with my $1 a day
1 can of Pork & Beans
5 boxes of cereal
50 packs of Philadelphia Cream Cheese Minis
4 boxes (small) of Wheat Thins
1 Scrubbing Bubbles Extend-A-Clean bathroom cleaner
1 Scrubbing Bubbles Extend-A-Clean bathroom cleaner refill
************************
The Beginning:::
Day 8: Drinks
************************
Rebate Fanatic. Saving you money every time you shop online!
Sign Up and Start Saving Today