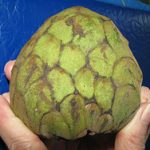 CHERIMOYA
When to Buy/In Season:
Cherimoya is in season from October to May.
How to Select:
Cherimoya are also known as custard apples. Look for unbruised fruit that has a little give when gently squeezed. The inedible skin is light green, with a scaly look. The flesh is studded with large black seeds that can be easily removed with a fork or knife.
Organic Issues:
Most cherimoya is grown organically: no chemicals are registered for use on it, so it's illegal to use pesticides, herbicides, or fungicides on the tree or fruit.
Pesticide Issues:
None.
How to Store:
Fresh:
Eat as soon as possible.
Frozen:

Photo Source: kath B
Return to Buying and Storage Guides