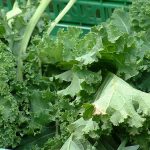 KALE
When to Buy/In Season:
Kale is a cool weather crop; the best season is fall through winter into early spring. Organic stores typically stock kale through the winter months.
How to Select:
Look for a rich green color with no wilting, brown spots, or yellowing leaves.
Organic Issues:
Kale is well loved by many insects, and organic growers typically cover the rows to shield the plants. Conventional kale is heavily sprayed with pesticides, and is also of issue due to heavy use of nitrogen-enriched fertilizers.
Pesticide Issues:
EWG 2009 Dirty Dozen, Kale ranks #8 for highest levels of pesticide residues
How to Store:
Fresh:
Use kale as soon as possible; refrigerate until use up to 2 days.
Kales are sensitive to ethylene, formed naturally from certain other produce, so store away from
Apples
Apricots
Avocados
Bananas, unripe
Cantaloupe
Figs
Honeydew
Nectarines
Peaches
Pears
Plums
Tomatoes
Store away from

Canned: Canned kale can be stored up to 6 months.
Photo Source: Nick Saltmarsh
Return to Buying and Storage Guides