Immigration is at a critical juncture in the United States. On one hand, President Trump has taken a hard line against immigration through higher walls and tighter laws that have made foreigners less welcome. On the other hand, legislation such as S-386 Bill, which is making its way to the Senate floor, stands to open the floodgates for job-based green cards for foreign workers. The battle lines are drawn while states such as Colorado are looking to eliminate the term illegal alien altogether given the negative connotation it has and replace it with undocumented immigrant, following in the footsteps of California and New York.
With 45.5 million U.S. immigrants, including 11 million undocumented immigrants living in the United States and DREAMers, undocumented students and youth named after the DREAM Act and their dreams for the future, there has never been more at stake.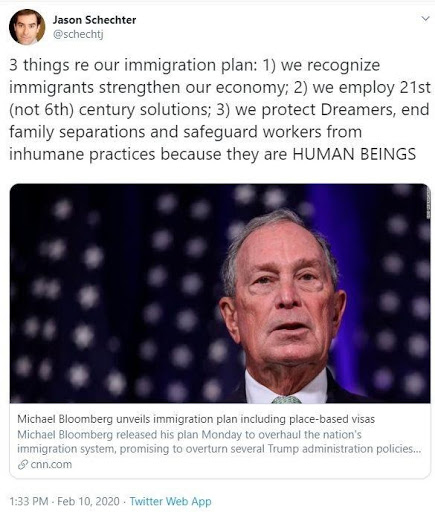 Immigration is a hot-button issue in the 2020 presidential elections. | Source: Twitter
The White House is reportedly planning to roll out an immigration plan now that the impeachment trial is in the rear-view mirror, and it is said to be designed to "protect American wages and jobs." But could it be doing more harm than good? Immigration not only impacts society and culture but it has a lasting effect on the economy as well. Here are five ways that immigrants and DREAMers have impacted the economy.

There is no shortage of data on the impact that immigrants have on the economy, and it's mostly positive in the short- and long-term. For instance, according to data from the American Action Forum, dreamers are responsible for adding $3.4 billion and $42 billion to the U.S. Treasury and annual GDP, respectively. By the same token, deporting DACA (Deferred Action on Childhood Arrivals) recipients would take a hit on GDP of nearly half a percent.
Meanwhile, data cited by The Hamilton Project reveals that bolstering the labor force with immigrants makes the U.S. economy more productive. They point to an estimate for the "total annual contribution of foreign-born workers" of approximately $2 trillion, which represents about 10% of annual GDP. Undocumented workers have a similarly profound impact, contributing 2.6% to GDP. Should undocumented workers receive documented status, it would further bolster their contribution to the economy via better tailored jobs and increase annual GDP growth by one-third of a percentage point over the next eight years or so.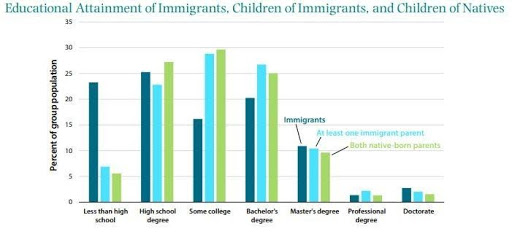 Source: The Hamilton Project/Brookings
If the S-386 Bill is passed in the Senate, it will pave the way for more highly skilled immigrants to enter the U.S. workforce as it would remove caps on the number of employment-based Visas that states are currently limited by. In the state of Utah, there are reportedly thousands of tech jobs that could be filled by immigrants once the bill passes, according to Senator Mike Lee, one of the bill sponsors. Also, research indicates that documented immigrants tend to be more productive than undocumented immigrants for reasons such as stress and anxiety as well as fewer opportunities being presented to them.

While immigrants historically tend to flock to jobs in the construction or services industries, their participation in STEM-related occupations is on the rise. Not only that, but the level of entrepreneurship originating from the immigrant community rivals that of native-born Americans. As a result, you're just as likely to find an immigrant-owned business employing at least 10 people as you are a native-born owned one. With data about exchange rates and transfer fees more readily available than ever, immigrants can easily start companies in America that do business with companies back home, regardless of differences in currencies. Specific demographics also underscore the importance of having immigrants in the workforce. For instance, immigrants who are age 16 and older are more likely than native-born Americans to participate in the workforce, a trend that is dominated by male workers. Reports also indicate that immigrants are more likely to take jobs that native-born Americans shun, such as child care.
According to Pew Research, the number of unauthorized immigrants in the U.S. civilian workforce is on the decline, having dropped by 625,000 in the decade leading up to 2017 to 7.6 million.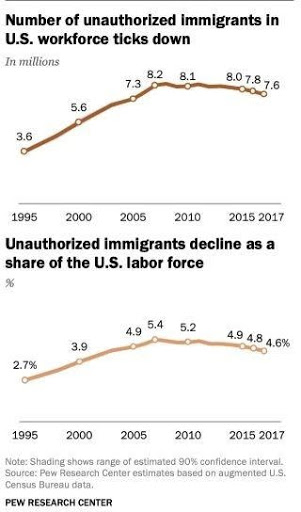 Source: Pew Research
Oxford researchers performed a study dubbed Immigrants and the Making of America. In it, they explore the period of mass migration on economic prosperity in the seven-decades leading up to 1920. Researchers found that "counties with more historical immigration have higher income, less poverty, less unemployment, higher rates of urbanization, and greater educational attainment today." The analysis suggests that bolstering the immigrant population by nearly 5% leads to a 13% jump in average per capita income in today's economy in addition to increases in average manufacturing per-capita, farm values and patents per capita. In fact, data proves that U.S. immigrants are more likely than native-born Americans to produce more patentable technologies as well as to become Nobel laureates in fields such as physics, chemistry and more, all of which bolsters innovation.
While the impact of immigrants and DREAMers on the U.S. economy can't be denied, it doesn't come without a cost. Research shows that first-generation immigrants actually cost the U.S. government
$1,600 per individual, which is more than natural-born American citizens. But the next generation, the DREAMers, are likely to add $1,700 to the economy each year annually. They are also more likely to finish college and fall into poverty less frequently than their native-born counterparts.
Taxes are a highly debated topic when it comes to U.S. immigrants. Some argue that undocumented immigrants are a burden on the country's taxpayers. The truth is, however, that in 2015, more than 4 million U.S. tax returns were filed using an Individual Taxpayer Identification Number, which are widely tied to illegal immigrants. These individuals contributed nearly $14 billion in taxes that year. Plus, even though they are undocumented workers, this portion of the population still pays into Social Security, payments from which totaled $12 billion in tax revenue in that year.
Undocumented immigrants are incentivized to pay their taxes in the United States. It proves that they are willing to follow U.S. laws and also demonstrates "good moral character" when the opportunity arises to become a legal citizen.