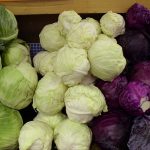 CABBAGE OR CHINESE CABBAGE
When to Buy/In Season:
Cabbages are in season all year.
How to Select:
Look for: firm heads, heavy for their size, with fresh, crisp leaves. Most popular green varieties include Danish, pointed, and domestic. Savoy-type cabbage has crinkled green leaves, loosely formed heads. Red varieties have distinctive reddish-purple color
Organic Issues:
Insects love cabbage, but the major pests (cabbage worms and cabbage loopers) can be controlled using organic methods such as adding a bacteria that kills caterpillars naturally.
Pesticide Issues:
EWG 2009 Dirty Dozen, cabbages rank #39 for highest levels of pesticide residues
How to Store:
Fresh:
Refrigerate cabbage in crisper or wrapped in plastic bag; use within 2 weeks
Cabbages are sensitive to ethylene, formed naturally from certain other produce, so store away from
Apples
Apricots
Avocados
Bananas, unripe
Cantaloupe
Figs
Honeydew
Nectarines
Peaches
Pears
Plums
Tomatoes
Frozen:
To Freeze fresh:
Prepare: Remove outer leaves and wash the remainder. Cut into thin wedges or shred.

Blanch: Blanch shredded cabbage 1½ minutes, or 2 minutes if cut into wedges. Chill in iced water 1-2 minutes.

Drain well. Pack in freezer bags, label and seal.

Storage: Store freshly frozen cabbage in the freezer (0F) for up to 6 months
Photo Source: rockamandy
Return to Buying and Storage Guides