Blackberries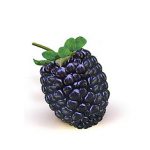 When to Buy/In Season:
Summer months, mostly late July. A few varieties continue into September.
How to Select:
Berries should be dead ripe or they will be tart. Look for berries that have lost their sheen and have a slightly dull finish. Berries are highly perishable, so fresh-picked or organic-specific stores with higher sales may provide the best quality.
Organic Issues:
Blackberries are subject to mildew and rot in wet or moist conditions. Organic growers plant varieties resistant to orange rust, or remove infected plants.
Pesticide Issues:
EWG 2009 Dirty Dozen, not listed
How to Store:
Blackberries are very soft and perishable. They should not be stored fresh more than 1 – 2 days, but can be easily frozen.
Freezer
To Freeze Fresh Blackberries:
Freeze in a single layer on baking sheets, then transfer to freezer bags or containers.
Package in moisture-vapor resistant container. Seal and freeze
Store frozen blackberries in the freezer (0F) up to 6 months
Canning
See our Basics of Canning Fruit at Home
Home Canned fruits can be stored for up to 1 year; they may lose quality after that point. Commercially canned fruit can be stored up to 3 years.
Drying:
See our Basics of Drying Fruit at Home
Dried fruit may be stored 6 – 12 months at room temperature, or indefinetly in the freezer.
Photo Source: giniger
Return to Buying and Storage Guide for Fruits