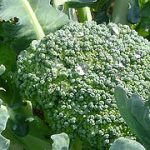 BROCCOLI
When to Buy/In Season:
All year. Lowest supplies are in June – August
How to Select:
Look for: Tender, firm stalks and tightly closed, dark green flowerets
Organic Issues:
Broccoli is a "heavy feeder", taking high levels of nutrients from the soil. Conventionally grown broccoli depletes the soil rapidly of these nutrients, which are generally not added back into the soil in future crops. Broccoli is also highly treated for pests and diseases.
 
Pesticide Issues:
EWG 2009 Dirty Dozen, broccoli ranks #35 for highest levels of pesticide residues
How to Store:
Fresh:
Refrigerate in crisper to plastic bag. Use within 1 – 2 days
Broccoli is senstive to ethylene, formed by other produce, so store away from
Apples
Apricots
Avocados
Bananas, unripe
Cantaloupe
Figs
Honeydew
Nectarines
Peaches
Pears
Plums
Tomatoes
Frozen
To Freeze Fresh Broccoli:
Preparation: Select firm, young, tender stalks with compact heads. Remove leaves and woody portions. Separate heads into convenient-size sections and immerse in brine (4 teaspoons salt to 1 gallon water) for 30 minutes to remove insects. Drain and split lengthwise so flowerets are no more than 1-1/2 inches across.

Blanch: Water blanch flowerets (1 ½ inches across) 3 minutes in boiling water, or steam blanch 5 minutes. Cool promptly, drain, package, seal and freeze.

Tray Pack option: Spread blanched broccoli on tray in single layer. Cover with plastic wrap to prevent the smell from permeating the freezer. Freeze 30 minutes. Pack in freezer bags, remove air, seal and label.

Storage: Freshly frozen broccoli may be stored in the freezer (0F) up to 6 months.
Photo Source: wanko
Return to Buying and Storage Guides