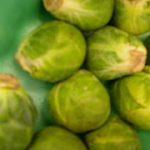 BRUSSELS SPROUTS
When to Buy/In Season:
September to May
How to Select:
Brussels sprouts are members of the cabbage family. Look for: Firm, fresh, bright green sprouts with tight-fitting outer leaves free from black spots. Puffy or soft sprouts are usually poor in quality. Any yellowing means they're old, and likely bitter and tough; buy young, small sprouts (about 1 inch in diameter) that are tight and lively green.
Organic Issues:
Pesticide Issues:
How to Store:
Fresh:
Refrigerate 1 -2 days
Brussels Sprouts are sensitive to ethylene, formed naturally from certain other produce, so store away from
Apples
Apricots
Avocados
Bananas, unripe
Cantaloupe
Figs
Honeydew
Nectarines
Peaches
Pears
Plums
Tomatoes
Frozen:
To Freeze Fresh Brussels Sprouts:
Preparation: Select green, firm and compact heads. Trim, removing coarse outer leaves. Wash thoroughly and immerse in brine (4 teaspoons salt to 1 gallon of water for 30 minutes) to remove insects. Sort into small, medium and large sizes.

Blanch: Water blanch small heads 3 minutes, medium heads 4 minutes, and large heads 5 minutes. Cool promptly, drain, package, seal and freeze.

Store: Store freshly frozen Brussels sprouts for up to 6 months in the freezer
Measurement: 1 pound yields 1 pint
Photo Source: rachel is coconut&limes
Return to Buying and Storage Guides
Want to Save Even More?
Join our FREE newsletter and get even more great advice to your inbox.