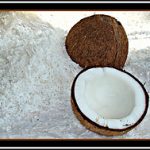 COCONUT
When to Buy/In Season:
Season: All year. Best Supplies are from October to December.
How to Select:
Look for: Coconuts that are heavy for their size, filled with juice that sloshes around when coconut is shaken. Avoid fruit with moldy or wet eyes.
Organic Issues:
Pesticide Issues:
How to Store:
Fresh:
To Prepare:
Puncture eyes of coconut with skewer and hammer. Drain the coconut juice into measuring cup (this may take awhile); reserve the juice for recipes or drinks. Open the shell by cracking with a hammer at the widest part. Hit firmly around middle. Pry out coconut meat in pieces from the shell with a small sharp knife.

To shred: Use a small sharp knife to peel the brown skin from coconut meat; shred meat with a coarse grater.

To toast shreds: preheat oven to 350F, spread coconut in a shallow pan. Bake 20 to 30 minutes, stirring occasionally, until desired brownness.
Store unprepared coconut, in the refrigerator, for up to one week.
Store fresh shredded coconut (raw) up to 1 – 2- days
Frozen:
To Freeze from fresh:
Prepare as above. Package and freeze up to 3 months.
Store pre-packaged/bagged/prepared: 12 months, unopened, freeze indefinitely

Canned:
Store commercially canned coconut up to 1 year
Photo Source: de Paula FJ
Return to Buying and Storage Guides