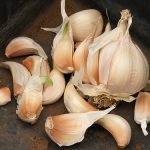 GARLIC
When to Buy/In Season:
Season: Crops are harvested in mid-July and hung in sheds to dry before reaching their prime in late-July/early-August. Fresh and dried garlic are available year-round in most markets.
How to Select:
Look for: Choose heads that are firm to the touch, with no nicks or soft cloves. If you notice dark, powdery patches under the skin, pass it up since it is an indication of a common mold which will eventually spoil the flesh.
Organic Issues:
Garlic is susceptible to nematode and root worms. Organic garlic is generally not available in grocery stores, but is considered easy to grow in smaller crop sizes and may be available at farmer's markets or from local farmers.
Pesticide Issues:
How to Store:
Fresh:
Store: Store unpeeled garlic in an open container in a cool, dry place away from other foods. Do not refrigerate or freeze unpeeled garlic. Peeled garlic cloves may be stored in a sealed container in the refrigerator.
Frozen:
To Freeze from fresh:
Freeze fresh, peeled garlic for up to 1 year. Seal containers tightly.

Dehydrated/powder:
Garlic powder should be stored in a cool, dry, dark place. Garlic powder is shelf stable 2 – 3 years or more; the quality and flavor may deteriorate.
Photo Source: Ian-S
Return to Buying and Storage Guides