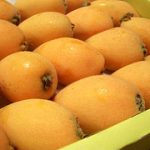 Loquats
When to Buy/In Season:
February – May.
How to Select:
Loquats should be fresh, soft, and ripe, golden yellow, 1 – 2 inches long, with downy skin, similar to an apricot. Freckling is natural.
Organic Issues:
Loquats are generally not treated with pesticides, so conventionally grown loquats, while not organic, are typically pesticide free.
Pesticide Issues:
EWG 2009 Dirty Dozen, not listed
How to Store:
Fresh loquats do not store well; however they make wonderful jam!
Freezer
Canning
See our Basics of Canning Fruit at Home
Home Canned fruits can be stored for up to 1 year; they may lose quality after that point. Commercially canned fruit can be stored up to 3 years.
Drying:
See our Basics of Drying Fruit at Home
Dried fruit may be stored 6 – 12 months at room temperature, or indefinetly in the freezer.
Photo Souce: kanko
Return to Buying and Storage Guide for Fruits