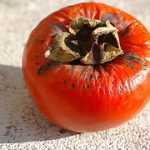 Persimmons
When to Buy/In Season:
October – December
How to Select:
Persimmons should be free of cuts or bruises; freckling is normal. Fuyu persimmons are hard and crisp like apples, while hahiya persimmons are large and soft pulpy fruits.
Organic Issues:
Typically grown unsprayed, but rarely organically certified.
Pesticide Issues:
EWG 2009 Dirty Dozen, not listed
How to Store:
Ripen hachiya persimmons at room temperature until soft and mushy. Store fuya persimmons at room temperature or refrigerate.
Freezer
Whole persimmons are difficult to freeze, but the pulp may be scooped out and frozen directly in air tight containers. Store for up to 1 year.
Canning
See our Basics of Canning Fruit at Home
Home Canned fruits can be stored for up to 1 year; they may lose quality after that point. Commercially canned fruit can be stored up to 3 years.
Photo Source: tamakisono
Return to Buying and Storage Guide for Fruits