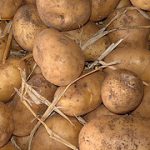 POTATOES, WHITE
When to Buy/In Season:
Available year round.
How to Select:
Look for smooth, well-shaped, firm potatoes free of blemishes or sprouts
Organic Issues:
Organic enthusiasts point out that organically grown potatoes do not require peeling to remove pesticides and other contaminants, allowing for the entire potato, including surface nutrients, to be eaten. Conventional potatoes are treated with maleic hydrazide to inhibit sprouting; this may make potatoes watery. Other chemicals are also used.
Pesticide Issues:
EWG 2009 Dirty Dozen, White Potatoes rank #15 for highest levels of pesticide
How to Store:
Fresh:
Store: in a dark, dry place (do not refrigerate), 2 – 4 weeks. Many people are able to store potatoes much longer, but this is highly variable.
Frozen:
To Freeze from fresh:
Potatoes
Because fresh potatoes are available year-round, most people do not find it practical to freeze potatoes at home. However, if potatoes are to be home frozen, it's best to freeze cooked, mashed potato patties, baked stuffed potatoes or french fries.

Baked stuffed potatoes or mashed potato patties
Prepare according to your favorite recipe, cool quickly in the refrigerator, then wrap in moisture/vapor proof packaging. Seal and freeze. The recommended maximum storage time is one month at 0 degrees F. To serve, unwrap and reheat in a 350 degree F oven.

French fried potatoes
Pare and cut potatoes lengthwise into strips about 1/4-inch thick. Rinse quickly in cold water and dry well on paper towels.

Oven method
Arrange potato strips in shallow baking pan, brush with melted butter or margarine, and bake at 450 degrees F just until they begin to brown, turning occasionally. Cool quickly in the refrigerator.

Oil method
Blanch potato strips in vegetable oil heated to 370 degrees F until tender but not brown. Drain and cool quickly in refrigerator.

Place prepared strips in moisture/vapor proof containers or bags. Seal and freeze. The maximum recommended storage time is two months at 0 degrees F.

To serve
Return frozen potatoes to baking sheet and bake at 450 degrees F until golden brown, turning occasionally. Or deep-fat fry frozen potatoes at 390 degrees F until golden and crisp.

Store frozen potatoes (0F) up to six months

Canned:
Store canned potatoes at room temperature up to 2 years
Dehydrated or Flaked:
Store dehydrated potatoes at room temp up to three months, or freeze indefinitely
Photo Source: Nick Saltmarsh
Return to Buying and Storage Guides