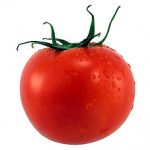 TOMATOES
When to Buy/In Season:
Available all year, but peak season is late summer.
How to Select:
Look for firm, unblemished tomatoes with good red color. Size does not indicate quality
Organic Issues:
Conventional tomatoes are often bred with genetic modified organisms, increasing shelf life, but keeping the tomatoes hard in store and in home. Farm fresh or locally grown tomatoes, or organic certified, are a better choice.
Pesticide Issues:
EWG 2009 Dirty Dozen, tomatoes rank #34 for highest levels of pesticide residues
How to Store:
Fresh:
Store: if not fully ripe, leave them, stem end up, at room temperature out of sunlight until they turn red. Then refrigerate and use within 1 -2 days. Will become mealy in refrigerator. Ethylene releaser, do not store with
Bananas, ripe
Broccoli
Brussels sprouts
Cabbage
Carrots
Cauliflower
Cucumbers
Eggplant
Lettuce and other leafy greens
Parsley
Peas
Peppers
Squash
Sweet potatoes
Watermelon
Frozen:
To Freeze from fresh:
Preparation: Select firm, ripe tomatoes with deep red color. Frozen tomatoes will have a mushy texture when thawed and are suitable only for cooking, i.e. in soups, stews, spaghetti sauces, etc. In addition, tomatoes that are frozen raw become watery and develop an off-flavor after a short period in the freezer. Tomatoes that are too ripe for safe canning, but still sound and free from decay, can safely be frozen.

Blanch: Wash and dip in boiling water for 30 seconds to loosen skins. Core and peel. Freeze whole or in pieces. Pack into containers, leaving 1-inch headspace. Seal and freeze.

Juice: Wash, sort and trim firm, vine-ripened tomatoes. Cut in quarters or eighths. Simmer 5 to 10 minutes. Press through a sieve. If desired, season with 1 teaspoon salt to each quart of juice. Pour into containers, leaving 1-1/2-inches headspace. Seal and freeze.

Stewed: Remove stem ends, peel and quarter ripe tomatoes. Cover and cook until tender (10 to 20 minutes). Place pan containing tomatoes in cold water to cool. Pack into containers, leaving 1-inch headspace. Seal and freeze.

Tomato products such as sauce, puree, catsup and chili sauce can be frozen. Prepare as usual, cool rapidly, pack into rigid containers, leaving headspace, and freeze.

Green tomatoes
Select firm, sound green tomatoes. Wash, core and slice 1/4-inch thick. No blanching is necessary.

For later frying. Pack slices into containers with freezer wrap between the slices. Seal and freeze.

Store in the freezer (0F) up to six months

Canned:
Store unopened cans at room temperature up to 12 months
Photo Source: Darren Hester
Return to Buying and Storage Guides