Welcome to Grocery Coupon Guide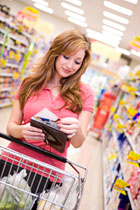 When it comes to saving money on groceries, there's a lot more that you can do than merely cut out coupons from your Sunday paper. With an estimated $360 billion worth of coupons floating around, there are plenty out there to help you reduce your monthly shopping bill if you follow a few basic strategies. That is what this site is dedicated to doing.
There are a lot of sites and ebooks that claim you can reduce your grocery bill by 90% or more. Although this can be possible, you would have to approach shopping as a full time job to achieve these results. Since that is not an option for most of us, we have put together a practical guide that can reduce your grocery bills by 30% - 50% with a minimum effort. It's a practical guide for the everyday person who wants to save, but not make couponing their life quest.
Latest Articles