The first thing I thought of when I seen these in the stores was my four year old lil' baker would love these.  And the best part is they are mom approved – just add water!  So, when I seen them on sale at Safeway I had to buy them.  Not only will Bella (my lil' baker) love making these, but I'm sure the whole family will enjoy them since Betty Crocker has put her name on them 🙂
You can try them too for only $1.50 each when you use this $0.50 off 1 any Betty Crocker Shake-N-Pour Dessert printable coupon!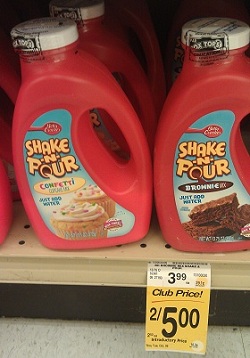 Safeway Scenario
Betty Crocker Shake-N-Pour Dessert $2.50 each (until October 9th)
Use $0.50 off 1 printable coupon (direct link)
Total Out-of-Pocket:  $1.50 each!
Now that's what I call a "sweet" deal!
Rebate Fanatic. Saving you money every time you shop online!
Sign Up and Start Saving Today