It's almost been a couple of weeks since I shared with you my challenge for charity for the month of October.  Well, I got off to a slower start than I wanted to, but there is still two weeks left of the month to make the most of it.  Last week this is what I purchased for $4.05, plus $0.30 for tax.  So I'm left with $20.66 for the rest of the month.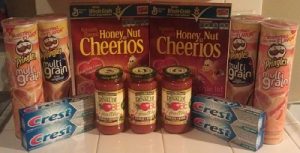 Francesco Rinaldi Pasta Sauce $1.25 each – Safeway
Use $0.50/1 Francesco Rinaldi Pasta Sauce from RP 9/30
Final Price: $0.25 each!
Pringles Multi-grain $1.49 each – Safeway
Use $0.75/1 Pringles Multi-grain from RP 9/9
Final Price: $0.49 each
General Mills Honey Nut Cheerios 12.25 oz $1.67 – Safeway
Use (2) $0.50/1 Honey Nut Cheerios Coupon
Final Price: $0.67 per box
Crest Toothpaste $1.00 each – King Soopers
Use (4) $0.50/1 Crest Toothpaste from PG 9/30
Final Price: FREE!
Rebate Fanatic. Saving you money every time you shop online!
Sign Up and Start Saving Today