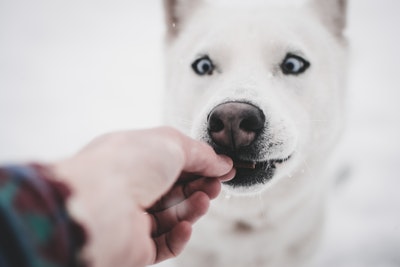 Is your dog paw-some good at lobbing peanut butter into his mouth? If the answer is yes, more power to them.
But though it might grease their paws and make their gums happy, it can leave messes in your kitchen and cause trouble for your cleaning schedule.
Instead, you should use peanut butter pumpkin dog treats for them. These homemade treats beat store-bought and do it with a pumpkin dog treat recipe that you can make in a single afternoon.
If you are looking for a healthy, easy, and inexpensive treat recipe for your pup, continue reading our DIY recipe for peanut butter pumpkin dog treats.
Ingredients
Making peanut butter pumpkin dog treats is an easy and delicious way to make something your pup will love. You will need the following:
1 cup pureed pumpkin
1/2 cup natural peanut butter
2 cups whole wheat flour
1 teaspoon cinnamon
1/2 cup rolled oats
1/4 cup water
3 pieces of CBD chews
Instructions
These dog treats are as tasty as they are healthy. Just follow these simple steps, and you'll have homemade treats your pup will love in no time.
First, preheat your oven to 350°F (175°C) and line a baking sheet with parchment paper. Then, in a large mixing bowl, combine the pureed pumpkin and natural peanut butter. Stir well until the mixture is smooth and creamy.
Second, gradually add the whole wheat flour, cinnamon, and rolled oats to the wet ingredients. Mix thoroughly, forming a dough-like consistency. If the mixture seems a bit dry, add water, a tablespoon at a time, until the dough is easy to work with and holds together.
Third, crumble a few CBD chews for dogs into the mixture at this point. CBD may provide various benefits for dog health, such as promoting relaxation, managing stress, and supporting joint health. However, always consult your veterinarian before introducing CBD into your dog's diet to ensure proper dosage and suitability.
Fourth, lightly flour your work surface and roll out the dough to about 1/4-inch thickness. Use dog bone-shaped cookie cutters or any other fun shapes to cut out the treats.
Fifth, place the treats onto the prepared baking sheet. Bake it in the preheated oven for 20 to 25 minutes or until they turn golden brown and crisp. Once baked, allow the treats to cool completely on a wire rack before serving.
Benefits of Peanut Butter Pumpkin Dog Treats
Peanut butter pumpkin dog treats offer a host of benefits for your pup. Some of these are the following:
Digestive Health
Pumpkin is rich in fiber, which aids in regulating your dog's digestive system. It can be beneficial for dogs with sensitive stomachs and helps prevent constipation.
Immune Support
Pumpkin is a great source of antioxidants and essential vitamins like A, C, and E. These nutrients can boost your pup's immune system and help them stay healthy.
Joint Health
The healthy fats in peanut butter provide anti-inflammatory properties. These can help maintain your dog's joint health, especially in senior dogs or those with joint issues.
Healthy Coat
The combination of pumpkin and peanut butter provides omega-3 and omega-6 fatty acids. These contribute to a shiny and lustrous coat.
Discover Peanut Butter Pumpkin Dog Treats
Overall, peanut butter pumpkin dog treats are a great way to show your pup a little extra love and appreciation. Plus, they're easy to make, nutritious, and sure to please any pup's taste buds. Try making a batch for your pup today and watch them enjoy delicious and wholesome snacks.
For more articles on pets, check out the rest of our blog.
Rebate Fanatic. Saving you money every time you shop online!
Sign Up and Start Saving Today