How did I know this would happen? Now that this challenge is winding down to an end, I couldn't help to let me sister know that it looks like I will end up succeeding in the challenge. And so the argument began…
Although when this challenge began, my sister didn't believe that I would be able to buy enough food to live on and the food that I did buy would be "junk" food, it seems that her perceptions of what qualifies as succeeding have changed as the challenge has prgressed:
***************************************
This is part of a month long challenge to eat well while spending an average of only $1 a day on food. You can find the beginning and the rules of this challenge here
***************************************
Me: "It looks like I am going to win the challenge."
Sister: "Oh, I wouldn't really call it a win…"
Me: "Oh, come one. I was able to get a lot more food than you ever imagined I could. I ate fruits and vegetables. I even ate 100% whole wheat bread the entire month. How did I not complete the challenge?"
Sister: "You are palate challenged."
Me: "What does that mean?"
Sister: "It's like the people commenting say. Your meals are disgusting and you are the only one that would ever eat them. You don't know how to cook. If you can't make appetising meals with the food you buy, then you lose the challenge."
Me: "Wait a second. We never said that my cooking had to be up to a certain standard."
Sister: "Like I said. You are palate challenged. You don't know how to cook or make appetising meals so you failed at the challenge. Nobody likes peanut butter and bananas except you."
Me: "You know I hate to cook."
Sister: "That's just an excuse. If you wanted to, you could learn. You just know that you can't do it."
As you can see, my sister knows all too well how to push my buttons. I now have to decide whether or not to continue this challenge to show her that I not only can get a decent amount of food on $1 a day, but I can also make meals that are appetising to others with the food that I buy. As stated many times and is probably quite obvious, I don't know how to cook and I can basically eat anything and be perfectly satisfied. This takes the challenge way beyond my comfort zone.
What do you think? Would those reading this be willing to help me make recipes with the food that I have to create appetising meals? While I would love to prove my sister wrong, I know that I don't have the skill level to accomplish the "appetising meal" requirement on my own…
I did go to the grocery store to pick up a bit of ground beef and some more sweet corn. The two set me back $2.25: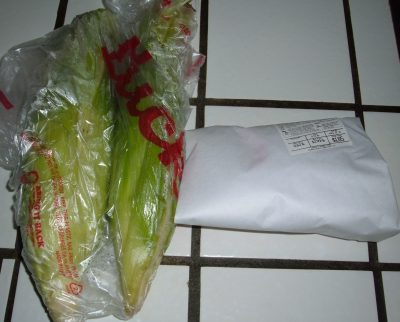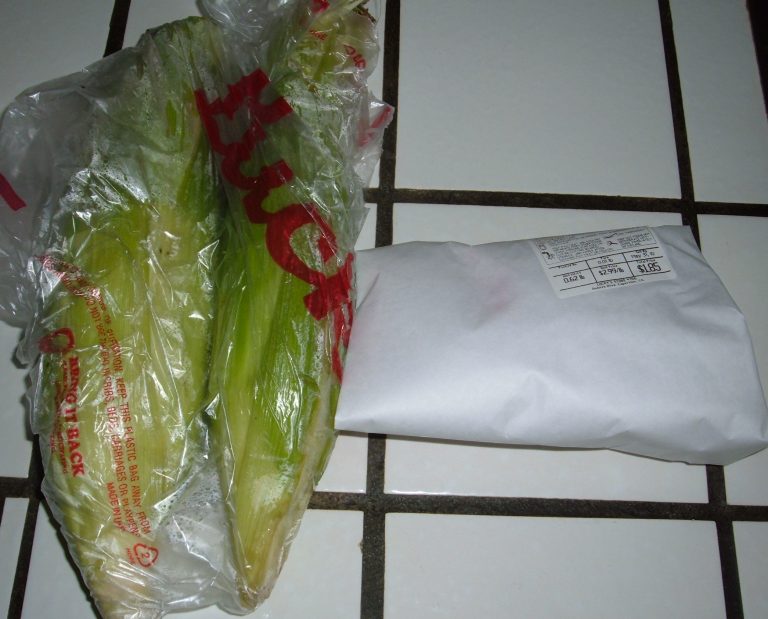 Breakfast
For breakfast I had a bowl of Corn Flakes with half a banana, a piece of whole wheat toast with an egg on top and a glass of white grape / peach juice (half juice, half water)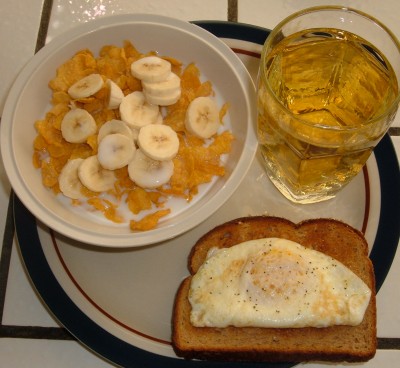 Lunch
Because of yesterday, I had to think through these last few days to make sure that everything lasts. I had peanut butter on toast with bananas on top, the rest of the pasta apple chicken salad, and an apple with cream cheese on top broiled in the oven. I also had another glass of white grape / peach juice (half juice, half water).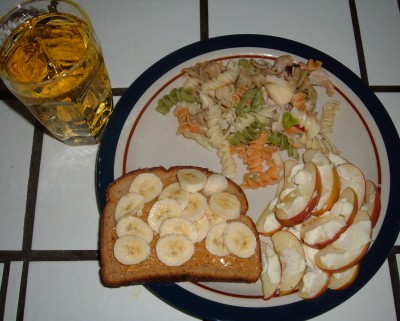 Dinner
I used part of the ground beef that I purchased mixing it into the garlic pasta sauce I had and placed that over the rest of the veggie spiral pasta which I cooked up: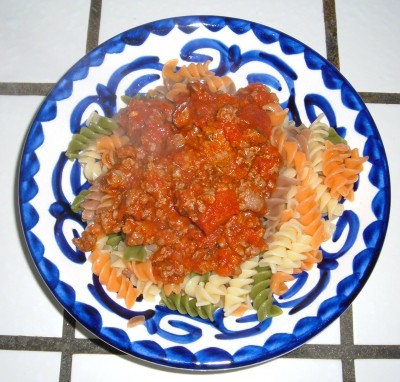 I only plated half of it for this photo (the white blurs is steam rising off of it), but ended up eating all. I also ate the other half of the corn that I made last night as a snack later in the evening.
This is the current list of what I have purchased:
Money Spent $26.58
Money left to spend: 4.42 ($2 must be spent at CVS)
Retail Value of everything bought: $565.29
3 ears of corn
1 package of chicken breast deli style (1 lb)
5 packages hardwood smoked turkey franks
1 package of veggie spiral pasta
1 salt and pepper shaker combo
1 bag of salad
1 package of macaroni and cheese
3 sample packs of Maxwell House Vanilla Carmel Latte
4 sample packages of Wheat Thins Sundried Tomato & Basil
3 packages (small) Fig Newtons
1 jar Miracle Whip
1 potato
1 mystery purchase
1 lb ground beef
6 tomatoes
2 broccoli crowns
2 loaves of bread
2 jars of Classico pasta sauce
2 Safeway brand pasta (spaghetti and rotini)
1 celery stalk
2 bags tortilla chips
5 cans tuna
1 bottle Welch's grape & peach 100% juice
1 bottle V8 Fusion fruit / vegetable drink
1 bottle V8 spicy vegetable drink
2 boxes of Caprisun fruit drinks (10 packs)
1 jar of salsa
1 bag of black beans
3 half gallons of milk
36 boxes of cereal
3 dozen eggs
2 avocados
20 bananas
2 boxes of Quaker Instant oatmeal
55 packs of Philadelphia Cream Cheese Minis
1 package of Knudsen Light sour cream
20 apples
2 lbs of carrots
8 boxes (small) of Wheat Thins
2 jars of Skippy All Natural peanut butter
2 cans of pork and beans
1 bag of long grain brown rice
2 packages of Mission 100% whole wheat tortillas (10 count each)
Donated Food / other items to Food Bank that was purchased with my $1 a day
4 packages hardwood smoked turkey franks
2 Gillette body wash
3 sample packs of Maxwell House Vanilla Carmel Latte
1 Stayfree pantiliner package
1 Kotex U tampon package
5 Bayer children's aspirin
2 sticks of deodorant
4 bottles Windex multi-surface cleaner
1 can of Pork & Beans
32 boxes of cereal
50 packs of Philadelphia Cream Cheese Minis
4 boxes (small) of Wheat Thins
2 Scrubbing Bubbles Extend-A-Clean bathroom cleaner
2 Scrubbing Bubbles Extend-A-Clean bathroom cleaner refill
************************

The Beginning ::: Day 30: Discount Find

************************