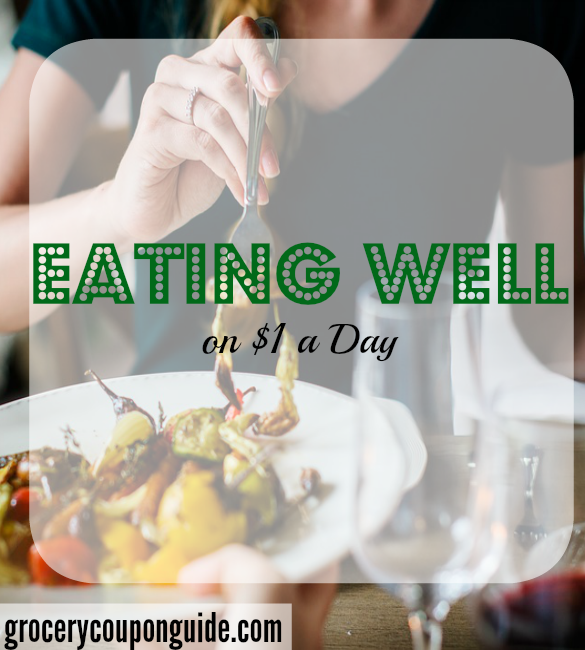 Note: If this is your first time to this challenge, you may want to read over the frequently asked questions. You may also be interested in how I did it without spending a whole lot of time by incorporating lazy couponing
I was talking with my sister and explaining to her that with couponing, I think that I could live on $1 a day for food and have plenty to eat. She looked at me skeptically thinking that I was exaggerating.
"No, really, I could live on $1 a day and not be hungry," I said.

"All you would eat is cereal and junk food," she countered. That is not a healthy diet for a month.

"I think I could have a fairly healthy diet on $1 a day," I replied. "At least a lot healthier than you think."

"Including fruits and veggies?" she asked, the skepticism in her voice coming through again.

"Including fruits and veggies," I said.

"You couldn't last a month," she said sure of herself.

Thus the "Eating Well on $1 A Day" challenge was born with the following rules in place:
1. I will begin on May 1 and will have no accumulated food of any kind. I have $31 to spend ($1 for each day of the month). I can start buying food on May 1 and can not exceed the $31. I must document the cost of the food with receipts.
2. I can only use 2 computers to print coupons. Although I have access to more which would make this challenge much easier, we agreed that not everyone will have access to a lot of computers. However, we also agreed that anyone reading this has access to at least one computer and should be able get access to another one using a bit of creativity.
3. I can only use 2 inserts from the Sunday paper each week. Although I have access to many more than this (I usually pick up anywhere from 3 to 5 copies for free from the local coffee shop alone each week), we decided that not everyone would have access to dozens of inserts. We agreed that anyone could get the coupon inserts from at least 2 Sunday papers with a bit of creativity. I am allowed to use up to 2 of previous week's coupon inserts that I already happen to have.
4. I can use as many coupons as I want that I can get in the grocery store where they are available to everyone.
5. I can only buy food from retail outlets (grocery stores, drug stores, food markets, etc). I can't supplement what I buy at the store with free food from trees, dumpster diving, friends, food banks, donations, growing my own, etc.
6. I can only use deals that anyone else would have access to getting.
It should be an interesting challenge and I will have my work cut out for me, but I think that it will be possible. If you need help affording groceries, learn more about Online title loans.
So, here is what happened with this challenge.
Day One: What I bought
Day One: Breakfast, Lunch & Dinner
Day Two: The Object Is to Stay Alive
Day Three: Eggs & Bananas
Day Four: Berry Smoothie (but not the type you want)
Day Five: Getting Into A Routine
Day Six: Sugar Withdrawals
Day Seven: The First Week
Day Eight: Drinks
Day Nine: Eating Breakdown
Day Ten: One Third Done
Day Eleven: Fingers Crossed
Day Twelve: Score!!
Day Thirteen: I Hate Shopping
Day Fourteen: 2 Weeks Down Summary
Day Fifteen: Tampons & Pantiliners
Day Sixteen: Over The Hump
Day Seventeen: Different Perspectives
Day Eighteen: Disappointment
Day Nineteen: Tough Day
Day Twenty: Forgetfulness Is Costly
Day Twenty-One: Peanut Butter Revelation
Day Twenty-Two: Disaster!
Day Twenty-Three: Math Deficient, But Lucky
Day Twenty-Four: One More Week
Day Twenty-Five: Decisions, Decisions
Day Twenty-Six: Turkey Franks
Day Twenty-Seven: My Current Food List
Day Twenty-Eight: Irritable
Day Twenty-Nine: Should I Continue?
Day Thirty: Discount Find
Day Thirty-One: Final Day
10 Things I Learned Eating On $1 A Day For A Month
I continued the challenge.
I have decided to continue this $1 a day challenge, but now that I have established that it can be done with fairly strict rules, I will make some changes allowing me a little more freedom to really take advantage of the coupon deals and throw some creativity in there as well:
1. I am no longer limited to 2 computers and 2 inserts from each Sunday paper. I can use all coupons that I can get hold of as long as I don't pay for them (eBay, coupon brokers, etc) and I am only allowed to pay for 1 Sunday paper.
2. I am allowed to use food out of my garden (although that probably is more than a month away before it produces anything).
3. I am allowed to go to the local coffee shops and buy tea (only tea) there. I don't consider this breaking the spirit of the challenge. I go to coffee shops because I am much more productive if I get into a new setting at least once a day (this was one of the toughest things about the challenge), but it is not fair for me to use their wifi and not pay to be there.
4. I am allowed to forage for food and get food from alternative places than just regular retail outlets.
5. If I come up with other ways to get free / cheap food, I will put it to the vote of the readers here as to whether or not it is an acceptable way for me to get it — and abide by their decision.
Day 32: What Was I Thinking?
Day 33: Should I Be Proud Of This?
Day 34: Apparently, I Don't Know How To Eat Corn
Day 35: Major Coupon Blunder
Day 36: Free Beer
Day 37: Mail-In Rebates Are A Pain
Day 38: Blackberries!
Day 39: Blahh
Day 40: Being Hungry Sucks
Day 41: Costco Is Expensive
Day 42: Time Consuming
Day 43: Balanced Diet
Day 44: This Is All New To Me, Too
Day 45: Fighting With Wildlife
Day 46: Coupon Organization
Day 47: Where To Get Sunday Coupon Inserts
Day 48: My Simple Coupon Strategy
Day 49: Should I Be Able To Eat Free Farmer's Market Samples?
Day 50: Square Watermelons
Day 51: Should I Be Allowed To Buy Things For Others To Get Free Food?
Day 52: There Aren't Any Good Coupons
Day 53: Squirrels Are The Enemy
Day 54: Air Travel On A Tight Food Budget Sucks
Day 55: Should I Be Able To Forage Food From Private Property?
Day 56: How Sad Is A Cooking Injury?
Day 57: Wash. Rinse. Repeat.
Day 58: Should I Be Able To Use Basics That I Have Purchased, But Don't Bring With Me When I Travel?
Day 59: Is Gum Food?
Day 60: Is It Acceptable To Bring Your Own Food To The Movie Theater?
Day 61: Apparently, Eating On $1 A Day Is Too Easy
Day 62: Challenge Goals
Day 63: Perishable Food Dilemma
**Step By Step CVS Moneymaker Example
Day 64: Cooking Is By far The Biggest Challenge
Day 65: I'm Avoiding Grocery Shopping
**Poll Results
**Step By Step Safeway ecoupon MoneyMaker Example
Day 66: Wild Turkey (not the drinking kind)
Day 67: Free Dinner From My Sister
Day 68: Travel Day
**Major Coupon Disaster
Day 69: Eating Squirrel Leftovers
Day 70: Giant Lemon
Day 71: Free Birthday Party Food
**Step By Step CVS Extra Bucks Money Maker Example
Day 72: Shopping Without Coupons
Day 73: I Can't Flip Omelets
Day 74: With Compliments Like That…
**Step By Step Safeway Moneymaker Example
Day 75: Can I Take Condiments From Restaurants?
Day 76: Cooking Rebellion
Day 77: Recovering From Cooking Rebellion
Day 78: The Plastic Bag Omelet
**It's Hard Giving Money Back To A Store – CVS Step By Step MoneyMaker
Day 79: Maturity Of A Three Year Old
Day 80: More Than One CVS Card?
Day 81: The Coupon Man
Day 82: Some Foods Don't Mix
Day 83: Bacon!
Day 84: Free Cheese!
Day 85: The Coupon Man Poem
Day 86: I Still Can't Flip An Omelet
Day 87: Roasted Stuffed Green Peppers
Day 88: Sometimes It's Worth Missing A Morning Smoothie
Day 89: Creating Havoc At The Hospital
Day 90: Major Decisions
Day 91: I Still Think I Can Change The World
Day 92: Walking Helps Me Keep My Sanity
Day 93: Getting Coupon Lazy
Day 94: I Gave Up 3 Days Worth Of Food For A Girl
Day 95: Recruiting Child Labor
Day 96: A Small Cooking Miracle Takes Place
Day 97: More Protein Than I Really Wanted
Day 98: Garden Rivals
Day 99: Realising I Have No Common Sense
Day 100: The Final Day
For more reading
I have had numerous requests for people wanting to know how I do my couponing and was able to eat well on $1 a day. Here is my guide to Lazy Couponing for those who hate couponing (in the traditional sense), but still want to reap the rewards that couponing offers:
Introduction: How to Coupon for the Rest of Us
Step 1: The First Month
Step 2: Start Collecting Sunday Newspaper Inserts
Step 3: eCoupons
Rebate Fanatic. Saving you money every time you shop online!
Sign Up and Start Saving Today