Some McDonalds have started to sell their free food Halloween coupon booklets which can be great treats for the kids. The McDonald Halloween booklets cost $1.00 and include the following free item coupons:
4 Free Small McDonalds Soft Serve Ice-Cream Cone coupons
4 Free McDonalds Apple Dippers coupons
4 Free McDonalds Apple Juice or Milk Jug coupons
Since these coupon books are supposed to be given away as treats on Halloween, the fine print on the McDonald Halloween coupon states that they can only be used by children under the age of 12 and they are valid between October 31 and December 31.
Check to see if your local McDonalds has started selling them. It appears that they are officially supposed to begin selling them on October 1, but my local McDonalds already has them available for sale if you ask (they aren't promoted anywhere yet).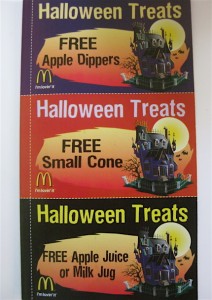 Rebate Fanatic. Saving you money every time you shop online!
Sign Up and Start Saving Today