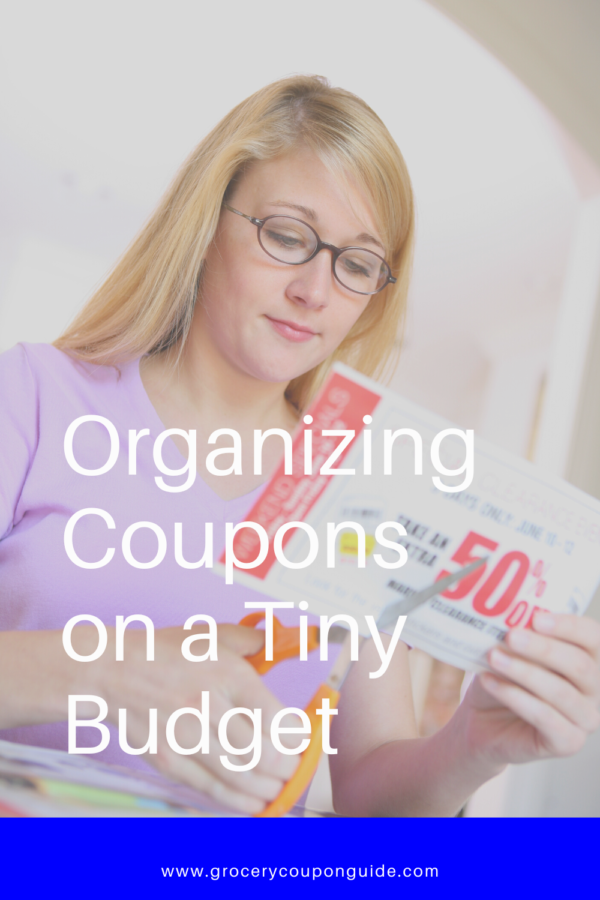 There are many theories and tips on how to organize your coupons. A simple Google search will find thousands of posts recommending binders, plastic dividers, boxes, and much more. But one thing most of those posts have in common is some significant start-up cost. The last thing you'll want to do when starting to coupon has spent a chunk of money on organizing materials. Typical start-up costs could include:
Binder – $5
Sheet Protectors – $10
Money or Card-sized Plastic Inserts – $10
Envelopes – $3
Scissors – $3
Calculator – $5
TOTAL = $36
You can dramatically reduce your costs by using what you have at home. You've probably got a few extra envelopes, a pair of scissors, and a calculator laying around somewhere. Binders, sheet protectors, and inserts, however, might be a different story. If you don't have any of those on hand, do what I did: visit the Dollar Spot at Target or a dollar store.
What You'll Need
1 Envelope per store you shop at
1 Full-size accordion file with five pockets
1 Coupon sized accordion file with 13 pockets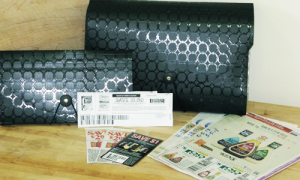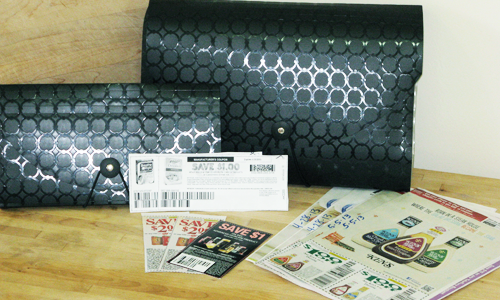 Envelopes
For each store you frequent, write the name on an envelope and stuff it with the store's coupon policy and any store-specific coupons like Catalinas, ExtraBucks, or Register Rewards. Each week as you print or clip coupons, put them straight into the envelope for the store where you plan to use them. When you're ready to head to the store, grab that envelope, do quick double check that you have all the coupons you'll need, and you're off!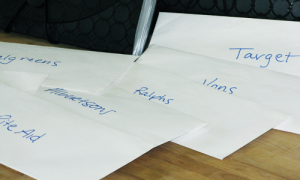 The Big File
Label the pockets: Smart Source, Red Plum, Proctor & Gamble, and Miscellaneous. Each week when you get the Sunday paper, write the date on each insert with a sharpie and file them accordingly. Use the last pocket in the back of this file to hold your store envelopes, a pair of scissors, a pen, and a calculator.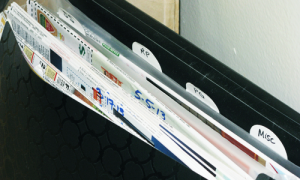 The Little File
Label the pockets with your 12 most used coupon categories. Use the 13th spot for any miscellaneous coupons that don't fit into your 12 categories. The categories I used were: Bread & Grains, Breakfast, Candy/Gum & Beverages, Canned, Cleaning, Frozen, Hygiene, Meat & Dairy, Office Supplies, Paper Storage, Snacks, Spices/Condiments & Baking. File any coupons you've clipped or printed but don't have a specific store or deal for yet.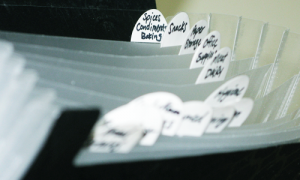 Using just these accordion files, you can reduce your coupon organizing start-up costs to as little as $2! The files are as portable as a binder, are fairly durable for their price, and look pretty discreet if you take them into the store.
Rebate Fanatic. Saving you money every time you shop online!
Sign Up and Start Saving Today