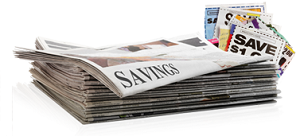 Looks like another great week for coupons!  Tomorrow it appears we will be receiving two (2) coupon inserts, but there's a chance we will receive three (3)!  Some of my favorites we can expect to see is POM, Skippy Peanut Butter, Colgate, All Laundry Detergent,  and AXE.   To view the complete list of what coupons you can expect to see in this weekends paper you can view the list here.
Looking for a great place to buy Discounted Newspaper Subscriptions?

Rebate Fanatic. Saving you money every time you shop online!
Sign Up and Start Saving Today