Most people know that the large manufacturers put out coupons for their products on a regular basis, but it's much more difficult to find coupons for a variety of other food purchased in the grocery store. Just because it's difficult to find grocery coupons for certain products doesn't mean that they don't exist. While it can certainly be more difficult finding them, understanding that they do exist allows you to be on the lookout for them so you can grab them when they do appear. We listed 5 coupons that you didn't know existed — here are five more to add to that list: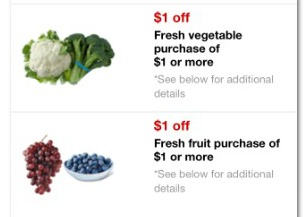 Fish
It's rare to find coupons for fish that's not frozen or prepackaged. Most grocery stores will have the rare special or discount on fish, but it's very unusual to find a coupon for fish. Fish, along with items like fresh produce, usually come from local farm or distributors that don't actually have coupons. However, even though there won't be any manufacturer's coupons, you might be able to find store coupons for fish or even coupons for larger fish markets.
The other place to look is in the wine section. Sometimes wines that pair well with fish will have a coupon for some amount of fresh fish when you purchase the wine in combination. Now, this really isn't a discount if you weren't planning to buy wine, but if you were, it can be (as long as the wine price is similar or less expensive than what you were planning to pay).
Fresh Vegetables
Like many of the other items on this list, fresh vegetables usually do go on sale, but very rarely have coupons. However, sometimes you can find coupons on the internet, in grocery store flyers, or on the shelves and bins containing fresh vegetables. It also pays to look for dips like hummus and products like salad dressing that go well with vegetables as they will sometimes have discount coupons for veggies when bought in combination with them — again, this is only a deal if you were already planning to buy those products. While it should be noted that these coupons are few and far between, they do exist. You just have to be patient while you wait for them or search online for them.
Fresh Fruit
Coupons for fresh fruit are equally hard to find. Fresh produce doesn't often have coupons because, as with many other types of food, it's a seasonal item and grocery stores can't always guarantee they'll have the item in stock. But big discount stores, such as Costco or Sam's Club, often have coupons for fresh fruit in their weekly or monthly coupon flyers. They are also becoming more common with fruits that are trying to brand themselves. A good example is Cuties tangerines that often have coupons available when they come in season.
Bakery Items
Coupons for bakery items depend on the grocery store you shop at. Some grocery stores will have a constant flow of coupons for their bakery items while others will have coupons only around large holidays. So if you happen to be a huge fan of your local grocery store's pies, cakes, or pastries, keep your eye out for coupons. You wouldn't want to pass by an opportunity to get some money off these items, after all.
Prepared Foods Section
A lot of grocery stores have prepared foods sections for people who aren't stopping in for groceries but are stopping in to pick up a quick, prepared meal. Coupons aren't popular for this section of the grocery store, but keep your eye on promotions and store flyers. Every once in a while grocery stores will post 10% off coupons or $2 off coupons for their prepared foods sections. You can also sometimes get a coupon for a free sandwich at the deli counter after you buy a certain number at some grocery stores.
Articles you may like:
Sign Up and Start Saving Today