I think that there is some type of curse when it comes to me shopping at Walgreens. There is a Walgreens near the house, but I usually avoid it in favor of CVS where I have had many less issues when using coupons. With Thanksgiving day quickly approaching and current deals few and far between, I decided that it would be impossible to pass on the $3.00 Vicks Nyquil Sinex money maker there this week which goes like this:
Vicks Dayquil Sinex or Nyquil Sinex, 20 ct – $5.00
Buy 2, Receive $5.00 Register Rewards
**(2) $4.00 off 1 Sinex Product coupon from 10/10 Proctor & Gamble Sunday newspaper coupon insert
Pay: $2.00, Receive $5.00 Register Reward
Final Price: $3.00 Money Maker!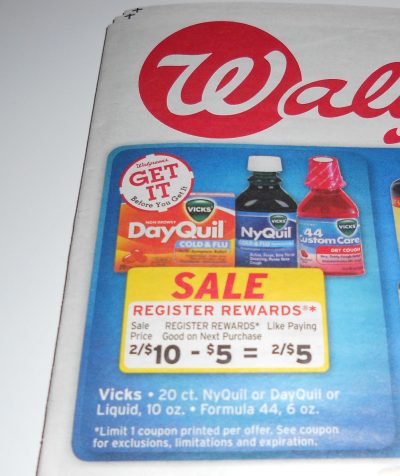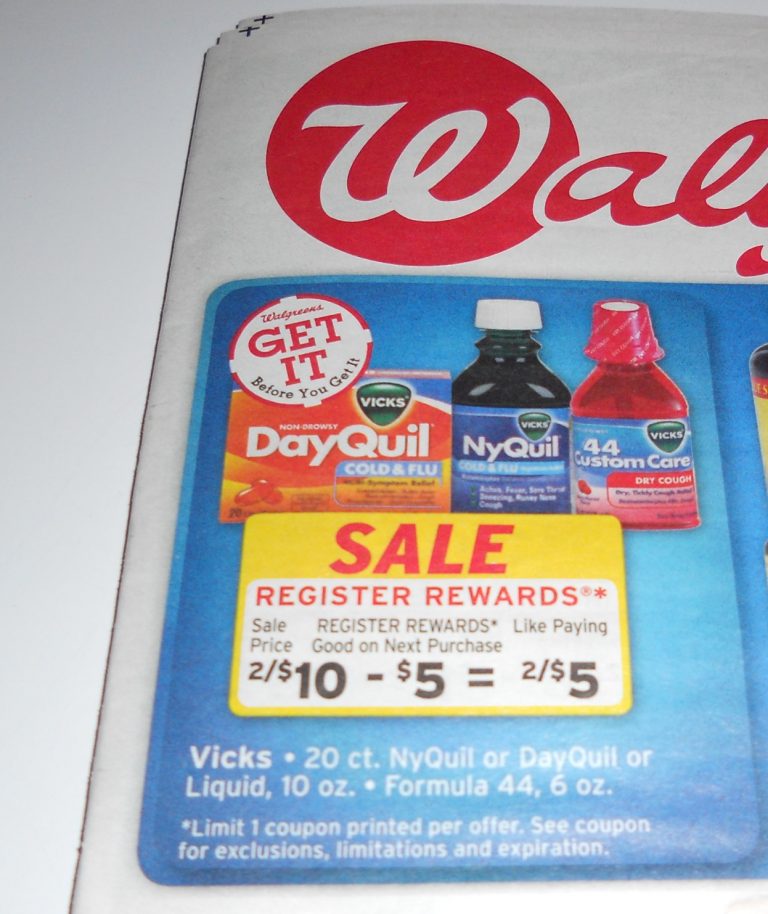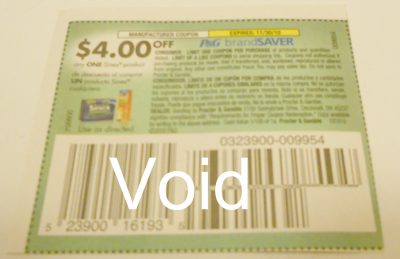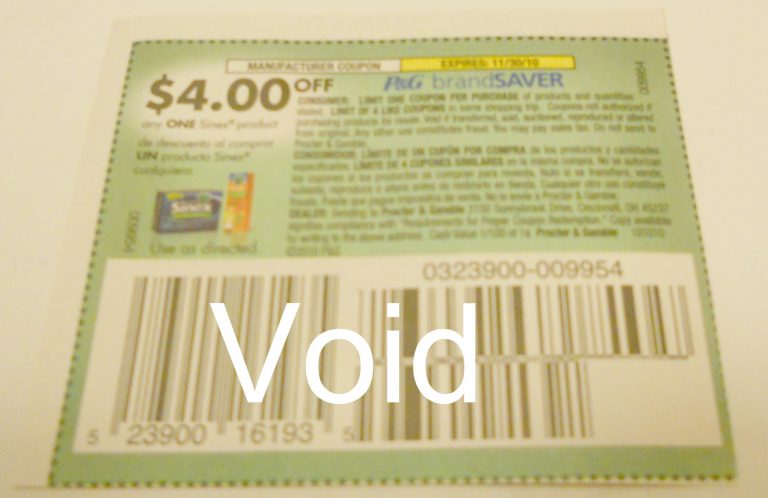 This deal should have allowed me to get almost all the basics I still needed for my $1 Thanksgiving dinner for six challenge if I did it about 5 times, but reality quickly set in when I realized that the coupon needed came from the October 10th Sunday paper. This was a time when I was traveling so I couldn't collect Sunday newspaper inserts like I usually do. I found I only had four inserts instead of the usual 20 plus inserts. With only 4 coupons, I could only do the deal twice.
Still, two times would give me $6.00 to work with so I decided to give it a try. The first time through all went well with both coupons coming off without a problem, but the register reward machine jammed and I didn't get the $5.00 coupon for my next purchase I had expected. I had to call the manager over and he issued me a $5.00 Walgreens gift card instead: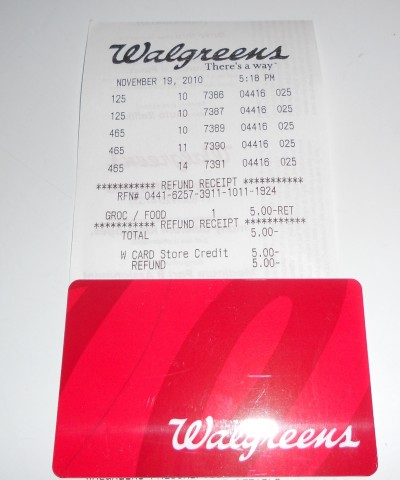 The second time through, the exact opposite happened. The register reward printed, but the receipt got mangled as it came out. In the end, I did buy 4 Nyquil Sinex which gave me a $4.14 overage ($2.07 overage with each transaction – an additional $0.93 for each transaction was tax which needed to be paid).
I ended up buying 4 cans of chicken broth, 2 cans of cranberry sauce and 2 cans of green beans: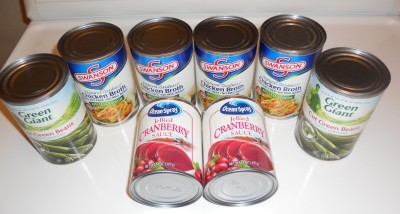 The total for these came to $3.95 which means I still have $0.19 I can spend at Walgreens in addition to my original $1.00 I haven't touched yet: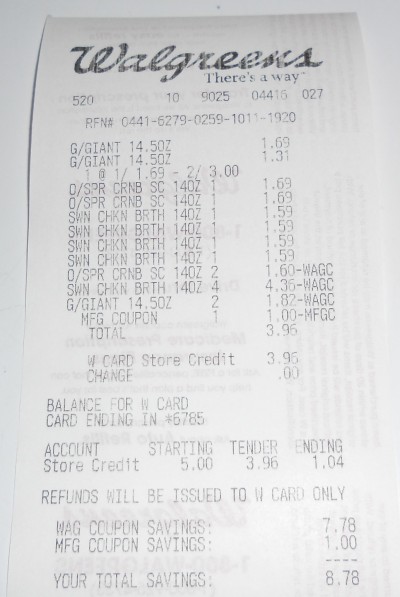 I used 3 Walgreens coupons that came with the weekly advertising insert: Chicken broth for $0.50 each, cranberry sauces for $0.89 each and green beans for $0.59 each. I actually wanted to get canned yams instead of the green beans that were also available for $0.59, but they were sold out. In addition, I used a $1.00 off 4 Swansons chicken broth from the Safeway Thanksgiving coupon book: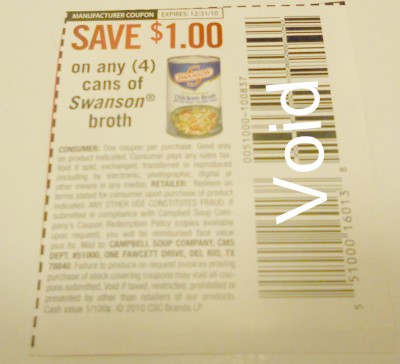 This has allowed me to cross off cranberry sauce and veggies off the planned Thanksgiving menu. I also have chicken broth that I can use to help flavor some of the side dishes. That means that I have mashed potatoes, pumpkin pie, butter, salt, pepper and the turkey left. i still have my fingers crossed that a free turkey opportunity will arise, but I have decided to put my secret free turkey plan into action beginning this afternoon and see if it works. Please keep your fingers crossed so I don't have to show up for Thanksgiving dinner without a turkey…
Rebate Fanatic. Saving you money every time you shop online!
Sign Up and Start Saving Today