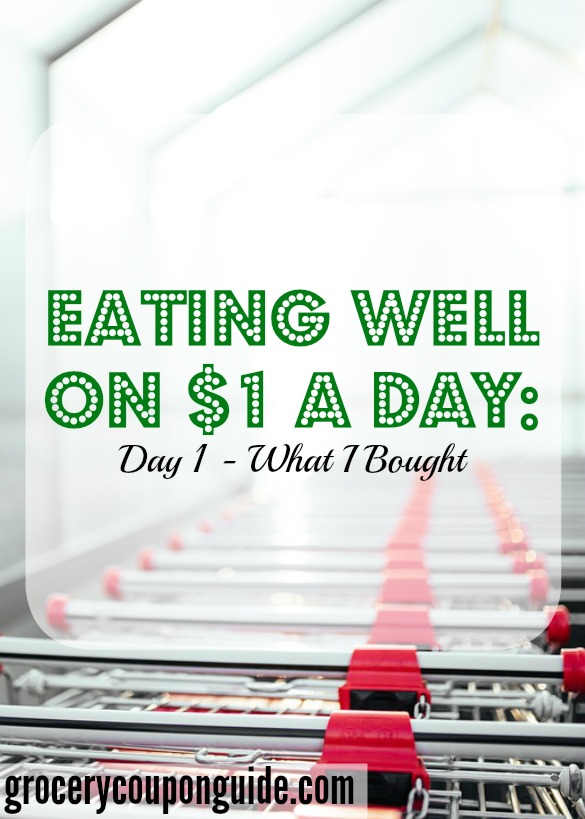 I woke up this morning and knew I needed to go out and do some shopping if I was going to eat anything today. I had $31 in my pocket and some coupons I had gathered, and I was on my way.
My first purchase was Scrubbing Bubbles Extend-A-Clean bathroom cleaner and refill. While this may at first appear to be a strange purchase when I have only $31 for the month, I did it because it was a money maker. The Scrubbing Bubbles Extend A Cleaner bathroom cleaner was on sale for $6.99 and there was a $5.00 off 1 coupon for Scrubbing Bubbles Power Sprayer Starter from 4/11 SmartSource Sunday newspaper insert which I had. I also used a Free Scrubbing Bubbles Extend-a-clean refill, when you buy starter coupon (go to the bottom of the page and the deal will scroll by) which made the refill free. With tax, I ended up paying $2.96 out of the $31.00, but I received a $3.00 Catalina (the coupons that come out with your receipt) and two $1.00 Catalinas (I should have only gotten one, but I think what happened was that the cashier needed to check the price of the refill to make it free and instead of looking, she scanned it again triggering a second $1.00 Catalina). So after spending $2.96, I had $5.00 in coupons to spend:
***************************************
This is part of a month-long challenge to eat well while spending an average of only $1 a day on food. You can find the beginning and the rules of this challenge here
***************************************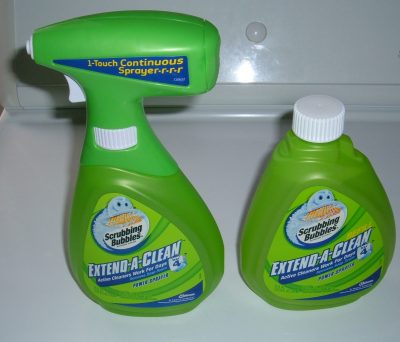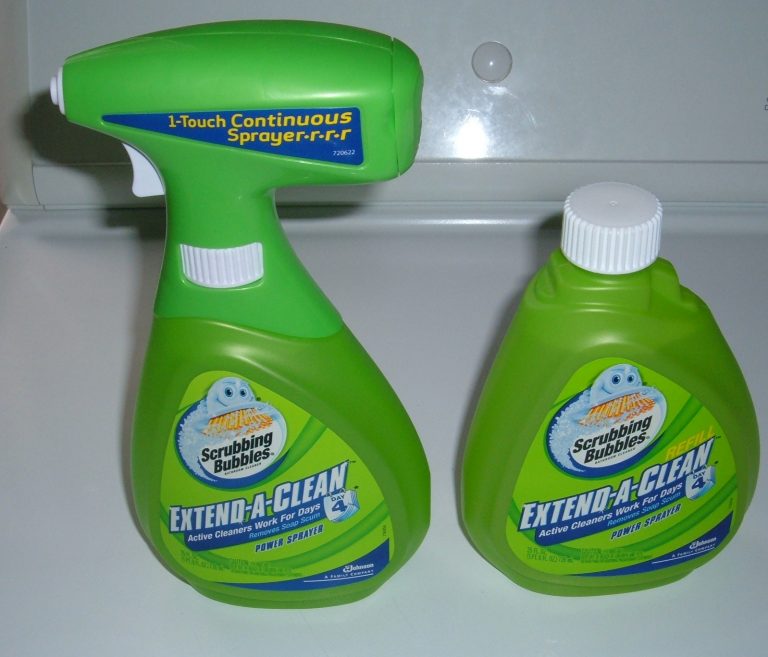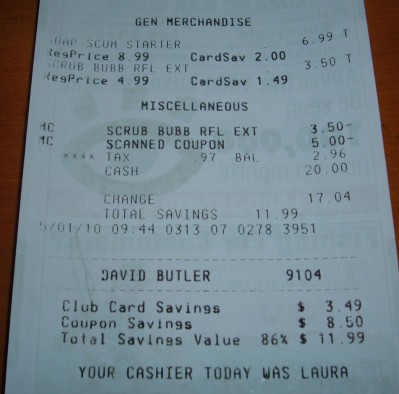 I then headed back to the store to see if they had Philadelphia Cream Cheese Minis and if the
Blinkie coupon dispenser
was still there. Luckily it was and I grabbed 19 of the Philadelphia Cream Cheese since they didn't have twenty: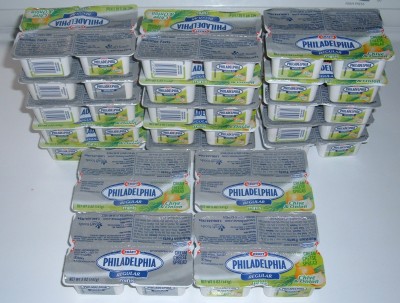 The Blinkie coupon actually makes the Philadelphia Cream Cheese minis a $0.06 money maker for each one you buy since it is for $0.55 cents off and with the current promotion, each one is $0.49 if you buy in groups of five. Since I needed another item to make 20 items for the promotion to work, I got some Knudsen Light Sour Cream (it was $0.99 and there was a Blinkie Coupon for $0.60 off 1 making it $0.39):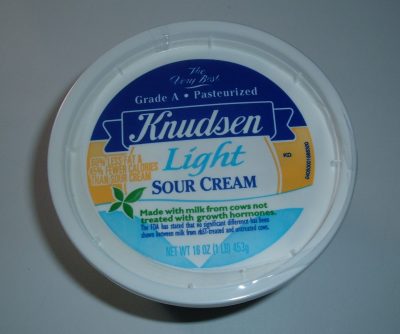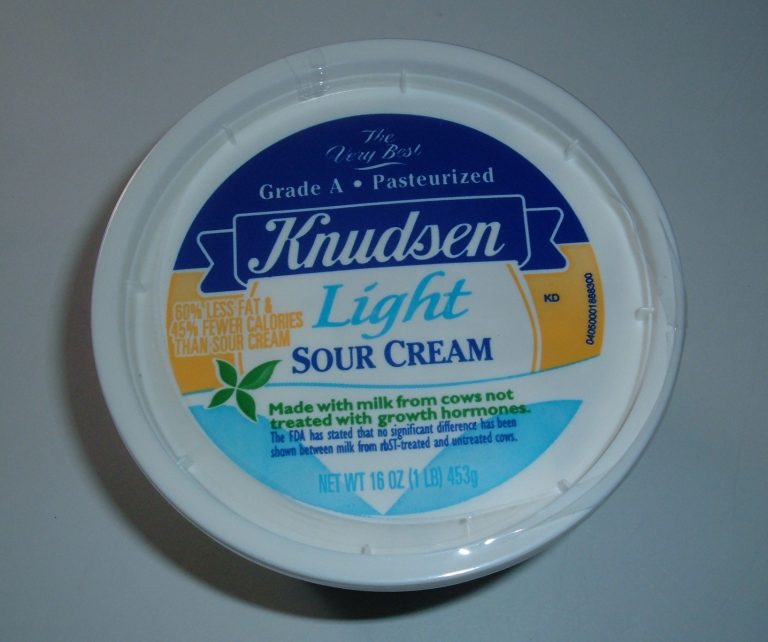 Since I hadn't eaten anything and I knew that I needed something for breakfast, I decided to go for two boxes of Quaker regular instant oatmeal. It wasn't on sale for a great price — $1.99 per box — but I did have $1.00 off 1 box coupons for the two boxes making them $0.99 each and it's anyone's guess when the price would go down more. Since I had no food, I had to suck it up: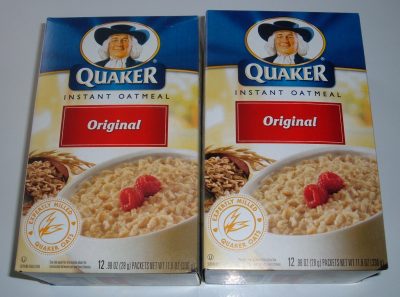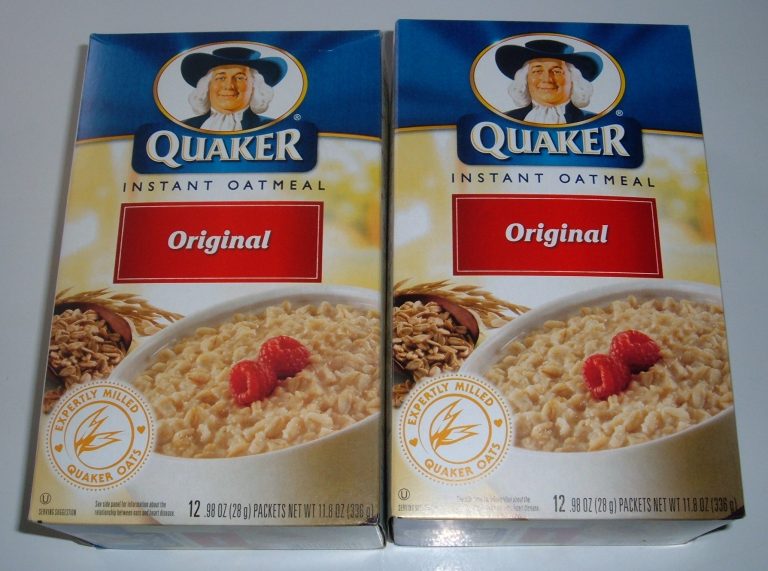 Since this project is to eat healthy on $1.00 a day, I decided I needed to get some produce as well. I have $1.00 off Safeway Brand apples and another coupon for $1.00 off Safeway produce when you bought $5.00. The apples were $3.99 and I decided to get 2 lbs of carrots as well to make that work: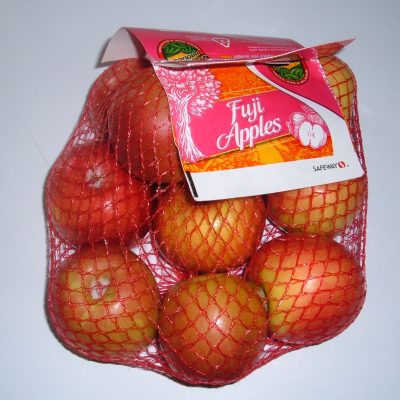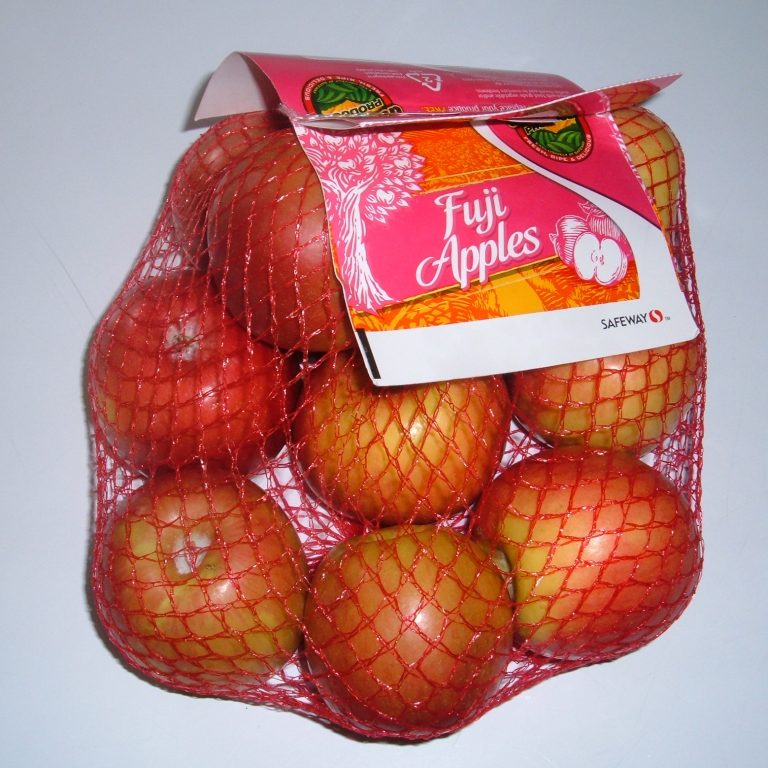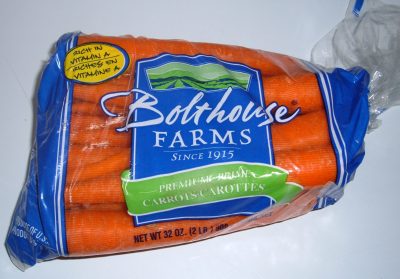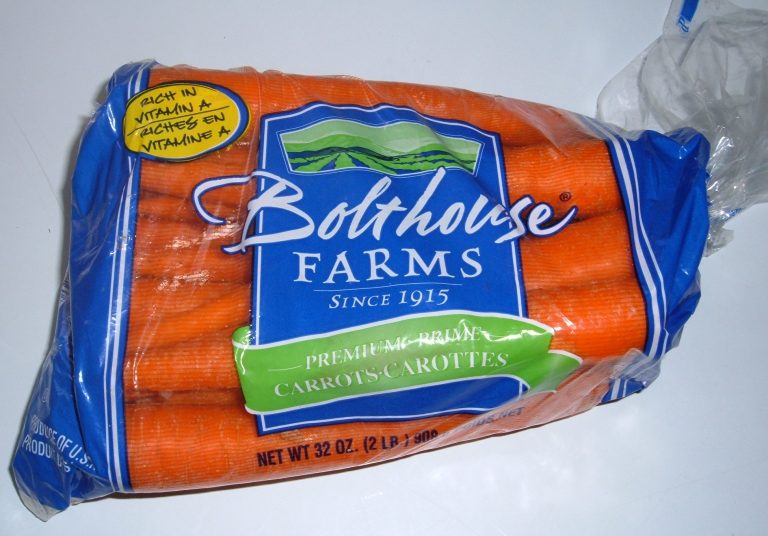 Using the coupons I had and the Catalina coupons I had received for the Scrubbing Bubbles, I got all of the above and the cashier paid me back $0.09 so that I had now spent $2.85 of the $31.00: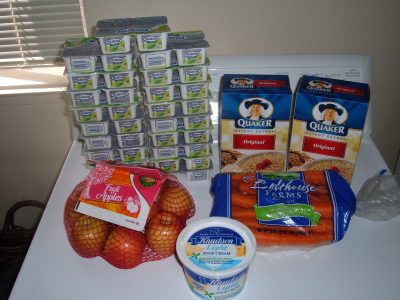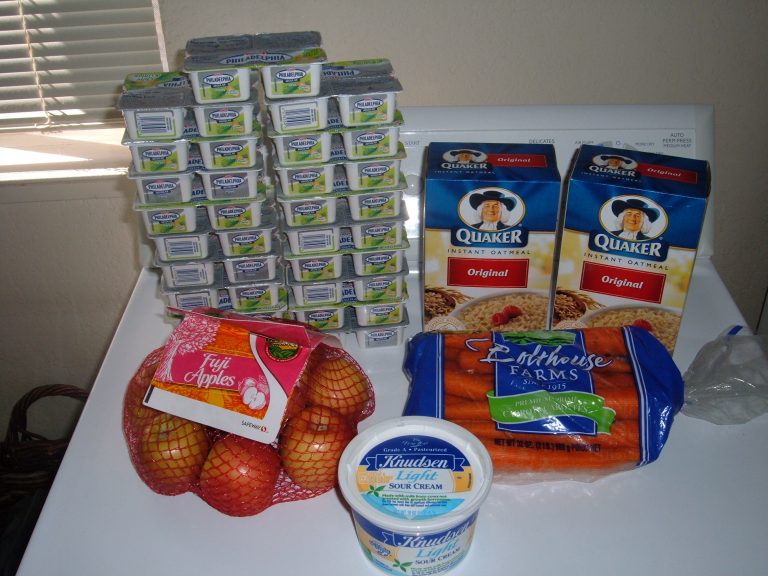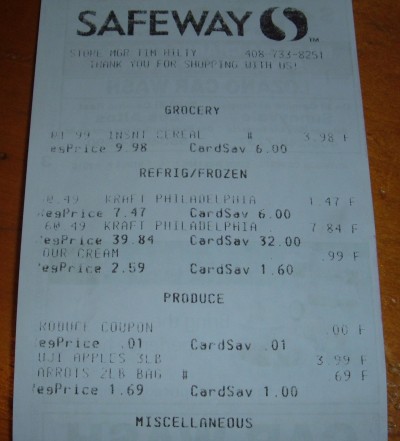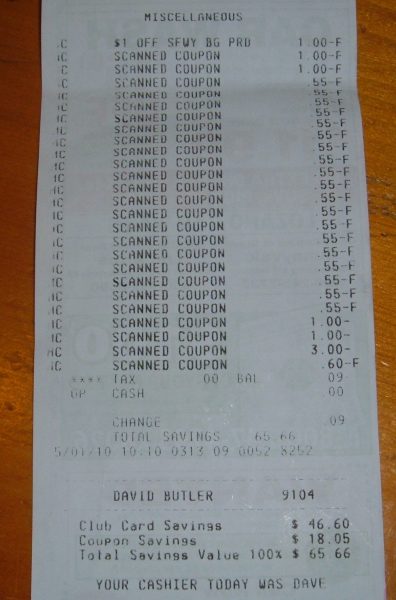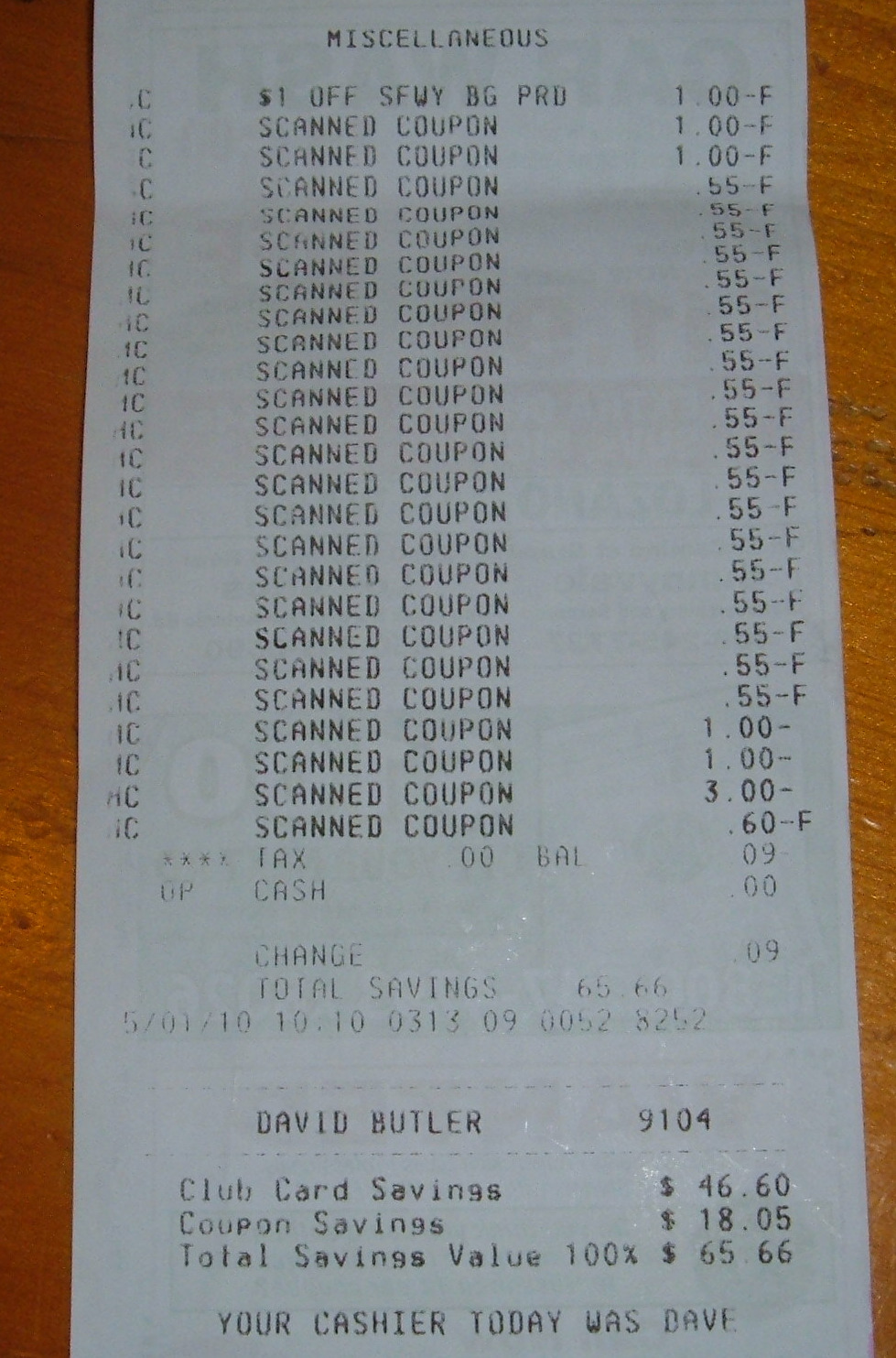 Since I was also taking a run to the local food bank today, I decided to donate the Scrubbing Bubbles (they also give out toiletries and household cleaning materials) and 15 of the 19 Philadelphia Cream Cheese minis: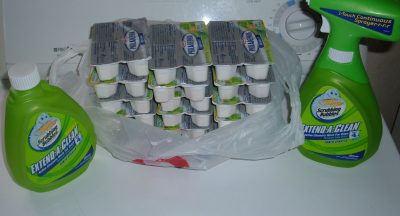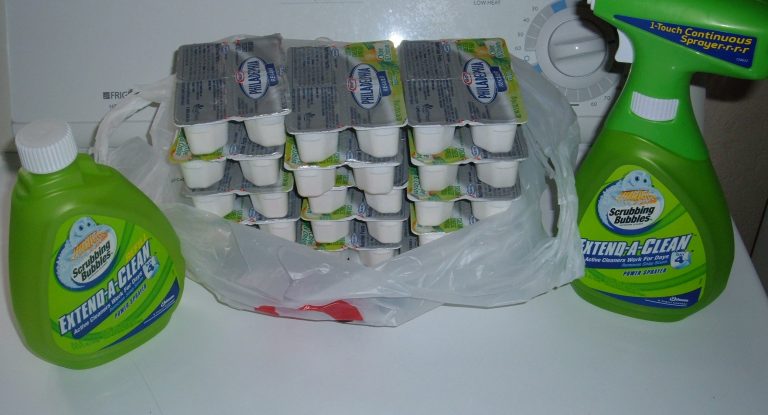 I only kept 4 — 2 regular and 2 onion and chive. I did this because I also took a bunch more coupons from the Blinkie machine that I will use in the coming days so I know I will have plenty of cream cheese even with the donation.
Next stop was CVS where I bought Skippy Peanut Butter, 2 cans of Pork and Beans, 8 boxes of wheat thins, 2 bags of Ghirardelli chocolate and 1 bag of long grain rice. I had planed to buy Fig Newtons as well, but they were sold out so I got a raincheck for them. I had $1.00 off 1 box coupons for the Wheat This and Fig Newtons and free bags of Ghirardelli chocolates that I had received from an online contest. Since the Fig Newtons were sold out, I substituted 4 more Wheat Thins (I could have done several other things to make it work — I had a $4 off coupon with the purchase of $20 or more), but didn't feel like driving all the way back home to get the coupons to do it). The total for all the items after coupons came to $1.16 raising the total I spent to $4.01 of the $31.00: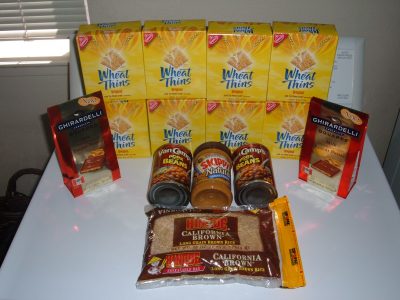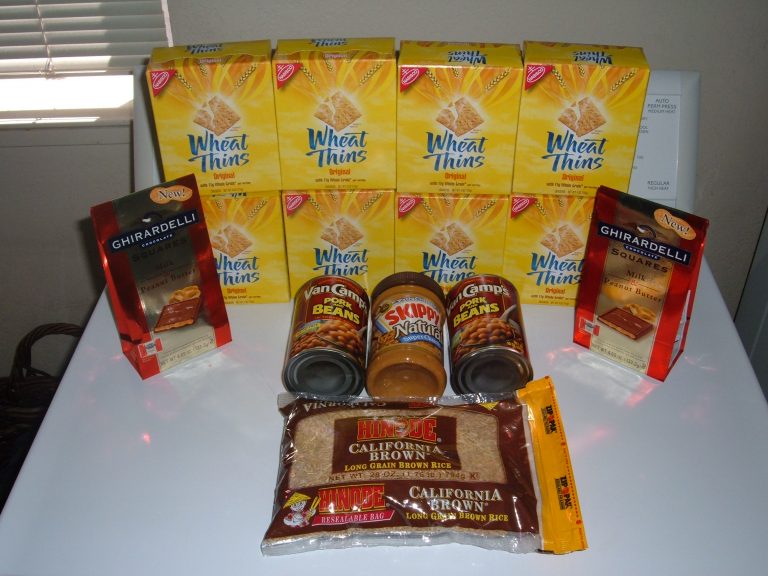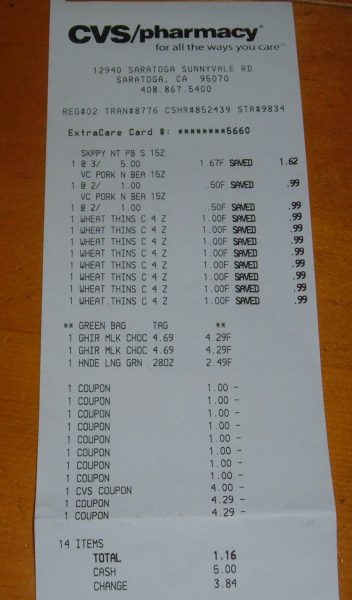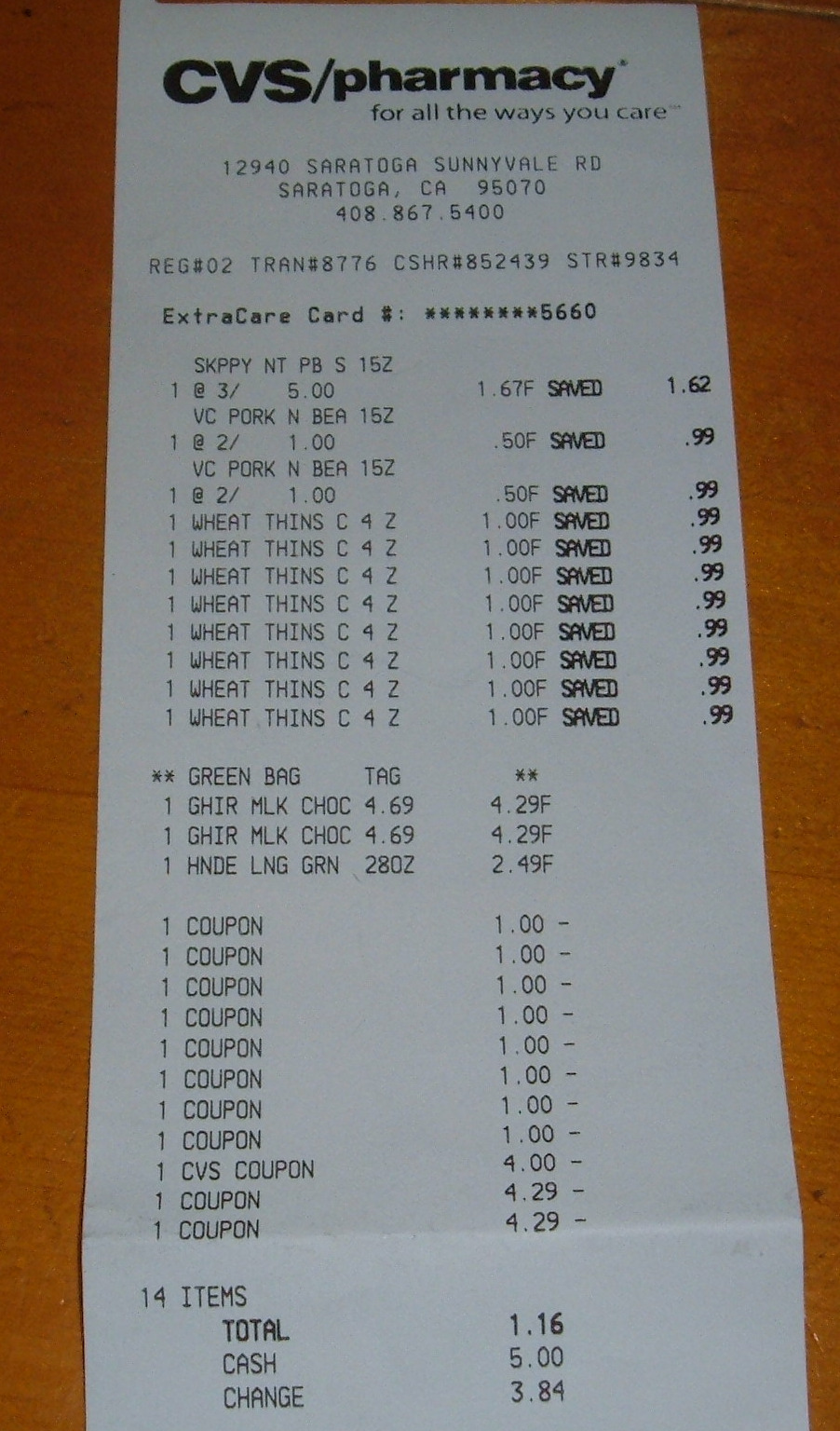 Since the
rules are that I can only use 2 computers to generate coupons off the Internet
, 4 of the Wheat Thin boxes will be donated to the food bank. my sister also said (much to my dismay) that since the Ghirardelli chocolates where won in a contest before this challenge started, they get taken away as well (and she was more than happy to take them). That left me with the following for my $1.16: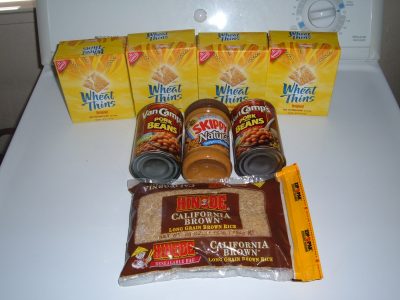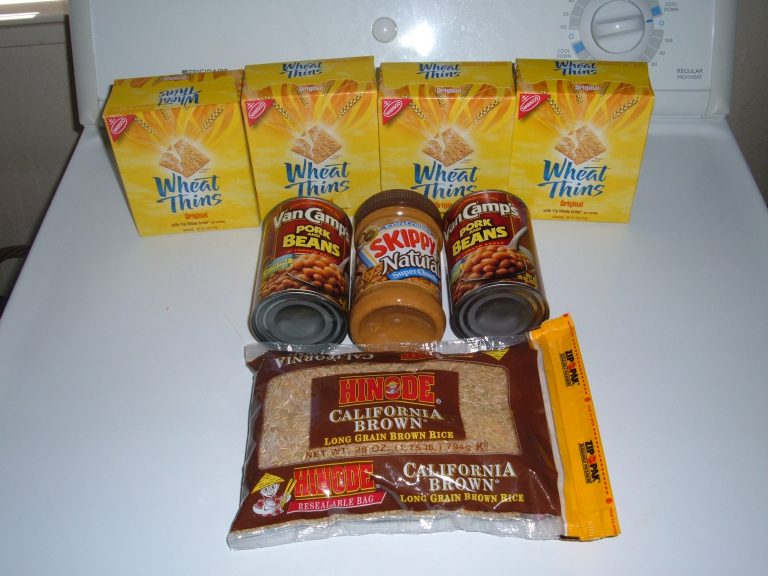 I made one final stop because i know that I would not survive this challenge without some type of bread. Nob Hill had Mission 100% wheat flour tortillas on sale for $0.99 with a store coupon and I also had two $0.75 off 1 coupons for Mission Tortillas from the Internet (they have since expired) bringing the price down to $0.24 each ($0.48 total) for tortillas: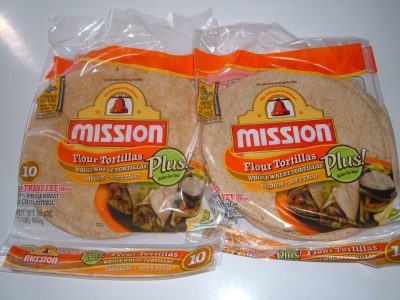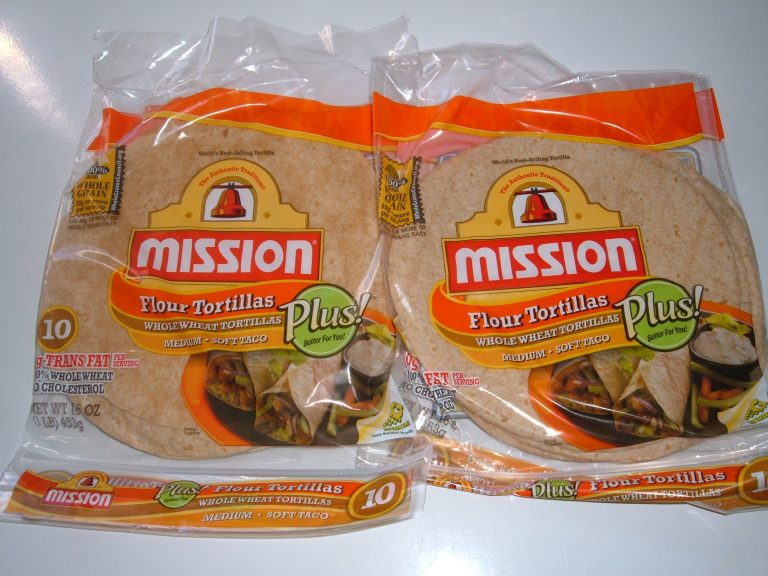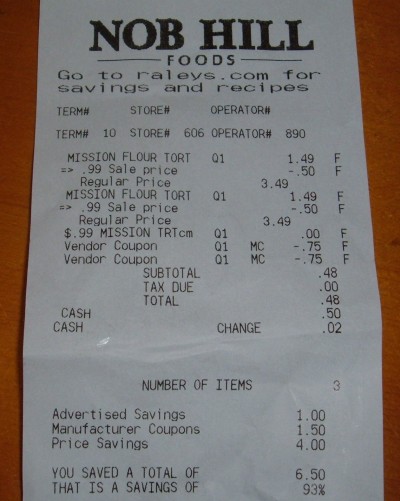 So at the end of the day, I spent $4.49 of the $31.00 I have this month on day 1 to get the following food (before today's meals):
2 boxes of Quaker Instant oatmeal
4 packs of Philadelphia Cream Cheese Minis
1 package of Knudsen Light sour cream
10 apples
2 lbs of carrots
4 boxes (small) of Wheat Thins
1 jar of Skippy All Natural peanut butter
2 cans of pork and beans
1 bag of long grain brown rice
2 packages of Mission 100% whole wheat tortillas (10 counts each)
Donated Food to Food Bank that was purchased with my $1 a day
15 packs of Philadelphia Cream Cheese Minis
4 boxes (small) of Wheat Thins
1 Scrubbing Bubbles Extend-A-Clean bathroom cleaner
1 Scrubbing Bubbles Extend-A-Clean bathroom cleaner refill
Master List ::: Day 1: Breakfast, Lunch, Dinner
Rebate Fanatic. Saving you money every time you shop online!
Sign Up and Start Saving Today