Today was an extremely busy day. I spent the vast majority of it going from grocery store to grocery store buying cereal for local food banks in my area to take advantage of the great cereal deal where you can get it for free / nearly free. A day of shopping confirmed what I already knew – I hate shopping. Now, most people would ask me why I would spend a day shopping if it is something that I don't particularly enjoy doing? There are three main reasons:
I'm stubborn: I get into my mind that I am going to try and to something and I tend to keep trying to achieve it in whatever way I can think of trying. While I don't particularly like shopping, I think I would hate quiting more.
I have been able to turn it into a game: I do like finances and finding deals. I have been able to turn the entire process into a game of trying to find those great deals. The shopping for those deals is only one part of the entire process and the one that I just happen to dislike the most. I do enjoy the other parts of the process so that overall it is still worth doing for me.
It needs to be done: it's a shame that in our country there are still people going hungry, but that is how it is. If I can spend a day and put over $1000 worth of food on the tables of people that might not have it otherwise for pennies on the dollar, that is a pretty good way to spend a day in my book even when it isn't something that I like a whole lot.
***************************************
This is part of a month long challenge to eat well while spending an average of only $1 a day on food. You can find the beginning and the rules of this challenge here
***************************************
I find it rather ironic that someone that hates shopping and cooking is actually attempting to do this, but it also shows that if I can do it, absolutely anyone can.
Breakfast
I ended up getting up later than i wanted to and was in a rush from the beginning. I needed to get out the door quickly, but couldn't have any dairy products die to the antibiotics I was taking. I also knew i wouldn't be able to make myself something a couple of hours later since I would be out, so I doubled up the oatmeal and added a banana to fill my stomach: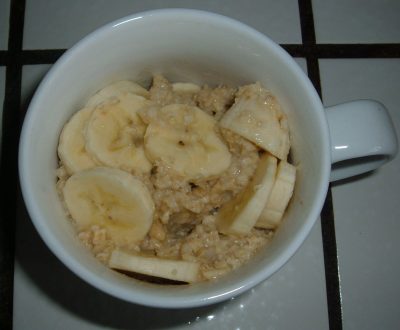 Lunch
i also knew that I would likely still be out on the road for lunch, so i packed myself a quick lunch as well. I made a peanut butter sandwich on whole wheat bread (using the last of my peanut butter) and threw in an apple (my last one), a banana and a bag of chips. I also put in a couple of the CapriSun juice packs I had: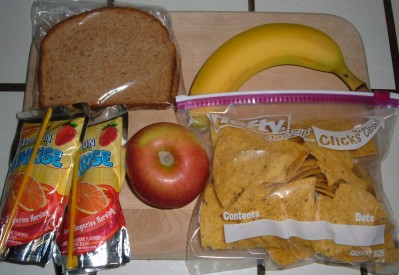 Dinner
By the time I came home in the evening, I was exhausted. I went ahead and boiled a cup of the rainbow rotini I had and added a few large spoonfuls of the 4 cheese pasta sauce I had (no ground beef today). I then added the rest of the broccoli head I had boiled the day before (I still have on head left) and cut up one of my tomatoes: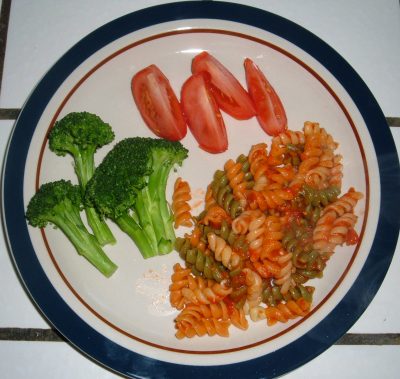 I had planned to save half of the pasta for the next day, but I was still hungry so I ate the rest as well: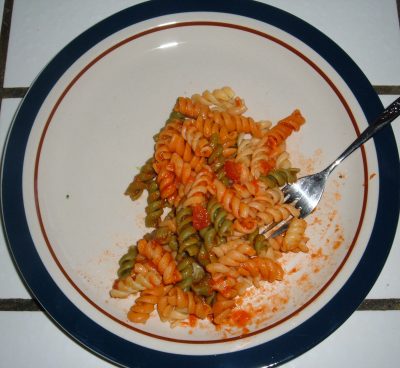 Before going to bed, I also snacked on a couple of stalks of the celery with cream cheese. Tomorrow is the 14th marking 2 weeks doing this and time to take another inventory of what I have left to work with.
This is the current list of what I have purchased:
Money Spent $13.60
Money left to spend: 17.40
Retail Value of everything bought: $455.59
1 mystery purchase
1/3 lb ground beef
4 tomatoes on vine
2 broccoli crowns
1 loaf of bread
2 jars of Classico pasta sauce
2 Safeway brand pasta (spaghetti and rotini)
1 celery stalk
2 bags tortilla chips
3 cans tuna
1 bottle Welch's grape & peach 100% juice
1 bottle V8 Fusion fruit / vegetable drink
1 bottle V8 spicy vegetable drink
2 boxes of Caprisun fruit drinks (10 packs)
1 jar of salsa
1 bag of black beans
1 half gallon of milk
36 boxes of cereal
1 dozen eggs
2 avocados
11 bananas
2 boxes of Quaker Instant oatmeal
14 packs of Philadelphia Cream Cheese Minis
1 package of Knudsen Light sour cream
10 apples
2 lbs of carrots
4 boxes (small) of Wheat Thins
1 jar of Skippy All Natural peanut butter
2 cans of pork and beans
1 bag of long grain brown rice
2 packages of Mission 100% whole wheat tortillas (10 count each)
Donated Food to Food Bank that was purchased with my $1 a day
2 sticks of deoderant
4 bottles Windex multi-surface cleaner
1 can of Pork & Beans
32 boxes of cereal
50 packs of Philadelphia Cream Cheese Minis
4 boxes (small) of Wheat Thins
2 Scrubbing Bubbles Extend-A-Clean bathroom cleaner
2 Scrubbing Bubbles Extend-A-Clean bathroom cleaner refill
************************

The Beginning ::: Day 14: 2 Weeks Down Summary

************************
Rebate Fanatic. Saving you money every time you shop online!
Sign Up and Start Saving Today