It's beginning to look like I may actually be able to pull off this $1 Thanksgiving Dinner Challenge. At least today I made a big step in the right direction and I'm sitting in a pretty good position to get all the things that I will need. Of course, then I actually have to make an edible meal which anyone who followed my Eating Well On $1 A Day Challenge knows is far from certain.
I went to see if the free $10 US Bank Reward Visa Card coupon I found was legit and was happy to find out that it was. I had to listen to a talk and was given a bunch of information about different accounts and credit cards being offered by the bank, but did not need to open an account or apply for a card. That gave me $10 to spend toward the turkey and other items I still needed, but things went even better than anticipated. This is what I was able to come home with: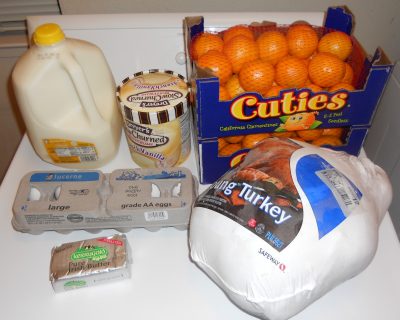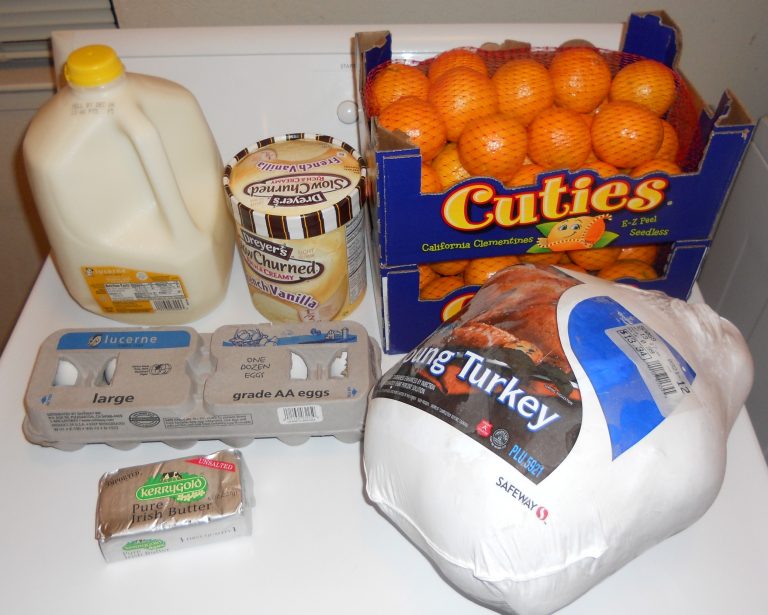 1 gallon of milk
Dreyer's ice cream
2 five lbs boxes of Cuties clementine oranges
1 dozen eggs
Kerrygold pure Irish butter
Turkey
The total for the above came to…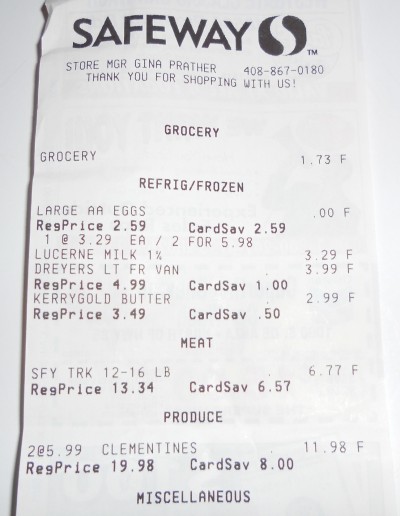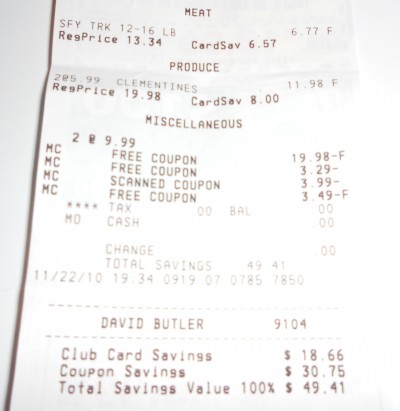 Yep, you read that correctly — the total was $0.00 so I didn't even touch the $10 Visa card. This was not expected and it wasn't until I arrived home that I was able to look over the receipt closely and work out what happened.
The ice cream and milk ended up being free from the Catalina coupons I found. The dozen eggs were free for signing up for Safeway's new club card eCoupons (it automatically came off when I scanned the club card). I had a free coupon for Kerrygold butter and 2 free coupons for 5 lbs boxes of Cuties clementines which I had received from a food blogging convention I had attended last month in San Francisco and had been saving for an occasion just like this.
Since the price of all these items was over $20 before coupons, that brought the price for the turkey down to $6.77. I assumed I would have to place $6.77 on the Visa card, but what actually happened was that the free coupons ended up scanning for the regular price instead of the club card price creating an overage that entirely paid for the turkey (I actually had $1.74 overage so I could have even purchased more if I had known).
My nieces will love the clementines and the ice cream can be served with the pumpkin pie. The eggs and milk might come in handy if I decide to make some things from scratch — I am now considering whether I really want to attempt that with a pumpkin pie with all the other cooking I will have to do. That means I am now only missing mashed potatoes, pumpkin pie, salt, pepper and veggies to stuff the turkey with $11.00 ($10.00 from the Visa card and $1.00 which was the original budget) still to spend.
So, do you think I should attempt the pumpkin pie from scratch?
Rebate Fanatic. Saving you money every time you shop online!
Sign Up and Start Saving Today