If you are going to be going to Safeway today or tomorrow, you might want to consider these two catalina coupons that are available. They both end on 5/27 (Thursday), so you will have to act quick if you want to take advantage of them.
Hamburger Helper Catalina Coupon
Buy 4 boxes of Hamburger Helper through Thursday 5/27 and receive a catalina coupon for $2 off your next purchase of ground beef.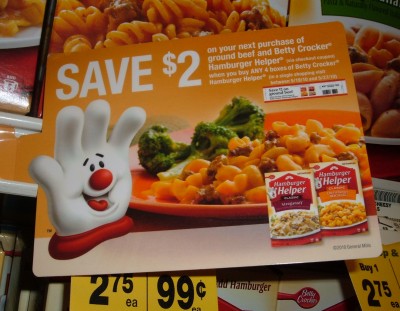 Buy 4 boxes of Hamburger Helper at $0.99
Use $1.00 off 3 Hamburger Helper, Tuna Helper, or Chicken Helper (IE) or (FF) (Bricks)
Use (if you have) $1 off 1 Hamburger Helper, Tuna Helper, or Chicken Helper from General Mills Spanish Que Rica Vida (sign up here to get future coupons)
Also Available: $0.75 off 3 Hamburger Helper, Tuna Helper, or Chicken Helper from SmartSource 4/11 and 5/2 Sunday paper inserts
Final Price: As low as $2.00 for four ($0.50 each), plus $2 ground beef Catalina)
General Mills Cereal / Betty Crocker Fruit Snacks Catalina Coupon
Buy 3 General Mills Cereals or Betty Crocker Fruit Snacks through Thursday 5/27, and receive a catalina coupon for a free box of Nature Valley Granola Bars: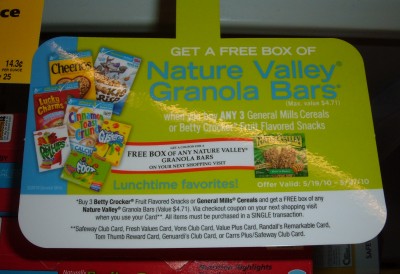 The best deal is the Betty Croker fruit snacks, but it really isn't much of a deal since you can often get these for $0.50 or less each — but if you happen to need any of these:
Buy 3 Betty Crocker Fruit Snacks at $1.99
Use $1.00 off 2 any flavor Fruit Roll-Ups Mini Rolls Fruit Flavored Snacks from the ShrekTacular Savings booklet
And load $0.50 off 2: Betty Crocker Fruit Roll Ups, Gushers, eCoupon: (shortcuts.com)
Final Price: $4.47 for three ($1.49 each), plus Free box of Nature Valley Granola Bars Catalina)