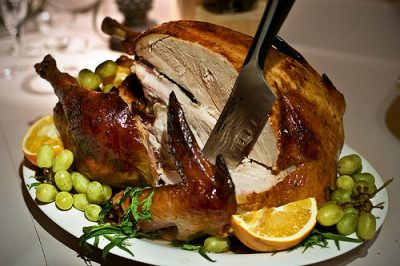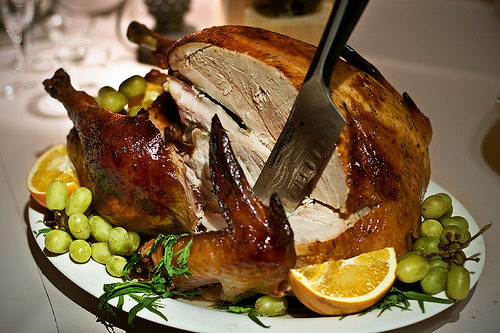 It's time to talk turkey! Many stores offer free Thanksgiving Turkey or other free dinner promotions during the six weeks prior to Thanksgiving. While the offers vary somewhat from store to store, there are three basic types of offers: spend $300 at one store to receive your turkey; buy participating items to earn a turkey; and collect turkey "points" to earn a turkey.
Each offer is designed to secure your loyalty and commitment to shopping exclusively at that store prior to Thanksgiving (and hopefully spending quite a bit on those holiday "extras"), but it's possible to still receive great deals, nearly free groceries, and still obtain free turkeys and other meat. You just need to know the rules and play the game to win!
Types of offers:
Here is the basic information for each type of free turkey offering:
1. Spend $300 at one store. These offers are the most common. Here's how they work:
Spend the required amount, usually $300, at the store during the six weeks before Thanksgiving, approximately between 10/16 – 11/26.
Present your SAME club/store card to the cashier each time you shop between the qualifying dates. Membership and card are required to track your purchases.
Registers will automatically keep a running tally of purchases during the qualifying period. You'll see your current total at the bottom of the receipt so you will know when you have met the requirements. You can also see if your purchases aren't qualifying, so if you don't believe you are receiving full credit, take your receipt to customer service and ask about it.
Qualifying purchase prices are calculated

*before taxes,
*excluding the face value of manufacturers coupons, and
*after store coupons, sales/card price deductions, double/triple coupons, or extra value (store) costs
and exclude prescriptions, gift card purchases, postage stamps, lottery tickets, and items prohibited by law such as cigarettes and alcohol.

Once your qualifying purchases have met the $300 limit, you will qualify for your free turkey or other item. There is a usually a CHOICE of free item, since not everyone wants or needs a turkey. Choices usually include:

• Free store or local brand frozen turkey, up to 22 pounds
• Free store or local brand ham
• Free store or local brand turkey breast
• Stouffers lasagna, 90 – 96 oz
• An equivalent dollar savings, per pound, off any other turkey, turkey breast, or ham
• $10 off any other meat

Check your local store to determine what is or isn't included in their offer.
There is a limit of one free turkey per family/household.
Some stores print out a redemption code on the bottom of the receipt. This is important! The code only prints once, and you will need to provide that code at the register when you want to redeem it for your free turkey, so pay attention, keep your receipts, and bring them with you. Other stores "automatically:" deduct the price of your turkey if you purchase it after qualifying; again, keep your receipts and pay attention to ensure you receive proper credit.
Most free turkey offers expire immediately after Thanksgiving, so redeem them promptly!
2. Purchase $40 in qualifying products at one store.  Common at A&P stores, here's how they work:
Purchase $40 worth of participating brand products during a two week period and receive a redemption code for a free turkey. There are typically three separate offers prior to Thanksgiving: P&G, Kraft, and Unilever or General Mills.
You must present your SAME club/store card to the cashier each time you shop during the qualifying two week period. You'll see your current total of qualifying purchases at the bottom of the receipt, so you will know when you have met the requirements. You can also see if your purchases have not qualified.
Qualifying purchase prices are calculated

*before taxes,
*excluding the face value of manufacturers coupons, and
*after store coupons, sales/card price deductions, double/triple coupons, or extra value (store) costs

In other words, if a $10 item is on sale for $8, the $8 would count towards the qualifying purchase. If you have a 50 cent coupon that doubles, the manufacturers portion of the coupon, 50 cents, would not be discounted from the qualifying purchase (although it still counts off of your receipt as it normally would), but the stores doubled portion of 50 cents would be discounted – you would "pay" $7 for the item, but $7.50 would be credited towards the qualifying purchase.

Again, there is typically a choice of free store brand frozen turkey, a Stouffers vegetarian lasagna, or $10 off your choice of meat purchase valued at more than $10.

Each two week offer is limited to one free turkey offer.
While this may seem like a better deal than the $300 purchase, and it can be, it has it's own limitations. First, you only have two weeks to complete the deal, and only certain products qualify. For example, during the first two weeks, purchasing P&G Downy may qualify, and Bounce may not. If your total purchases reach only $39, you don't qualify, unless you shop again and purchase additional qualifying purchases to reach the total. If you don't complete the qualifications during the two week period, the total does NOT roll over to the next offer. The following two weeks may be Kraft, again only certain items qualify. Buying $40 of Kraft cheese may not be appropriate for your needs, or storage, and again, if you fall short of the $40, the offer does not roll over to the next deal.
If, however, you can meet these requirements, you have the opportunity to earn a free turkey three separate times. And if you only want one turkey, it's a great opportunity to get free steak, roast, ham, or other meat. Consider your December holiday meals, and plan ahead.
3. Electronic Turkey Credits/Coupons. This is also a common offer, but the requirements are unique. Here's an example of the current Food Lion offer:
Shop 6 of 8 weeks
Present your SAME MVP store/shopper card AND a Free Turkey Card available at the store to the cashier to enroll in the promotion.
You MUST enroll in the promotion specifically, it is not automatic by using your shopping card.
Spend $45 per shopping trip using the same MVP/store card.
Check your cash register receipt after each weekly $45 purchase to track the number of electronic turkey credits you have earned. Only one shopping transaction each week is counted, and the $45 must be spent in one transaction.
You must earn SIX different WEEKLY credits.
The reward? A $20 OYNO credit generated at the cash register. Since this $20 electronic coupon is good towards any item (with the a few exceptions such as alcohol and tobacco), it's a great offer for reducing your holiday grocery costs.
The electronic coupon expires 12/8.
Tips for Offers
Now the good part…how to maximize your savings!
First, recognize the limitations and benefits of each offer for your own needs. If you don't need $40 of Proctor and Gamble items, that offer may not work for you. If you can't shop regularly at one store, that offer may not work for you.
Second, realize that a free turkey is worth about $10. Spending $300 on items that you don't need will be a waste if you really just need the $10 turkey.
Third, stack the offers! Here's one way:
Spend $300 at one store, buying higher priced items that you rarely have coupons on. For me, it's often Biotene mouthwash, sometimes particular spices for the holidays. I also need a new shower curtain liner, and by price matching sales at other stores, I can get the same price and the turkey. Add in coupons for FREE products to boost your totals without spending more money. It's also a great time to redeem any rain checks you have from previous sales, combined with coupons to bring the out of pocket costs way down. Last year I met one $300 limit with only $12 out of pocket. That's ONE free turkey.
Spend $40 using sales and coupons on other items. For me, I've been waiting to get a Swiffer wet jet. Yes, a bit expensive, but with a $10 coupon, a sale, and some other items, I met the $40 limit, and received the $10 credit for free meat or turkey. I'll probably plan ahead for Christmas and buy a ham. The wet jet, well, I usually mop, but for muddy shoes days, the quick clean up is something I've wanted for over a year, and have been saving up for the right coupon/offer. For the Kraft offer, $40 on Seattles Best coffee, on sale and with coupons, is just what I will need for holiday guests. I needed to buy this anyway, and it works out perfectly – another $10, probably on roast.
The turkey credits I have a harder time with, since shopping at one store and spending that much every week is hard for me, as is spending $45 for six weeks, or $300, at multiple stores. But, if I make it, the $20 will be perfect for buying flour, sugar, and other holiday baking items to complete the dinner and carrying me into the December baking season.
These are just a few of my ideas on making the most of the "free turkey" promotions while saving money and buying items I need, not what the store needs me to buy. As always, consider the possibilities, and do what works best for your budget.
Photo Source: sonicsquirtgun
Rebate Fanatic. Saving you money every time you shop online!
Sign Up and Start Saving Today