While most people shop for food at grocery stores, supermarkets, farmer's markets, or local markets, there are plenty of other places where you can buy food. While not all of these stores sell as many items as large grocery stores, there's usually at least a small variety of food items. It's worth keeping these alternative retail outlets in mind as they can sometimes have food available for prices better than you can find where you normally shop.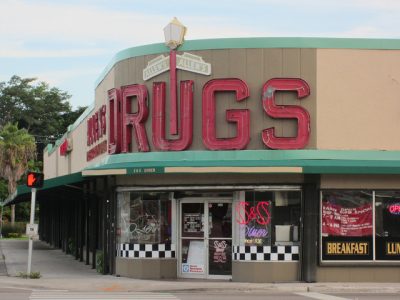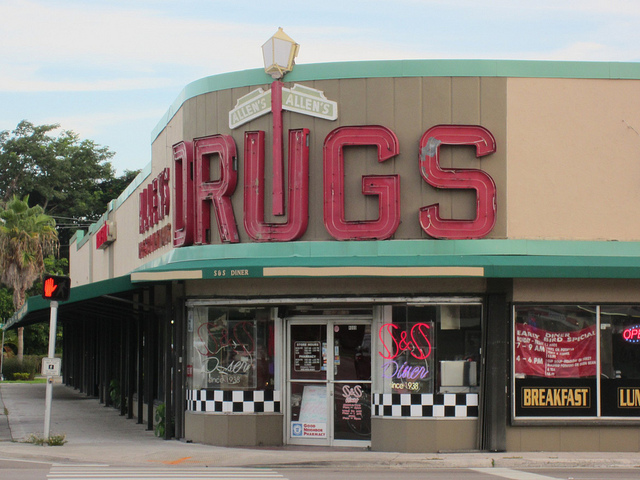 Drug Stores
Many drug stores or pharmacies stock grocery items. You can usually find staples such as milk, eggs, butter, bread as well as other items such as cereal, chips, pasta, sugar, or spices. In fact, in the past couple decades, drug stores such as Walgreens, Rite Aid, and CVS have heavily increased how much they stock in their grocery aisles.
Convenience Stores
Convenience stores are another places where you can pick up some items on your grocery list. These stores are generally a bit more expensive than your local grocery store, however. What's stocked in convenience stores varies depending on what store you visit, but there is generally a frozen food section and a selection of dry goods, toiletries, and other grocery items. Some convenience stores also keep a small selection of fresh produce available. More and more convenience stores are also accepting coupons these days.
Dollar Stores
Anyone who has ever visited a dollar store knows that they usually have a couple items dedicated to grocery items. Sometimes their stock includes brand name items while sometimes it includes generic or stores brand items. While buying food from a dollar store is entirely a matter of personal preference, they do have a decent selection of food to peruse. Dollar stores can be a good place to stock up on items like cereal, spices, and bags of flour or sugar.
Camping and Outdoors Stores
If you've ever been in a camping or outdoors store, buying food is probably the last thing on your mind. These stores don't sell typical grocery items like produce or dairy, but you can usually find a decent assortment of dry goods. Some stores sell freeze-dried foods while others sell tubs of items like pretzels, peanuts, energy bars, granola bars, sports drinks, jerky, trail mix, and coffees and teas.
Health Stores
Health stores obviously cater to healthier food alternatives and supplements, but health stores are definitely another legitimate place to find food. While the items in a health store might be more expensive and not something you would normally see on the shelf at your local grocery store, this place is ideal for people who are looking for healthy or supplemental options that can't be found at a normal grocery store. For instance, they can offer baking mixes, soy alternatives, or energy bars.
Sport and Fitness Stores
Similar to camping and health stores, sport and fitness stores may specialize in something other than food, but there are sport and fitness stores that also carry food items. There will probably be fewer food options in sport or fitness stores than in health or camping stores, however. But there will more than likely be items such as mixes, energy drinks, and supplements, or energy bars.
Discount Stores
Discount stores are also sometimes known as bargain stores. They're very similar to dollar stores except that everything is usually more than a dollar. Discount stores tend to buy items from larger warehouses or department stores and mark down the price by a certain percentage. These are the stores that frequently have 50% off or 75% off signs in their windows. Discount stores also tend to have an eclectic mix of items and the food items may vary depending on what's received in the shipment. But most discount stores do have a couple of aisles dedicated toward discounted dry or canned foods.
Department Stores
While department stores tend to specialize in clothing, furniture, and appliances, certain stores such as Marshall's, T.J. Maxx, or Kohl's do sometimes have a kitchen area where food items are marketed alongside kitchen appliances or utensils. Obviously, each store will have different items, but you can sometimes find dry goods such as pasta and sauces, coffees, baking mixes, or spices.
Restaurant Supply Stores
Restaurant supply stores are generally used to buy large appliances or bulk items used in restaurants. However, depending on the store you visit you might be able to find bulk food items. Have you ever seen those giant cans of fruit cocktail or those giant jars of olives? You can definitely find those at a restaurant supply store. Many of the food items you'll find at a restaurant supply store are the same items you'd find in a grocery store but in a larger size or quantity.
Outlet Stores
Outlet stores are another great atypical location to find food items. Some outlet stores for kitchen appliances and home goods also have sections for cooking mixes or dry goods and spices. And some grocery stores or manufacturer's have their own outlet stores that you can check out as well. Sometimes outlet stores are cheaper than grocery stores, though you might have to be careful of expiration dates or purchasing only in bulk.
(Photo courtesy of Phillip Pessar)
Rebate Fanatic. Saving you money every time you shop online!
Sign Up and Start Saving Today