Catalina coupons (sometimes called "checkout coupons" and often referred to as "CATs" on couponing sites) are the secret weapon of extreme couponing that often allow you to get free or nearly free products at the grocery store — and sometimes even turn buying food into a money making opportunity. Catalina coupons are named after the company that distributes them and are coupons which you sometimes receive with your receipt at the grocery store. Catalina coupons do not actually come from the register (the advertisements on the back of some register receipts are completely different), but from a little white box located next to the register called, appropriately enough, a Catalina machine.
Most Catalina coupons are regular manufacturer coupons and are for a certain dollar amount off the purchase of a specific product although they can be store specific coupons. Catalina coupons are triggered when you buy certain products or combination of products. For example, if you buy a package of Pampers diapers, you might get a Catalina coupon for a certain amount off Huggies diapers.
All these coupons are worth saving if you use the product, but the Catalina coupons that are most sought after by extreme couponers are the $x.xx off your next purchase Catalina coupons: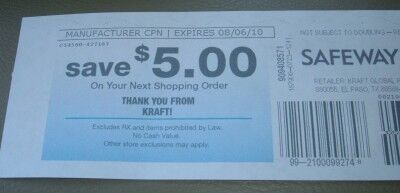 These coupons can be used to purchase anything from the grocery store on your next purchase which makes them almost as good as cash. Unfortunately, there is not a database of what Catalina coupons are available for what products at grocery stores making it difficult to know about these in advance.
If you are lucky and your grocery store is good with posting the signage (many grocery stores aren't), there will be notices about Catalina coupons by the price of the product that triggers them. Upcoming Catalina coupons are also sometimes advertised on the Catalina coupons you receive so that you know exactly what you need to do to get them (for example, buy 4 boxes of kellogg's cereal, receive a $3.00 Catalina). Catalina coupons are almost always limited to a specific promotional period of time, are specific to the grocery store where it was received (and thus can only be used there) and expire 2 – 4 weeks from the time they print.
Most grocery stores will not give money back if your coupons exceeded the price of the items you are buying. In certain instances Catalina coupons will allow to to make money when grocery shopping. For example, if you buy four boxes of cereal that are on sale for $1.25 each and your have a $1.00 of 1 coupon for each, you would pay $1.00 for four boxes of the cereal. If at the same time, there happened to be a Catalina coupon for $3.00 off your next purchase when you purchased 4 boxes of that cereal, you would pay $1.00, but get $3.00 for your next purchase meaning that you made $2.00 for buying 4 boxes of cereal. These instances don't happen often, but they are fantastic deals when the do.
Another great thing about Catalina coupons is that they will often roll. That means you can use the Catalina coupon you just received to buy the exact same things and get yet another Catalina coupon. For example, in the above scenario, you purchased 4 boxes of cereal, paid $1.00 cash and received a $3.00 coupon off your next purchase. You could then go and buy 4 more boxes of the same cereal, use 4 more $1.00 off 1 coupons, buy $2.00 if fruit (or anything else you wanted, use the $3.00 off anything Catalina coupon and get 4 boxes of cereal and $2.00 in fruit without paying any money. Best of all, you get another Catalina coupon for $3.00 off your next purchase and can do the same thing again and again.
There will be times when a Catalina coupon doesn't print (I've had them jam, run out of paper and simply not print before when shopping). If you purchased the qualifying products and a Catalina coupon does not print, you can go to your stores customer service counter and they should be able to reimburse you. If they refuse or you don't want to be bothered, you can call Catalina Marketing at 1-888-826-8766. Make sure to have your receipt handy because they will need to look up your transaction and once they verify it, they will mail you a coupon.
Please feel free to ask any questions that you may have about Catalina coupons and I will do my best to answer them. This post is part of the Lazy Couponing series. The next step will be learning about rebates.
Rebate Fanatic. Saving you money every time you shop online!
Sign Up and Start Saving Today