I came across this postcard secret which brings up the subject of ethics when using coupons: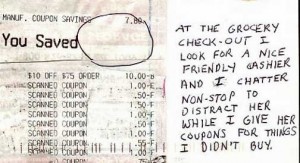 Is it OK to do things like this? Are there gray areas that you think are OK when using coupons? Is it OK to get away with what you can?
Courtesy of postsecret
Want to Save Even More?
Join our FREE newsletter and get even more great advice to your inbox.