I came across this postcard secret which brings up the subject of ethics when using coupons: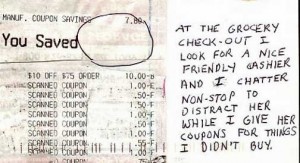 Is it OK to do things like this? Are there gray areas that you think are OK when using coupons? Is it OK to get away with what you can?
Courtesy of postsecret
Rebate Fanatic. Saving you money every time you shop online!
Sign Up and Start Saving Today