Although I hoped to wait and see what the next week's grocery ads looked like, I decided that buying a bit of food was in order. Unfortunately, this didn't work out quite as smoothly as I had planned. The problem when eating on only $1 a day is that when you make a mistake, even a slight one, you have to go through the hassle of correcting it where under normal circumstances you would probably let it just slide. This gets even harder to do when you know you are going to piss off the check out lady even more because she wasn't happy with all your coupons minutes before. Sometime you just have to suck it up.
***************************************
This is part of a month long challenge to eat well while spending an average of only $1 a day on food. You can find the beginning and the rules of this challenge here
***************************************
Breakfast
With no bananas and apples running low, I decided that I could eat my early morning oatmeal without any fruit in it. While I did get it down, that was the moment that made me decide it was time to go out and get some more food. It also convinced me that half an apple was appropriate for the Corn Flakes even though it left me with only one apple left: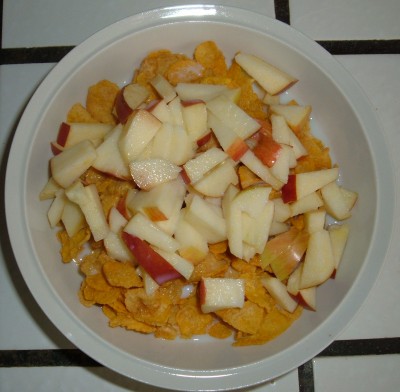 After breakfast I headed to the store with an idea to get about $4 worth of free food using CVS money makers. That fell apart quickly when I realised that many of the things I had planned to buy were out of stock, so I had to cut back. I decided that getting some tuna was the top priority.
One thing that was in stock was Right Guard Total Defense 5. It was $2.99 for one with $2.00 back on your next purchase. There is a $3 off 2 coupon at Coupons.com which earns about $1 to put toward something else (I will donate the deoderant to the food bank that also distributes thee items as well).
Everything seemed to be going fine until I got to the register and the tuna I thought was $0.49 a can was ringing up at $1.39. Half the stores fault and half my mistake. I had simply grabbed the tuna that was above the discount sign, but it ended up being the wrong kind. So I grabbed three new cans and had the cashier cancel the previous three I had purchased. In the end, I got the three cans for $0.51 (and I may take one back).
I then went to Safeway where things went a lot better from the start. When I picked up my basket for my shopping, there was a catalina for $2 off in the basket (always keep your eye open for calatinas when you shop. A surprising number of people throw them away with their receipt without even realizing what they are. Since I started couponing at the beginning of this year, I have found over $50 worth of catalinas just lying in the grocery store parking lots). My plan was to buy a couple of packages of Padrinos tortilla chips which were $1.99 each. I had $1 off 1 coupon from the 4/18 SmartSource newspaper coupon insert and there was a peelie coupon (these are the coupons that are on the product itself) for $1.50 off of produce when you buy 2 packages: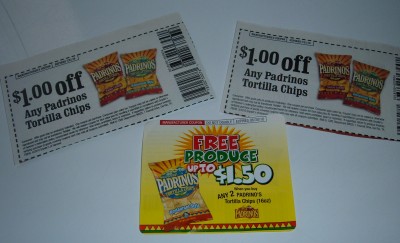 From the produce section I decided to get some bananas and celery. With all the coupons, I ended up paying $1.47 for 3 bananas, celery and two packages of tortilla chips. Adding in the $0.51 for the 3 cans of tuna, I ended up spending $1.98: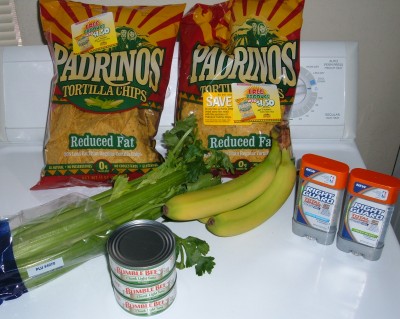 Lunch
I decided that I would use one of the cans of tuna I had just purchased. I don't have any mayonnaise, so I had to choose between sour cream and cream cheese to mix it with. I decided to go with the chive and onion cream cheese (which when thinking about it now, was not the brightest thing to do). I added a small bit of celery as well and then wrapped it in a whole wheat tortilla then put peanut butter on a celery stick and had a small glass of the spicy V8 juice: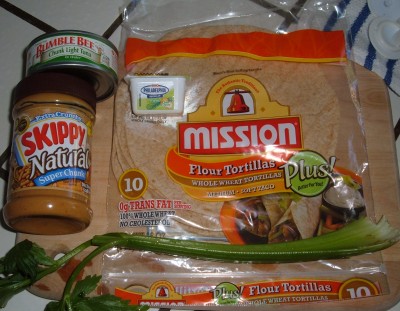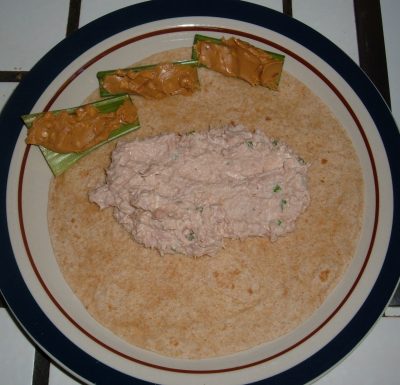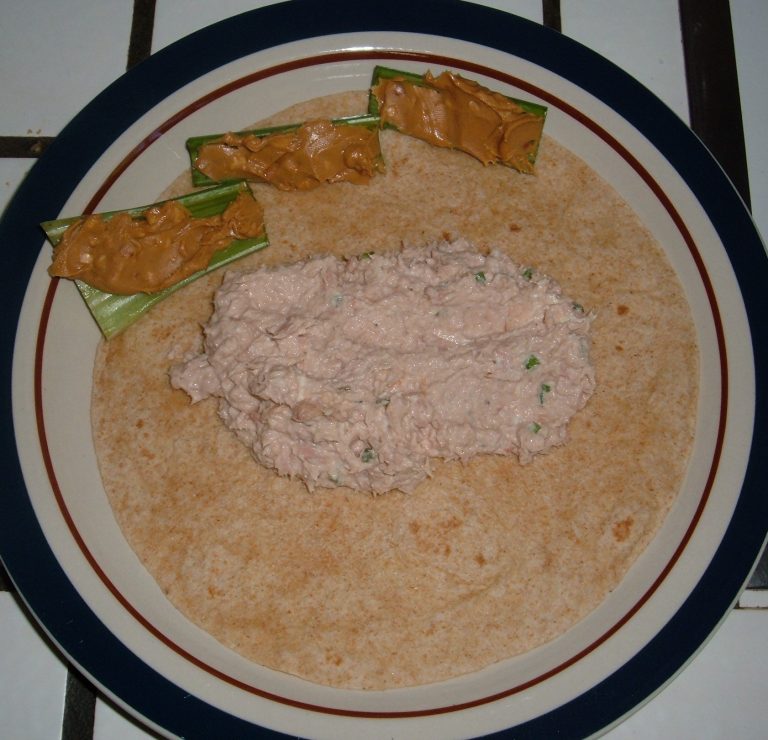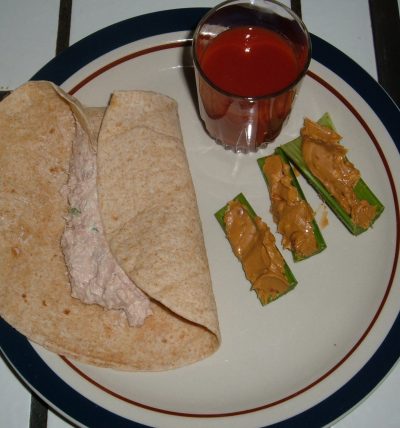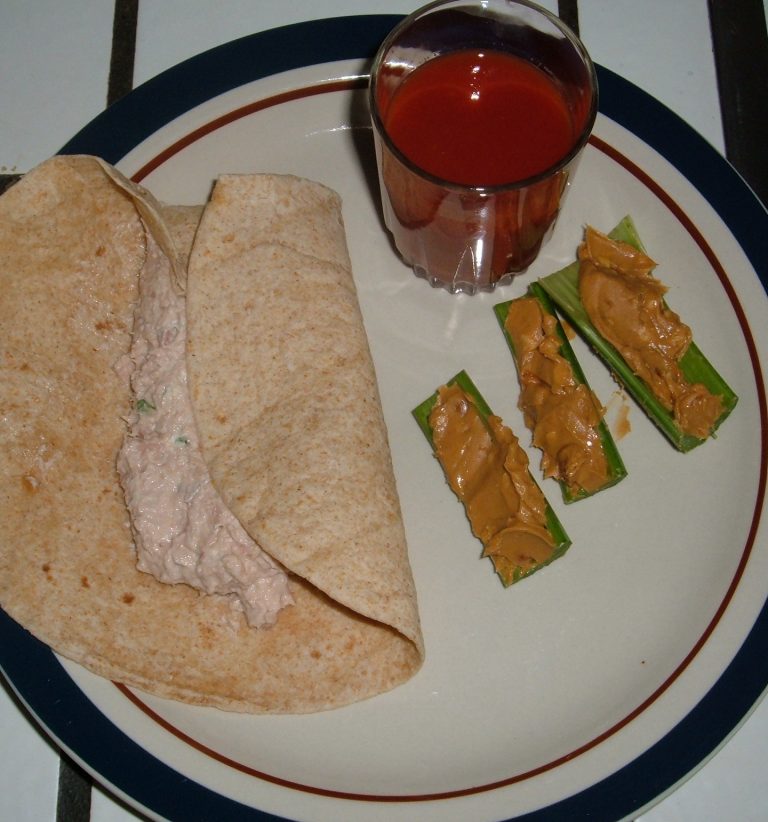 I don't think that I will be having the tuna and cream cheese combination anytime soon again (it was edible, but not really all that tasty — except to my sister's little girl who kept asking for more of it)
Dinner
I had cooked up black beans in the morning and made some more spicy V8 brown rice for dinner. I combined these two and added sour cream and salsa mixing it all together to make a sort of dip. I then ate it with the tortilla chips I now had: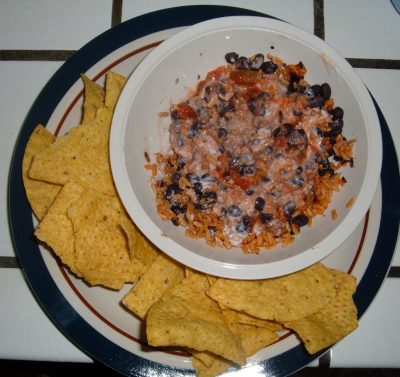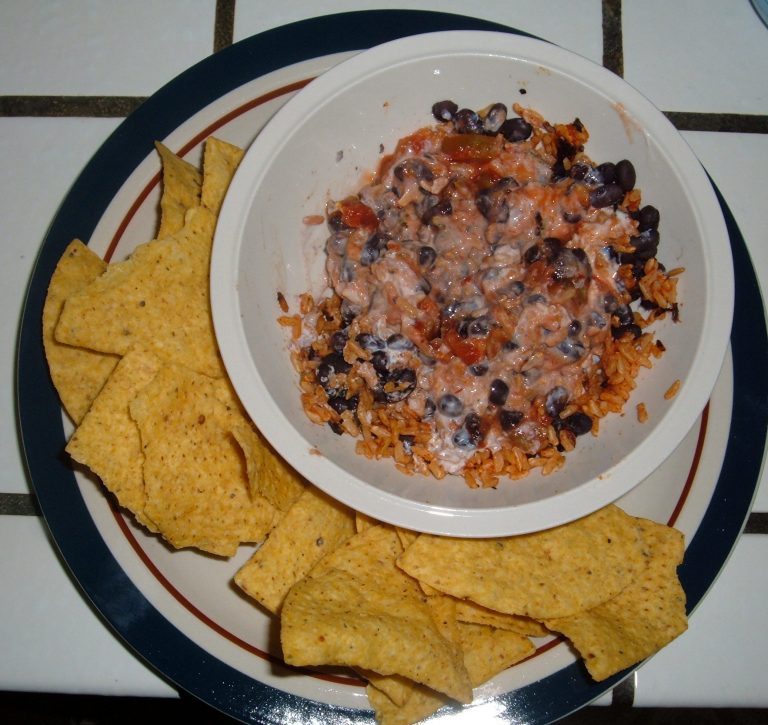 I also had another bowl of chips as a snack in the late evening while working. I have my fingers crossed that the new week of grocery store deals shines brightly on me.
This is the current list of what I have purchased:
Money Spent $12.40
Money left to spend: 18.60
Retail Value of everything bought: $332.80
1 celery stalk
2 bags tortilla chips
3 cans tuna
1 bottle Welch's grape & peach 100% juice
1 bottle V8 Fusion fruit / vegetable drink
1 bottle V8 spicy vegetable drink
2 boxes of Caprisun fruit drinks (10 packs)
1 jar of salsa
1 bag of black beans
1 half gallon of milk
4 boxes of Corn Flakes
1 dozen eggs
2 avocados
8 bananas
2 boxes of Quaker Instant oatmeal
14 packs of Philadelphia Cream Cheese Minis
1 package of Knudsen Light sour cream
10 apples
2 lbs of carrots
4 boxes (small) of Wheat Thins
1 jar of Skippy All Natural peanut butter
2 cans of pork and beans
1 bag of long grain brown rice
2 packages of Mission 100% whole wheat tortillas (10 count each)
Donated Food to Food Bank that was purchased with my $1 a day
2 sticks of deoderant
4 bottles Windex multi-surface cleaner
1 can of Pork & Beans
5 boxes of cereal
50 packs of Philadelphia Cream Cheese Minis
4 boxes (small) of Wheat Thins
2 Scrubbing Bubbles Extend-A-Clean bathroom cleaner
2 Scrubbing Bubbles Extend-A-Clean bathroom cleaner refill
************************

The Beginning ::: Day 12: Score!!

************************
Rebate Fanatic. Saving you money every time you shop online!
Sign Up and Start Saving Today