I am finding that having a busy schedule is not conductive to eating on $1 a day — well, at least not when it comes to making meals with limited amounts of food when in a hurry. I'm currently at a crossroads waiting to see what the grocery store sales are going to bring on Wednesday (most grocery stores start their new sales cycle on Wednesday). I may buy a few things tomorrow since my eating breakdown yesterday cleared out a lot of food that I thought I would still have around. If next week isn't a good sales week, I could be in a lot of trouble (not with amount — I have plenty to eat — but with variety). I have my fingers crossed.
***************************************
This is part of a month long challenge to eat well while spending an average of only $1 a day on food. You can find the beginning and the rules of this challenge here
***************************************
Breakfast
I still need to take the antibiotics I was given earlier in the month, so I am continuing with the early morning cup of oatmeal. Then after a couple of hours of work, I had my bowl of Corn Flakes with apple on top and a quarter apple slice as well: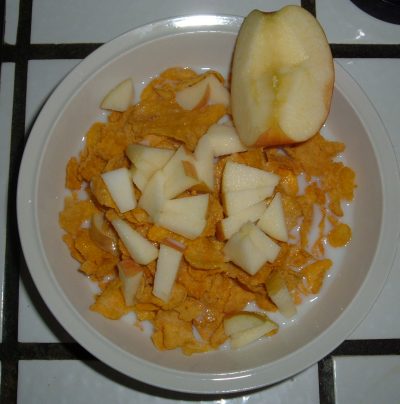 Lunch
I had to throw lunch together on the run. My mom's car broke down and it had gotten to the point where it was starting to cost more to repair than it would be to buy a new car, so she asked me to go out and try and get a good deal on a car for her. I spent most of the morning going around to car dealerships, stopped home for a few minutes and threw together a rice and bean burrito with sour cream and salsa wrapped in a whole wheat tortilla. As soon as I ate it, I was out the door to do more car negotiating: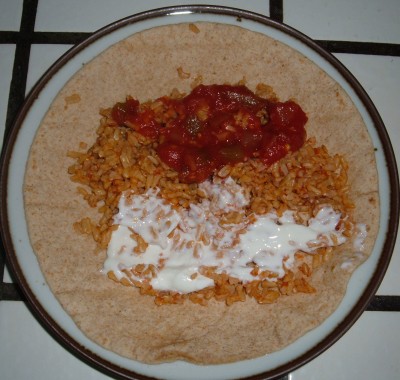 Dinner
When dinner arrived, I found myself still talking with car salespeople and had to suppress my hunger for a few hours. The good news is that a day at dealerships and negotiating saved my mom about $2,300 over what she had been able to bargain herself. When I finally got home, was pretty hungry. I decided to try and make an omelette using two eggs — unfortunately, it didn't really turn out too well. I got some of the rice into the omelette, but most wouldn't fit in. I threw a bit of salsa on top and even though it didn't look great, I was at the point that anything would have tasted good: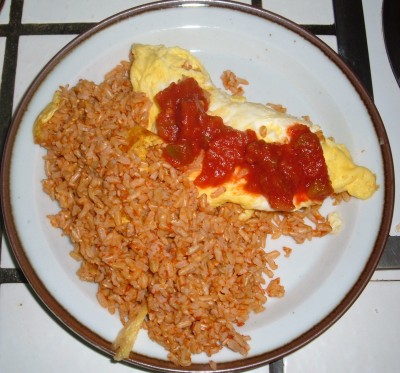 I didn't do any additional shopping and I think I'll have to do a little bit tomorrow since things are getting a bit low…
This is the current list of what I have purchased:
Money Spent $10.42
Money left to spend: 20.58
Retail Value of everything bought: $310.88
1 bottle Welch's grape & peach 100% juice
1 bottle V8 Fusion fruit / vegetable drink
1 bottle V8 spicy vegetable drink
2 boxes of Caprisun fruit drinks (10 packs)
1 jar of salsa
1 bag of black beans
1 half gallon of milk
4 boxes of Corn Flakes
1 dozen eggs
2 avocados
5 bananas
2 boxes of Quaker Instant oatmeal
14 packs of Philadelphia Cream Cheese Minis
1 package of Knudsen Light sour cream
10 apples
2 lbs of carrots
4 boxes (small) of Wheat Thins
1 jar of Skippy All Natural peanut butter
2 cans of pork and beans
1 bag of long grain brown rice
2 packages of Mission 100% whole wheat tortillas (10 count each)
Donated Food to Food Bank that was purchased with my $1 a day
4 bottles Windex multi-surface cleaner
1 can of Pork & Beans
5 boxes of cereal
50 packs of Philadelphia Cream Cheese Minis
4 boxes (small) of Wheat Thins
2 Scrubbing Bubbles Extend-A-Clean bathroom cleaner
2 Scrubbing Bubbles Extend-A-Clean bathroom cleaner refill
************************

The Beginning ::: Day 11: Fingers Crossed

************************
Rebate Fanatic. Saving you money every time you shop online!
Sign Up and Start Saving Today