It is amazing at how quickly this month has passed by. I was concerned that it might be a really long month, especially if I couldn't find any good food deals and had to scrimp to get by. Luckily, that has not been the case. As this challenge is coming to an end, I'm trying to use up the last of the food that I still have. Here is an account of what I still have available to eat these last few days:
3/4 lb of chicken breast deli style
3/4 package of hardwood smoked turkey franks
1/2 package of veggie spiral pasta
1 salt and pepper shaker combo
1/4 bag of salad
1/2 jar Miracle Whip
1 mystery purchase
1/2 loaf of bread
3/4 jar of Classico pasta sauce
1 can of tuna
1/2 bottle Welch's grape & peach 100% juice
9 packs of Caprisun fruit drinks
1/8 jar of salsa
3/4 half gallon of milk
3/4 box of cereal
1 dozen eggs
9 packs of Philadelphia Cream Cheese Minis
1/4 package of Knudsen Light sour cream
4 apples
1/4 jar of Skippy All Natural peanut butter
I just received an email from CVS giving me another $4 off $20 purchase coupon (it is definitely worthwhile to sign-up at the CVS website because you will periodically get these coupons). It is pretty easy to get to $16 worth of goods at no cost with sales and coupons each week, meaning I'll have $4 to spend on anything I like. I will wait until Sunday to use mine since I already have done the Gillette Body Wash deal this week. This coupon should help me the last two days of this challenge.
***************************************
This is part of a month long challenge to eat well while spending an average of only $1 a day on food. You can find the beginning and the rules of this challenge here
***************************************
Breakfast
No more instant oatmeal which is posing a problem because I really don't want to eat Corn Flakes twice. I decided to try a large one meal breakfast which consisted of a bowl of Corn Flakes with half a banana, the remainder of the rice and turkey dog from last night and a piece of whole what toast.I also had a glass of the white grape / peach juice (half juice, half water). Although I did take a photo, I somehow erased it when clearing out old photos on my computer…
Lunch
For lunch, I went for the new package of chicken breast meat I purchased making a sandwich. I added a bit of Miracle Whip, some lettuce from the salad bag, and half a tomato. I also sprinkled a bit of pepper on top: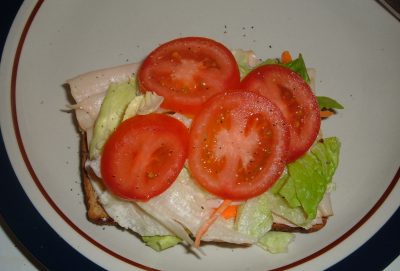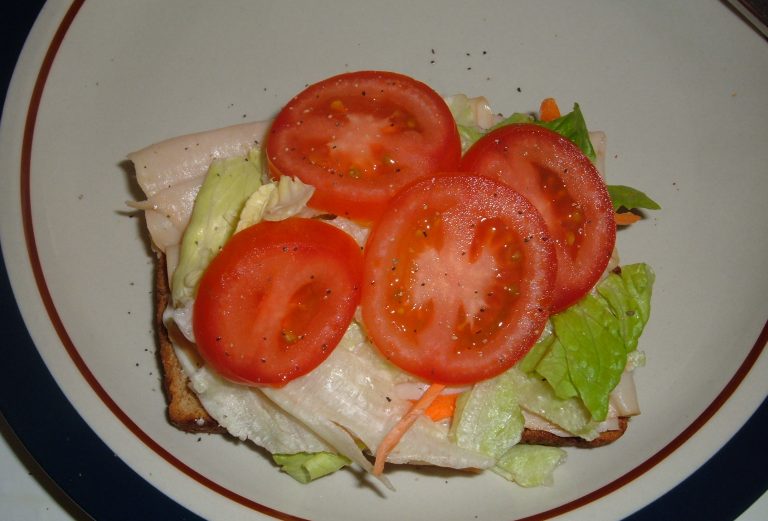 I received an email from Christine that suggested that I should take an apple, slice it and put a little cream cheese on top. Then place it in the broiler for about 5 minutes for a delicious warm apple snack. To reveal my total lack of cooking skills, I believe that is the first time in my life that I have ever used a broiler, but I gave it a go and they are really tasty! I also had another glass of the white grape / peach juice (half juice, half water).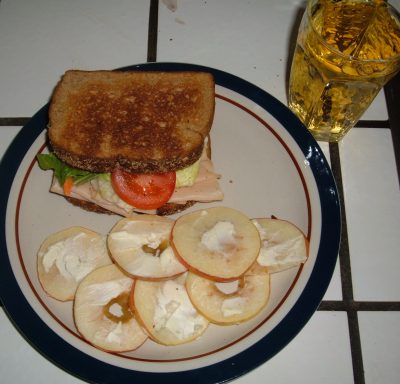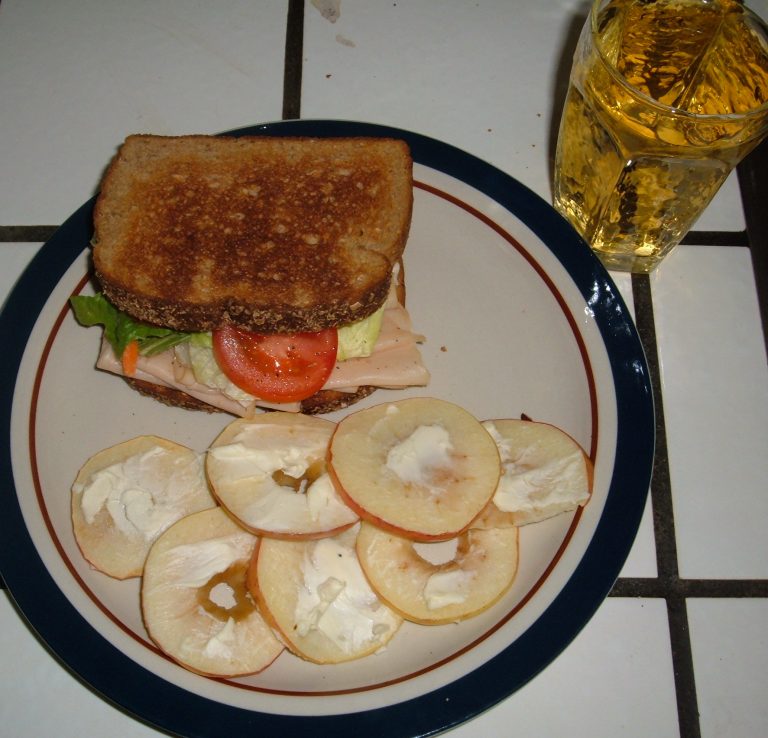 Dinner
For dinner I boiled up some of the veggie spiral pasta I had, added half of a chopped apple, and handful of the bagged salad (sliced into small pieces), a few slices of the chicken breast and a bit of Miracle Whip to make a chicken and apple pasta salad: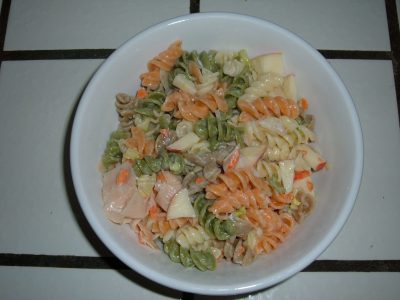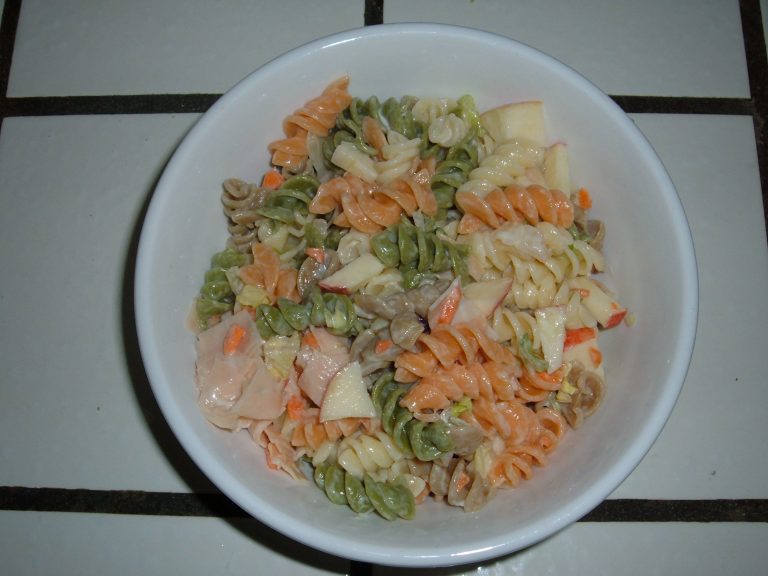 I am pretty confident that I will come in under budget without a problem and I may even be able to buy myself a small treat (chocolate or ice cream? That is the question…), especially with the CVS coupon coming today.
This is the current list of what I have purchased:
Money Spent $23.37
Money left to spend: 7.63 ($2 must be spent at CVS)
Retail Value of everything bought: $563.74
1 package of chicken breast deli style (1 lb)
5 packages hardwood smoked turkey franks
1 package of veggie spiral pasta
1 salt and pepper shaker combo
1 bag of salad
1 package of macaroni and cheese
3 sample packs of Maxwell House Vanilla Carmel Latte
4 sample packages of Wheat Thins Sundried Tomato & Basil
3 packages (small) Fig Newtons
1 jar Miracle Whip
1 potato
1 mystery purchase
1/3 lb ground beef
6 tomatoes
2 broccoli crowns
2 loaves of bread
2 jars of Classico pasta sauce
2 Safeway brand pasta (spaghetti and rotini)
1 celery stalk
2 bags tortilla chips
5 cans tuna
1 bottle Welch's grape & peach 100% juice
1 bottle V8 Fusion fruit / vegetable drink
1 bottle V8 spicy vegetable drink
2 boxes of Caprisun fruit drinks (10 packs)
1 jar of salsa
1 bag of black beans
3 half gallons of milk
36 boxes of cereal
3 dozen eggs
2 avocados
17 bananas
2 boxes of Quaker Instant oatmeal
55 packs of Philadelphia Cream Cheese Minis
1 package of Knudsen Light sour cream
20 apples
2 lbs of carrots
8 boxes (small) of Wheat Thins
2 jars of Skippy All Natural peanut butter
2 cans of pork and beans
1 bag of long grain brown rice
2 packages of Mission 100% whole wheat tortillas (10 count each)
Donated Food / other items to Food Bank that was purchased with my $1 a day
4 packages hardwood smoked turkey franks
2 Gillette body wash
3 sample packs of Maxwell House Vanilla Carmel Latte
1 Stayfree pantiliner package
1 Kotex U tampon package
5 Bayer children's aspirin
2 sticks of deodorant
4 bottles Windex multi-surface cleaner
1 can of Pork & Beans
32 boxes of cereal
50 packs of Philadelphia Cream Cheese Minis
4 boxes (small) of Wheat Thins
2 Scrubbing Bubbles Extend-A-Clean bathroom cleaner
2 Scrubbing Bubbles Extend-A-Clean bathroom cleaner refill
************************

The Beginning ::: Day 28: Irritable


************************