I thought that I was going to end this last day of the challenge on a totally high note, and then the reality of only having a limited budget came slamming me back to reality with the issues that can happen. I did manage to survive one month eating on $1 a day (this wasn't always assured). The way that the day ended is certainly giving me second thoughts about whether I made the correct decision to continue the challenge for another month (with a few changes to the rules) in hopes of convincing my sister that I can make meals that would be appetising to others.
***************************************
If you are a first time reader, you may be interested in reading these frequently asked questions or start reading from The Beginning
***************************************
Breakfast
The day started just fine. I got up and had a large bowl of Corn Flakes with half a banana and half an apple on top: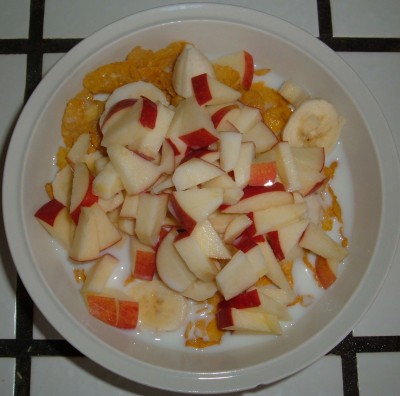 Lunch
At lunch, I decided to try the Oscar Mayer Deli Creations that I had purchased the day before. I opened it up to find it consisted of this: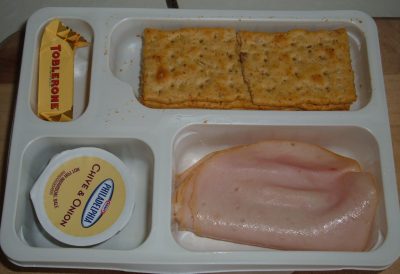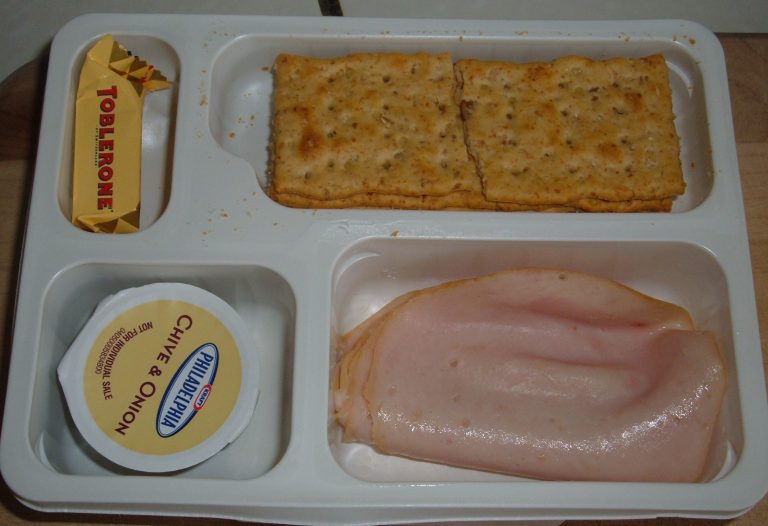 If that alone is what people consider a meal, I did even better this month than I thought I had. While edible, it is not something that I would buy for myself and I was happy that I purchased it for free. I added the rest of the tuna that I had left over (my tuna crackers were much better than the chicken crackers) and a half an apple. I also had a glass of the 100% white grape / peach fruit juice (half juice, half water):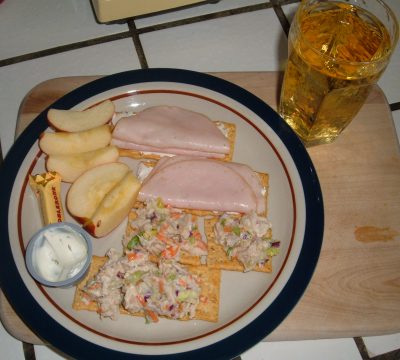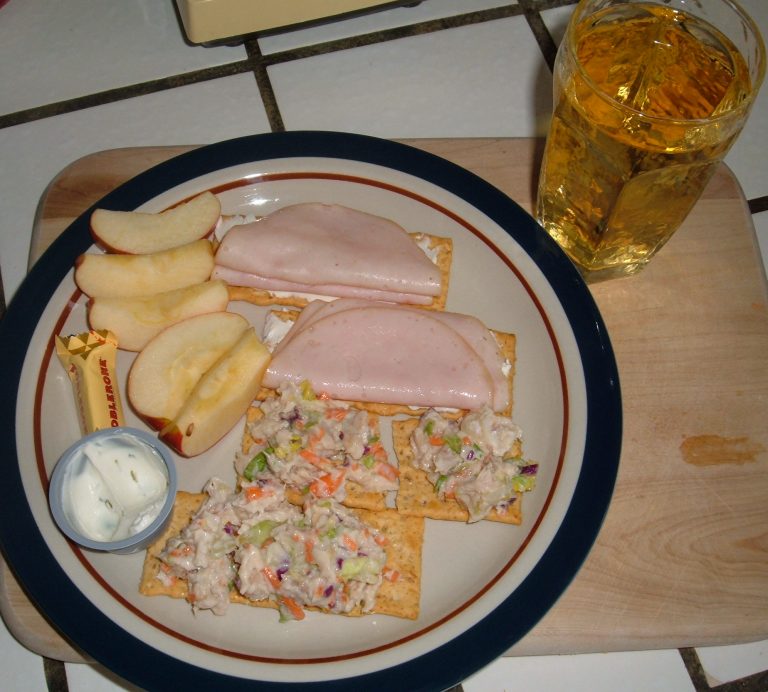 Since I didn't have an early morning breakfast, I decided to replace it with a mid afternoon snack of peanut butter and banana on whole wheat toast (since my sister doesn't consider peanut butter and banana as appetising to others, I have decided to make it my late afternoon snack since I do like it)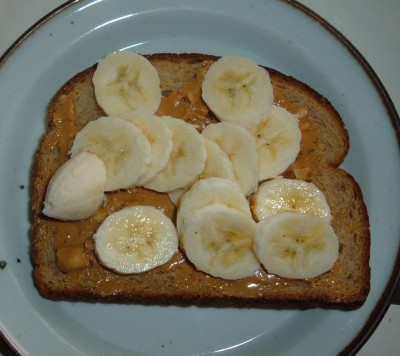 Dinner
I decided that I needed some broccoli to go with dinner, so I went to the store and bought a crown that put me back $0.60: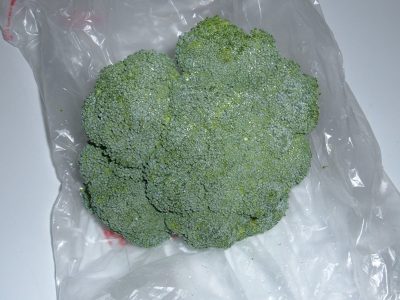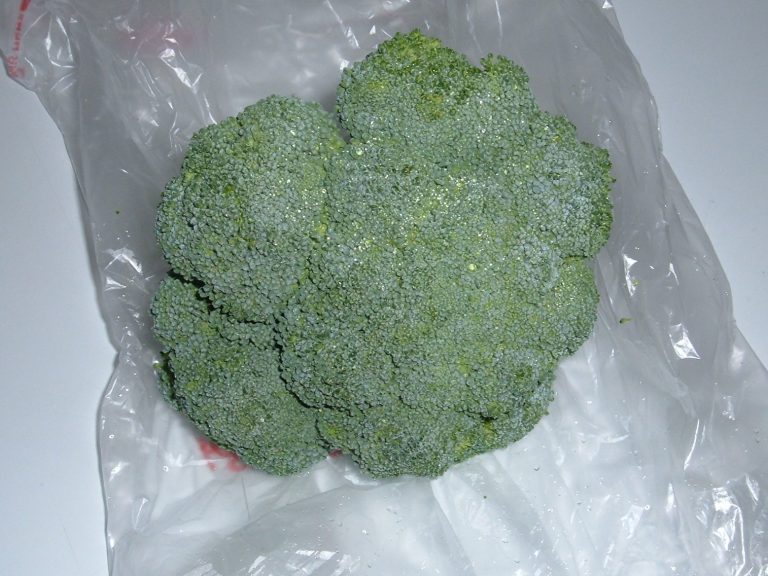 <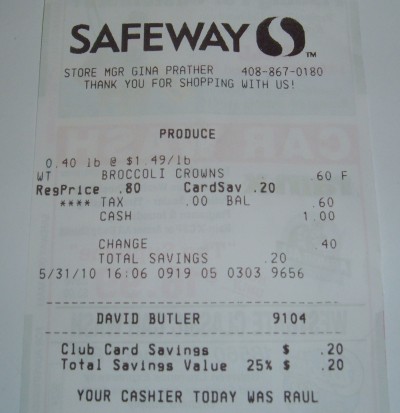 There was a CVS store right there and I went in to see if I could get to $20 to use the $4 off $20 purchase coupon that was expiring today, but the deals they had this week weren't all that great and I gave up on taking advantage of it. I did buy 3 Power Bars (they are $0.99 each with a $0.99 Extra Bucks given back making them free — this offer is available until the beginning of July) and a six box package of raisins ($1.00 and I had an extra $1.00 Extra Bucks I had earned from bringing in my own bag to CVS — CVS gives you a $0.25 credit when you use your own bag with a green tag and you get a $1.00 off when you use it 4 times) making the entire transaction free: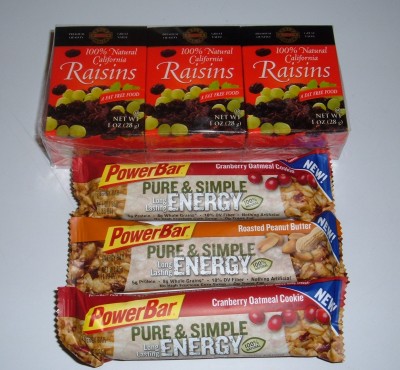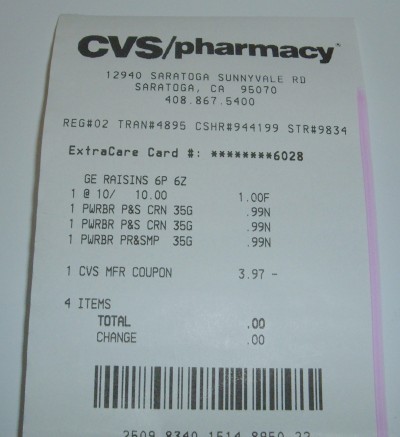 It was time to cook up the mystery purchase which was a flat iron steak. The first time I purchased hamburger, I asked the butcher what was the best meat I could get for $1.00. He looked around for a bit and said that he could take out one of the flat iron steaks from a value pack and sell it to me for $1.05 and I said, "Great. I'll take it!" thinking that a steak dinner would be a good way to end the challenge: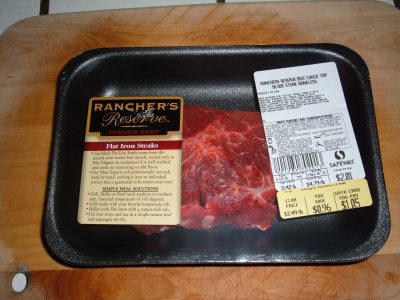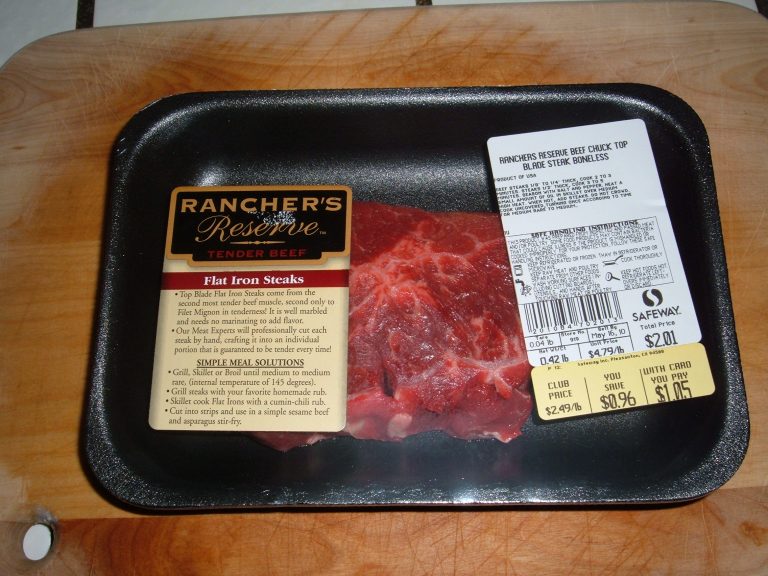 So I salted an peppered the steak: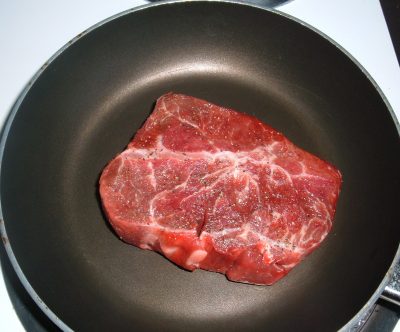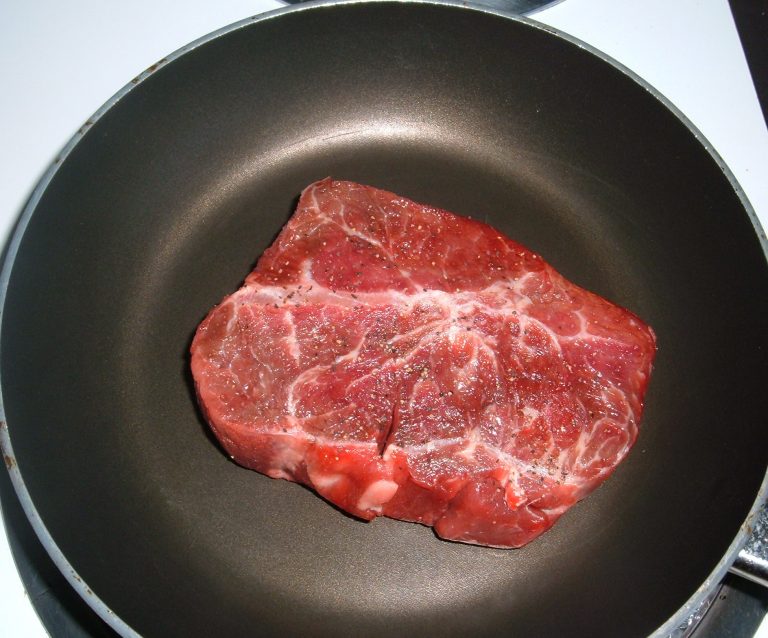 steamed the broccoli and boiled the corn to make my final night steak dinner: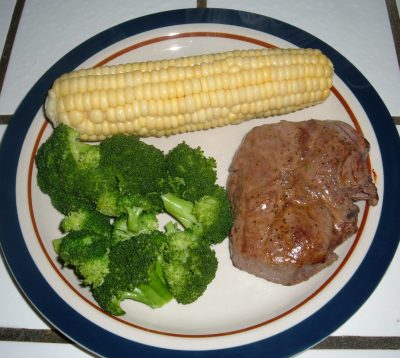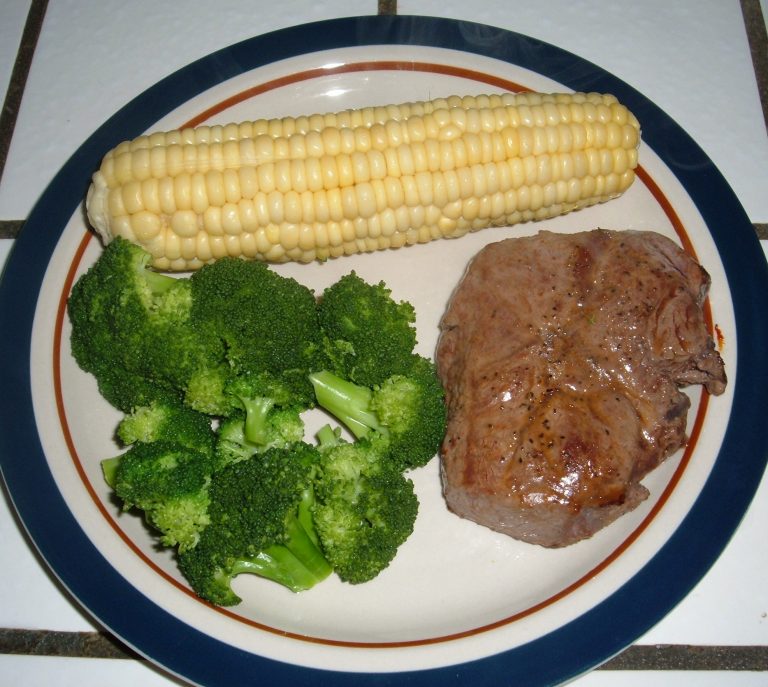 It was surprisingly good and definitely one of my better buys through the course of the challenge. After dinner I decided to take a walk to the local grocery store (about a mile walk each way) in order to buy a pint of Ben & Jerry's Every Thing But… ice cream to top off the day.
Ben & Jerry's was $2.99 a pint and I had a $1.00 coupon making it $1.99. It was expensive, but I decided that I deserved a treat for coming in with over $3 to spare. It dawned on me about half way home the calculation error I had made…
I got home with the ice cream: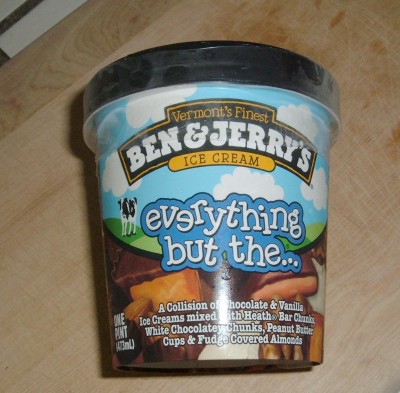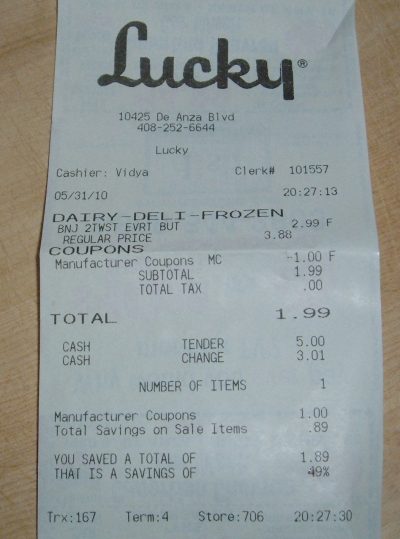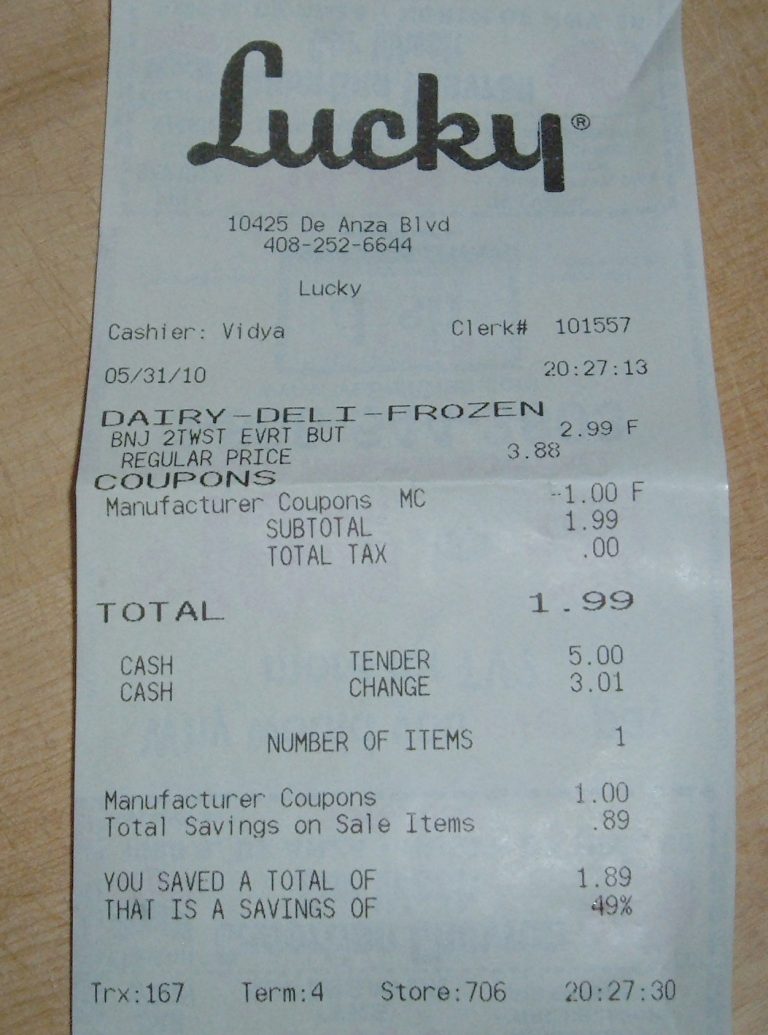 and immediately went to my computer to see if it was true — and it was.
While I was under the total amount that I had to spend, I had forgotten that I had to spend $2.00 of the money at CVS. With the earlier purchase of the broccoli, that brought the total I had to spend to $3.92 meaning that I was $0.07 over budget with the ice cream purchase. I was totally pissed off (I just wanted to eat my ice cream) and I realized why these challenges are so difficult.
It only take a small miscalculation when you are on a tight budget to completely throw everything out of whack and make you do a lot more work than you want to. The difference is that I am doing this by choice and many people have to make these decisions without having a choice in the matter. I decided the only thing to do was to take the ice cream back and see if I could get a refund.
I hate taking things back probably more than I hate shopping and cooking. I walked in and said that I wanted to get a refund, or at the very least, make an exchange for ice cream that was less expensive.
Cashier: "What is wrong with the ice cream?"
Me: "Nothing. I just can't afford it."
Cashier: "You already bought it. Of course you can afford it."
Me: "No, it puts me $0.07 over budget.
Cashier: Giving me a look like are you kidding me? "You can't return something if there is nothing wrong with it."
Me: Thinking this is exactly why I had returning things, "OK, it's the wrong flavor."
Cashier: "I'm going to have to talk to my manager…"
The manager came and luckily she was the person who had checked me out. I explained that I wanted a refund, but needed to exchange it for something less expensive at the very least. She was very kind (or simply thought I was crazy) and gave me a full refund.
Even though it all turned out all right in the end, it wasn't exactly how I planned to spend my evening and was a lot less enjoyable than sitting down, reclining back and eating a pint of ice cream…
I suppose I should anticipate that this next month will bring about just as many surprises and conflicts as the past month did because the adventure isn't quite over yet…
This is the current list of what I have purchased:
Money Spent $27.08
Money left to spend: $3.92 ($2 must be spent at CVS)
Retail Value of everything bought: $597.96
1 package of raisins
3 Power Bars
10 Deli Selections lunch packages
3 ears of corn
1 package of chicken breast deli style (1 lb)
5 packages hardwood smoked turkey franks
1 package of veggie spiral pasta
1 salt and pepper shaker combo
1 bag of salad
1 package of macaroni and cheese
3 sample packs of Maxwell House Vanilla Carmel Latte
4 sample packages of Wheat Thins Sundried Tomato & Basil
3 packages (small) Fig Newtons
1 jar Miracle Whip
1 potato
1 mystery purchase
1 lb ground beef
6 tomatoes
3 broccoli crowns
2 loaves of bread
2 jars of Classico pasta sauce
2 Safeway brand pasta (spaghetti and rotini)
1 celery stalk
2 bags tortilla chips
5 cans tuna
1 bottle Welch's grape & peach 100% juice
1 bottle V8 Fusion fruit / vegetable drink
1 bottle V8 spicy vegetable drink
2 boxes of Caprisun fruit drinks (10 packs)
1 jar of salsa
1 bag of black beans
3 half gallons of milk
36 boxes of cereal
3 dozen eggs
2 avocados
20 bananas
2 boxes of Quaker Instant oatmeal
55 packs of Philadelphia Cream Cheese Minis
1 package of Knudsen Light sour cream
20 apples
2 lbs of carrots
8 boxes (small) of Wheat Thins
2 jars of Skippy All Natural peanut butter
2 cans of pork and beans
1 bag of long grain brown rice
2 packages of Mission 100% whole wheat tortillas (10 count each)
Donated Food / other items to Food Bank that were purchased with my $1 a day
8 Deli Selections lunch packages
4 packages hardwood smoked turkey franks
2 Gillette body wash
3 sample packs of Maxwell House Vanilla Carmel Latte
1 Stayfree pantiliner package
1 Kotex U tampon package
5 Bayer children's aspirin
2 sticks of deodorant
4 bottles Windex multi-surface cleaner
1 can of Pork & Beans
32 boxes of cereal
50 packs of Philadelphia Cream Cheese Minis
4 boxes (small) of Wheat Thins
2 Scrubbing Bubbles Extend-A-Clean bathroom cleaner
2 Scrubbing Bubbles Extend-A-Clean bathroom cleaner refill
************************

The Beginning ::: 10 Things I Learned Eating On $1 A Day For A Month ::: Day 32: What Was I Thinking?

************************
Rebate Fanatic. Saving you money every time you shop online!
Sign Up and Start Saving Today