There is a possible opportunity to get free Trident gum this week at Safeway. Yesterday while I was buying 225 boxes of fruit snacks for the local food bank, I noticed a large cardboard displaynear one of the cash registers for three new types of Trident Vitality gum: Vigorate, Rejuve and Awaken. On this display was a tearpad with buy one get one free coupons (up to $1.69 value) on it. The terarpad was in the middle of the display and because of the way it is set up, it is a bit difficult to see (I almost missed it).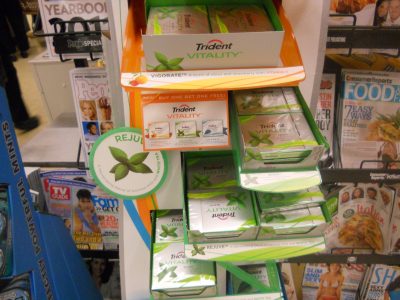 I ended up going to a number of different Safeway stores yesterday, but only found the display at one of them.
I believe that these displays are new and will be going up (the store where I saw it usually displays stuff earlier than other stores in the area, but I haven't been in Safeway stores much lately so I may be wrong) so it is well worth keeping your eyes open for it. This is what the coupon looks like:
What makes this coupon so valuable is that Safeway is currently having a buy one get one free sale of this Trident gum through 3/15. Using the coupon with the current sale means free gum. Apparently there was also a Buy 1, Get 1 Free Trident Vitality regional coupon from 3/6 Smart Source Sunday that you can use to get these free. I ended up getting 22 packs for free.
Rebate Fanatic. Saving you money every time you shop online!
Sign Up and Start Saving Today