Who would have thought that it would be much more complicated trying to give money back to a store than getting the stuff for free in the first place? I found out today that this is most certainly the case. Even funnier is that if you go into a store and say that they made a mistake in your favor and you want to pay the money back, they are so shocked that they have no idea what to do (more on that later).
This is the latest step by step money maker deal I did at CVS. I had no plans to go shopping at CVS again, but they keep sending me $4 off $20 purchase (it seems that the more I use these coupons, the more they send me – it's definitely worthwhile signing up at the CVS website if you do any shopping there) coupons which I can usually turn into free food: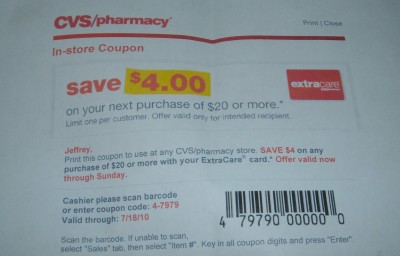 This was actually interesting timing on the coupon because the coupon was good for 3 days – and bridged over the sales ending one week and the start of the new week. I waited until Saturday when I received the new sales advertisement and decided that Saturday would be a better day to use it (but when I walked down to the local CVS, they didn't have what I needed in stock (this is often the case with moneymakers at the end of the week at CVS) to make it work, so I had to wait until Sunday).
Step 1: I looked over the deals that Niki had posted at CVS for this week.
Step 2: I decided to try and buy the Celsius Green Tea, 2 BioTrue solutions and 2 M&M's Pretzels:
Celsius Green Tea 4 pk. – $7.99
Buy 1, Receive $7.99 Extra Bucks: Limit 1
**$2.00 off Celsius product printable coupon here
Pay $5.99, Earn $7.99 Extra Bucks
Final Price: $2.00 Money Maker!
Bausch & Lomb Biotrue Multi-purpose solution, 2 oz. – $2.99
Buy 1, Receive $2.99 Extra Bucks: Limit 2
**$2.00 off 1 Biotrue Multi-Purpose Contact Solution, 2 oz or larger online Internet coupon here
Pay $0.99, Earn $2.99 Extra Bucks
Final Price: $2.00 Money Maker!
M&M's Pretzel Chocolate Candies 1.14 oz. – $0.50
Buy 2, Earn $1.00 Extra Bucks
**Free M&M's Pretzel Chocolate Candies when you buy 1 M&M's product coupon from 6/27 Red Plum Sunday newspaper coupon insert
Pay $0.50, Receive $1.00 Extra Bucks
Final Price: $0.50 Money Maker!
This would mean that I would have $14.97 toward the $20.00 goal to use the $4 off coupon ($7.99 + $2.99 +2.99 + $1.00 = $14.97). If I spent $5.03 on food that I wanted, the following would occur:
Cost of all items before coupons: $20.00
– $4.00 ($4.00 off $20.00 purchase coupon) = $16.00
– $2.00 (Celsius $2.00 printable coupon) = $14.00
– $4.00 (2 Biotrue printable coupons) = $10.00
– $0.50 (free Buy One, Get One M&M's coupon) = $9.50
So I would pay $9.50 and would get $12.99 back in Extra Bucks ($7.99 + 2.00 +$2.00 + 1.00 = $12.99) for a $3.49 profit I could use on my next purchase.
Step 3: I printed out the Celsius Green Tea coupon (while I brought some of my inserts with me house sitting, I only brought June and July, not the $3.00 off Celsius product, 4 pk coupon from the 5/23 Smart Source Sunday newspaper coupon insert). So printing the $2.00 coupon was the only option I really had:


Step 4: I already had cut out the M&M's Pretzel coupon from a previous CVS deal that didn't pan out (6/27 RedPlum Sunday coupon insert)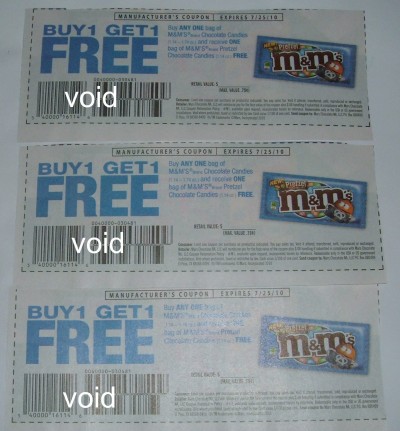 I had also already printed out the BioTrue coupon because it was a month long CVS moneymaker (unfortunately, this coupon is no longer available as it has already hit its print limit)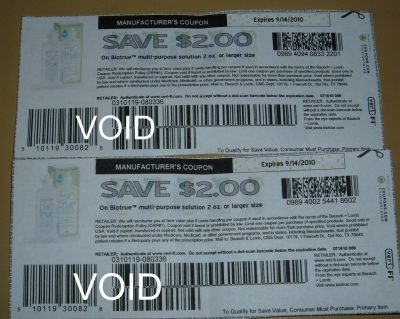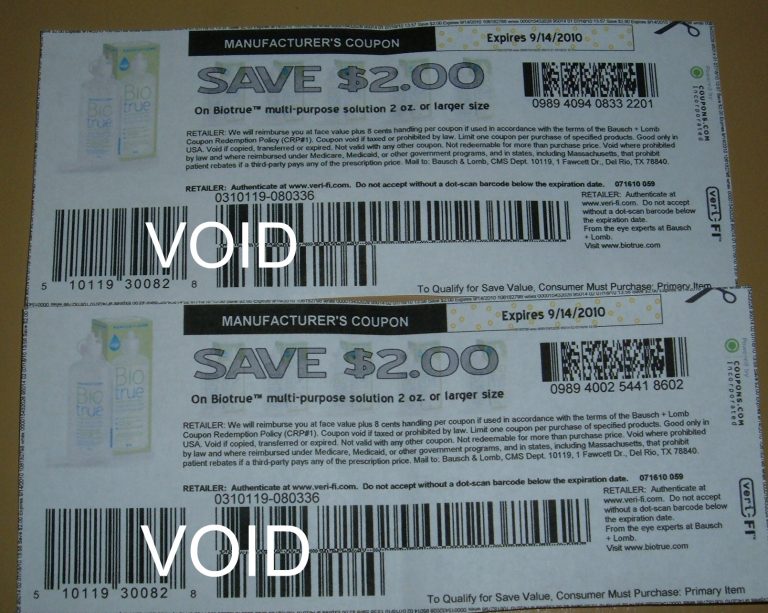 Step 5: With coupons and a plan in place, I headed to CVS.
Step 6: Upon entering CVS, I went to the automatic scanning machine and scanned my card (I always do this). Winner! I received a coupon for a free package of Trident Layers gum: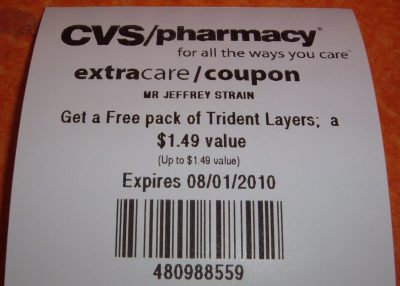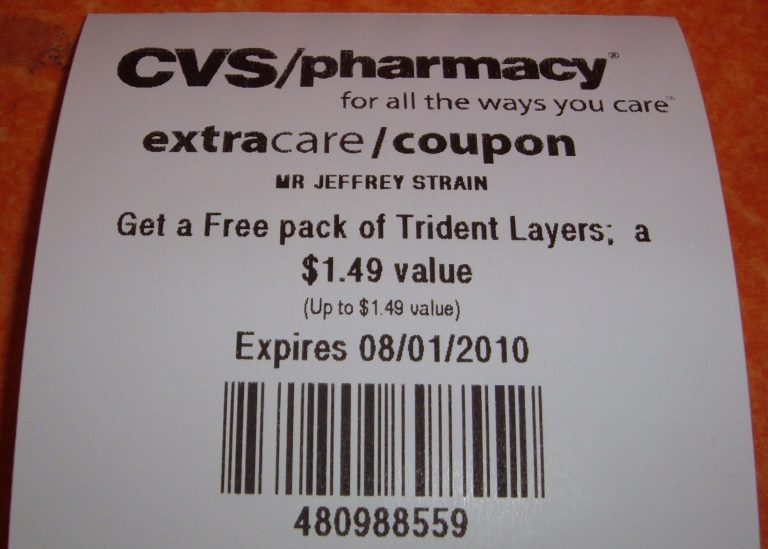 Step 7: I put a package of Trident Layers, 2 M&M's Pretzel packages and 1 Celsius Peach Mango Green Tea into my basket.
Step 8: Scenarios rarely work as planned and when I went to get the BioTrue solution, there was only one left. I put that into my basket.
Step 9: Without one of the BioTrue solutions (but with the unexpected Trident layers gum) I recalculated. $7.99 + $2.99 + $1.00 + $1.49 = $13.47 meaning I would need $6.53 in items to reach $20.00. I estimated this would still be near zero out of pocket for me.
Step 10: I decided to buy butter (3.49 with $0.30 peelie coupon on it), long grain brown rice ($2.19) and spiral pasta ($1.39) which came to $7.07 meaning I would hit the $20.00 mark.
Step 11: I headed to the cashier to buy everything.
Step 12: I told the cashier I had a $4.00 off $20.00 purchase so please do not hit total until that coupon was input.
Step 13: Everything was going fine until the the cashier hit the Celsius printable coupon that would not scan (I had a feeling this might happen – the printer where I am staying is low on ink so the bar code wasn't very good). She couldn't get it to work and called the assistant manager who overrode the machine and when she hit total, said I owed $0.82 without me handing over any of my Extra Bucks (Trident gum is missing in the photo):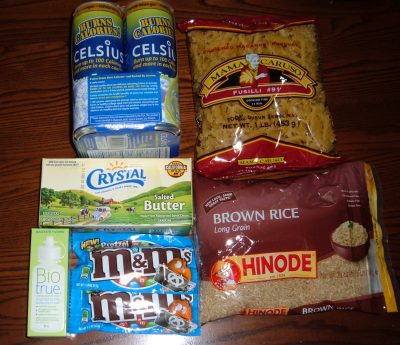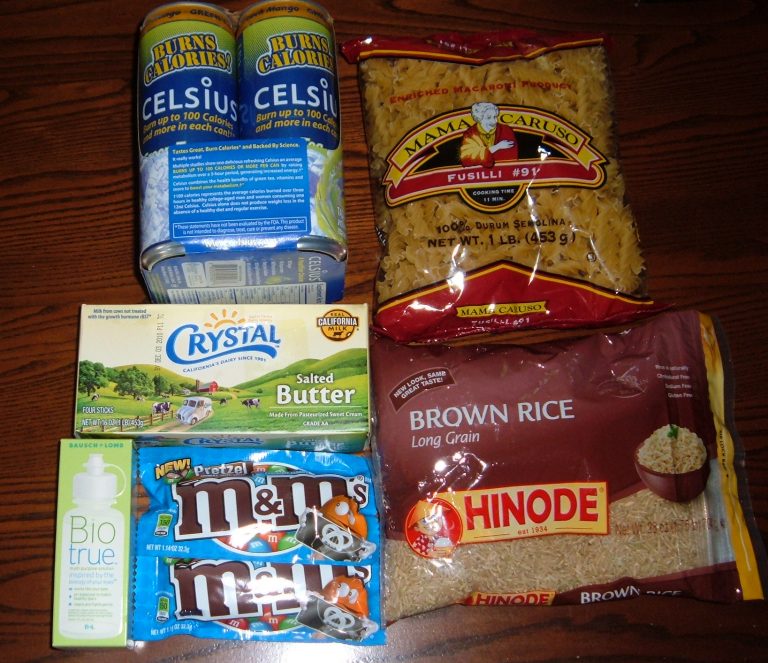 Step 14: Since there was already a short line because of the coupon trouble, I paid knowing that something had gone wrong.
Step 15: I went to the side and looked at the receipt: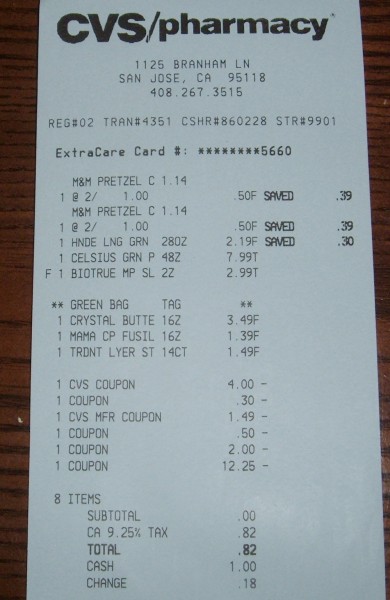 The assistant manager had accidentally input $12.25 instead of $2.00 for the Celsius coupon giving me a $10.25 overage I didn't deserve.
Step 16: I went to the help desk and asked for the manager (I assumed the assistant manager I had just dealt with would come) to let them know a mistake had been made.
Step 17: The manager showed up (not the one I had just dealt with)and I explained to him that there had been a mistake and that the store had charged me $10.25 less than they should have. The manager didn't understand and thought that I was saying the store had charged me $10.25 too much. And then the fun began:
Me: "I didn't pay enough. I owe you $10.25."
Store Manager: " Please show me the receipt so we can give you the $10.25 back."
Me: "No, it's the other way around."
Store Manager: "????" (complete confusion on his face)
Me: "I got too big of a discount."
Store Manager: "You're trying to pay more?"
Me: "No, I'm trying to pay what I was supposed to pay."
Store Manager: "But that means you want to give us money?"
Me: "Yes, what I owe you."
Store Manager: "I don't think anyone has ever tried to give us back money. What exactly happened?"
Me: (gave full explanation and how $12.25 came off instead of $2.00). "I just want to pay what I am supposed to pay and don't want anyone to get in trouble for accidentally making a mistake."
Store Manager: "I don't know what to do. It's already in our system. I guess you can just give me $10.00"
Me: "I can't do that (full explanation of $1 a day challenge), but I am more than happy to give you $10.00 in Extra Bucks as I had planned to at the register."
Store Manger: (Spending five minutes trying to figure out the best way to get the money back obviously still not sure what to think of me trying to give back money). Finally, "OK I will mark it as a $10.00 non taxable item and then you can pay with $10.00 of Extra Bucks."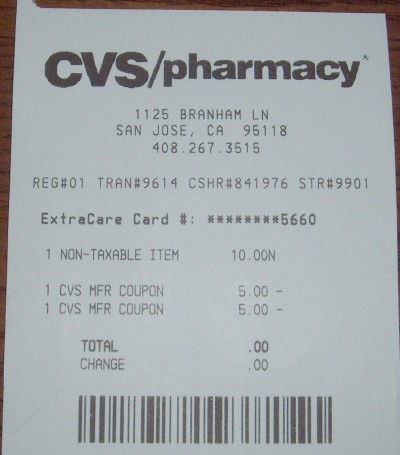 Me: "Great. Thank you."
Store Manager: "No, thank you." (still somewhat in disbelief at what had just happened)
Step 18: So in the end I ended up paying $0.82 in cash + $10.00 in Extra Bucks and received $11.98 back in Extra Bucks meaning that I made $1.16 (That $1.16 must be used at CVS in the future)


In addition to CVS, I received a coupon at the door of the house where I am house sitting from a new grocery store named Zanotto's in the area (near the CVS so not out of the way at all) for a free basket of strawberries: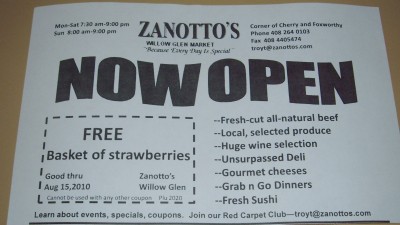 I wandered through the store and it is rather expensive compared to most. It did, however, have onions on sale for $0.79 per lb which isn't great, but isn't bad either. Since I ran out of onions when I did my roasted veggies, I picked up two along with the small basket of strawberries for $0.96: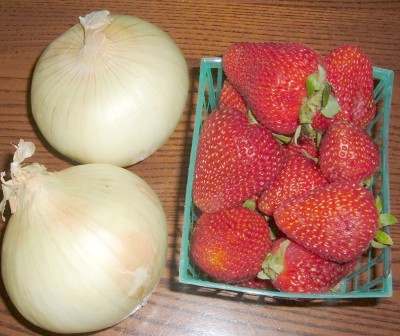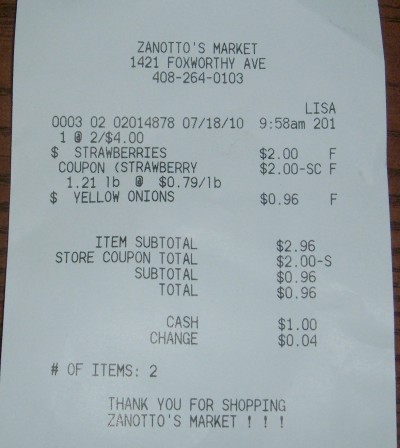 Combining this purchase with the CVS purchase, I ended up earning $0.20 for all the food I purchased today.
This is the current list of food I still have
This is the current list of what I have purchased:
Goal: 100 days eating on $1 a day
Current Money Spent: $48.85
Money Left to Spend: $51.05 ($6.17 must be spent at CVS, $1.50 must be spent at Safeway)
Retail Value of Everything Purchased: $1396.37
************************

The Beginning :::
Day 79: Maturity Of A Three Year Old
************************
Rebate Fanatic. Saving you money every time you shop online!
Sign Up and Start Saving Today