We have the first new rule controversy that needs to be put in front of all of you (as the new rules dictate when there is a disagreement) to decide whether or not I am allowed to do this as part of my $1 a day challenge. I went to a farmer's market this morning and had a great time walking around and sampling all the foods that were being sold there. Not only was there an abundance of different types of fruits (oranges, peaches, plums, apricots, raspberries, nectarines, etc), there were also flavored nuts, wonderful cracker spreads, candied popcorn, breads, pies, pastries and much more. By the time I had walked through the entire market, I felt as if I had eaten a full meal.
Of course, when my sister found out that I had done this and had even brought some of the samples home, she said that getting free samples at the farmer's market should be against the rules of the eating on $1 a day challenge: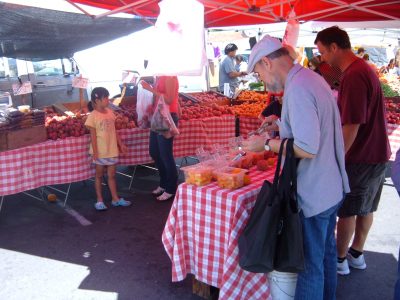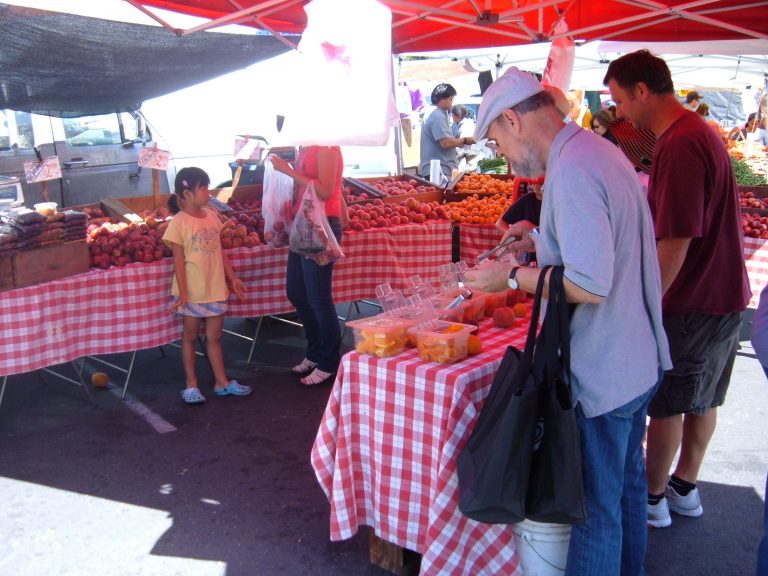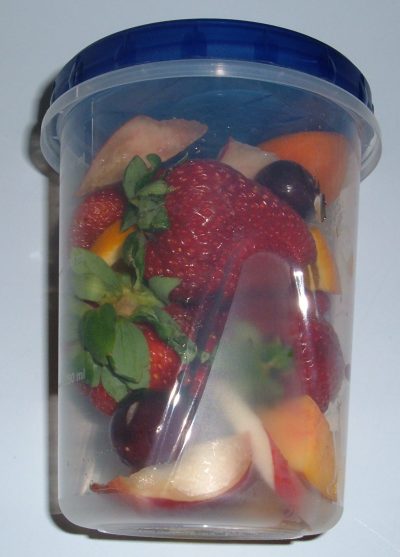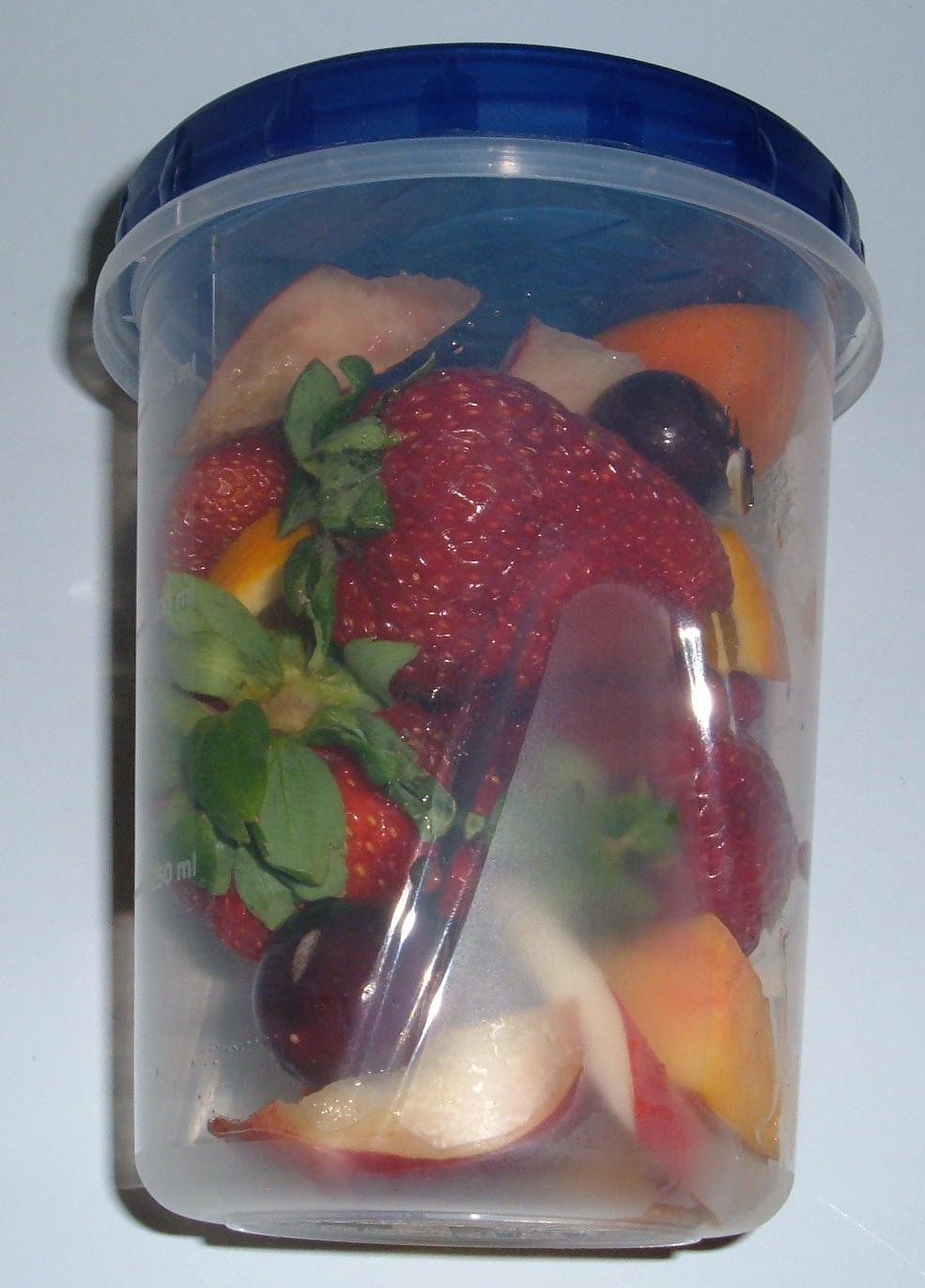 Since we disagree on this, the question goes to you all to decide. Am I allowed to take free samples when I am at the farmer's market? Here is my sister's argument against it and mine for it:
Sister's Argument: The farmer's market samples are for people who are thinking about buying something to taste it to make sure it is something that they will really like. They are not meant for people like me that have no intention of buying anything. They are also not meant to be taken home to use later. The samples are supposed to be eaten right then and there at the farmer's market so you can instantly decide if you are going to buy what the vendor is selling.
My Argument: The free samples are part of the marketing effort of the vendors. I am not abusing the system – I only take a single sample of each food sample that is available. In fact, many of the vendors encouraged me to take samples as I walked by. While it is true that with my current budget I can't afford to purchase most of the food at the farmer's market, that doesn't mean that when my finances are better that I won't. Free samples are part of the farmer's market culture and there is nothing wrong with taking them if I am there.
Those are the two arguments and now it's up to you to decide if I can take samples when at the farmer's market in the future. I will abide by whatever the results of the poll indicate and feel free to comment your opinion when it comes to this question.
[poll id="2″]
With the warmer weather, the blackberries are beginning to ripen. I think that in another week, there will be a lot ready for picking (can't wait). Today on my morning walk I found a few more: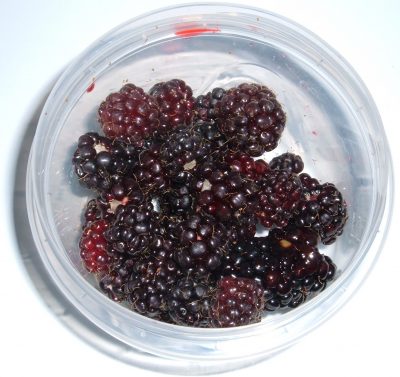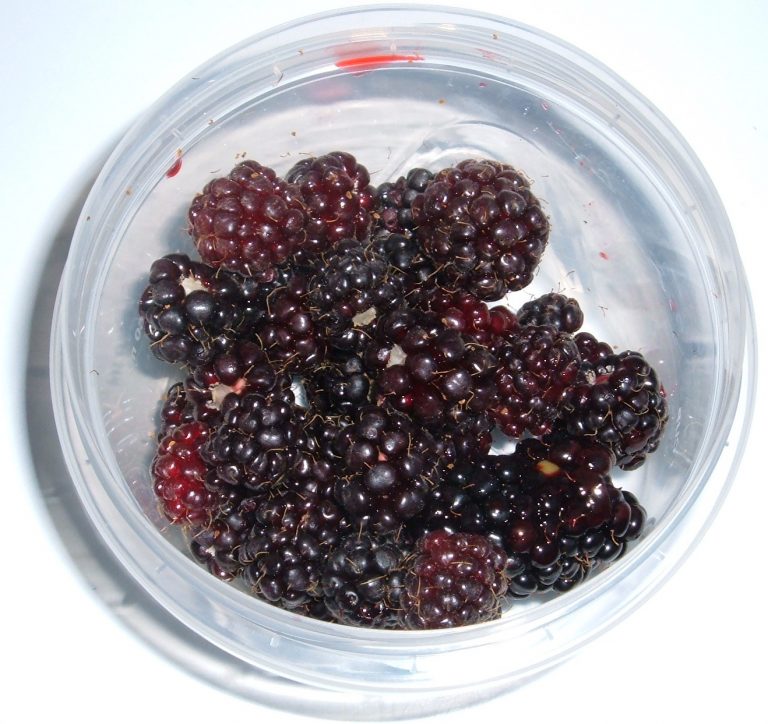 Blackberry Banana Smoothie
My daily morning blackberry banana smoothie (handful of blackberries, banana, 7 ice cubes) didn't turn out nearly as well as usual. I was down to 4 ice cubes, so decided to add water for the other three. The result was that it didn't have the thickness that it usually does: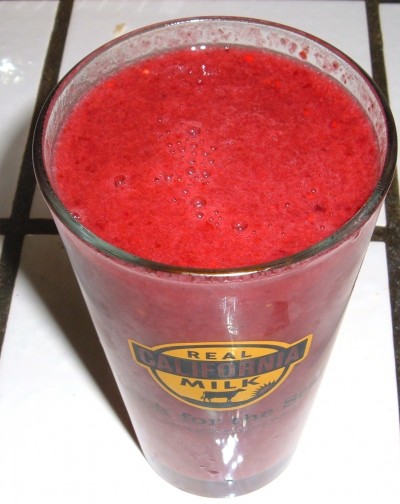 Fruit Salad & Quiche
I took about 3/4 of the different fruit I had taken from the farmer's market and made it into a fruit salad which was really good. I also had another 1/4 of the quiche I had previously made: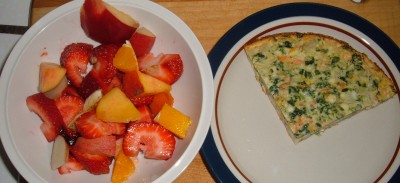 Veggie Noodle Soup
I took the advice of DeeAnn and had some leftover pasta from my Beefy Pasta Florentine which she suggested could be made into an easy vegetable soup (water + bouillon + frozen veggies + leftover noodles)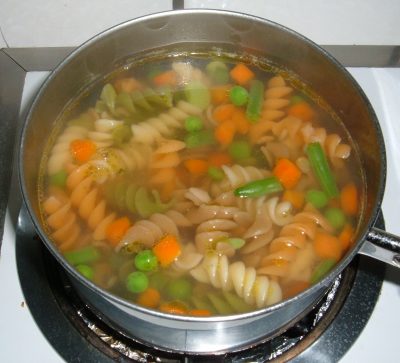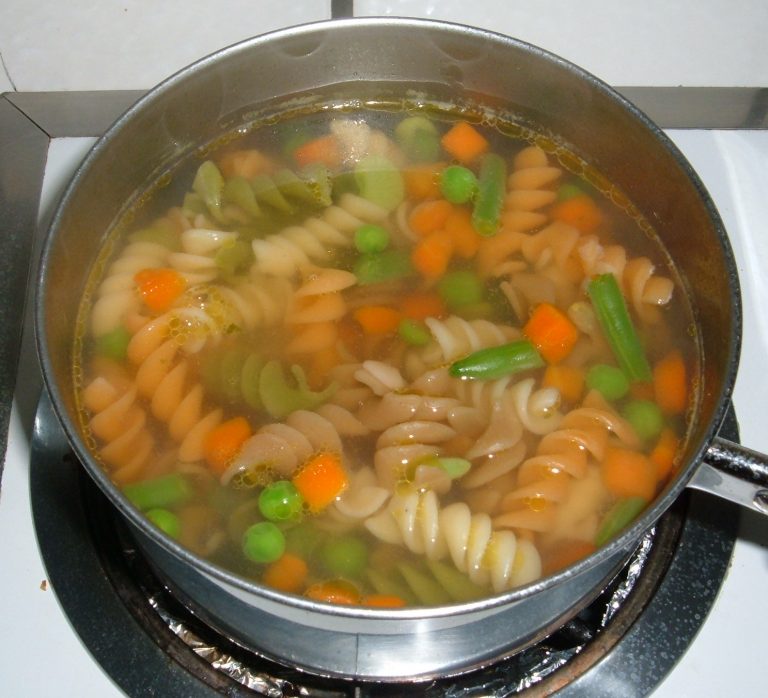 I had a bowl of the veggie noodle soup with the rest of the Roasted Veggies I had left over: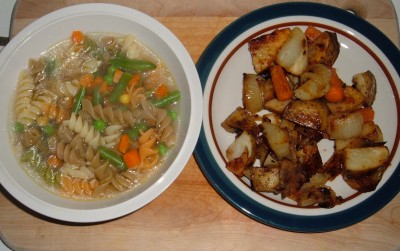 Veggie Rice
Between the meals I had and all the snacking at the farmer's market, I wasn't really all that hungry in the evening. I decided to cook up some of the rice (2 cups) I had and took the advice of a number of readers and added chicken bouillon to the water to give it a bit more flavor. I also added a cup of frozen veggies (I have a lot of left overs):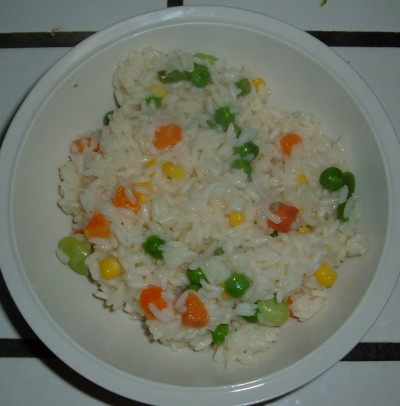 This is the current list of food I still have
This is the current list of what I have purchased:
Money Spent $37.50
Money left to spend: $23.50 ($1.33 must be spent at CVS)
Retail Value of everything bought: $995.24
************************

The Beginning ::: Day 50″ Square Watermelons

************************