One of the biggest problems I have in this challenge is a limited amount of refrigerator and freezer space. Since I am purposefully homeless, I have been staying at family, friends and house sitting these past 50 days and have to co-opt whatever refrigerator and freezer space is available at the place I happen to be. This can make things quite difficult because this doesn't allow me to stock up on any perishable foods. What I need to do is come up with a square watermelon solution.
Japanese houses and apartments tend to be quite a bit smaller than those in the US. This includes the Japanese refrigerators. Since watermelons are big and round, they tend to waste a lot of valuable space when placed in the refrigerator. Most farmers would simply tell consumers that watermelons grow round and there is nothing that can be done about it, but some Japanese farmers took a different approach and asked themselves, "How can we help people with a limited amount of refrigerator space?" It wasn't long before they invented the square watermelon.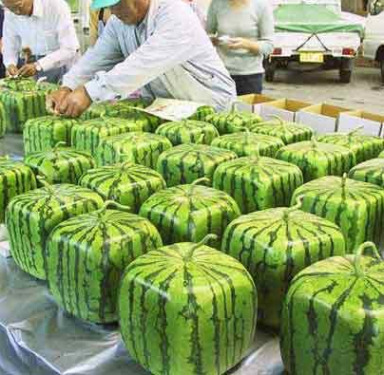 The solution to the problem of round, bulky watermelons wasn't nearly as difficult to solve for those who didn't assume the problem was impossible to begin with. They simply asked how it could it be done. It turns out that all you need to do to get a square watermelon is place a watermelon into a square box when it's growing and the watermelon will take on the shape of the box: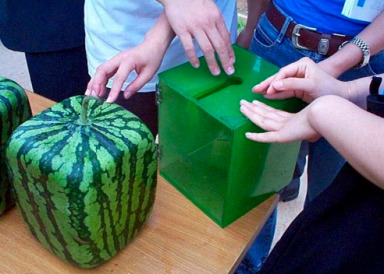 I need to come up with a square watermelon solution to my current refrigerator / freezer space problem so that I can stock more perishable food in the coming days. Anyone out there have an elegant suggestion?
Fruit Smoothie
I had a bit of leftover fruit which I had gathered at the farmer's market which allowed me to deviate a bit from the usual blackberry banana morning smoothie I had been drinking. It was mostly strawberries and peaches and it added a fruity flavor which was a nice change of pace: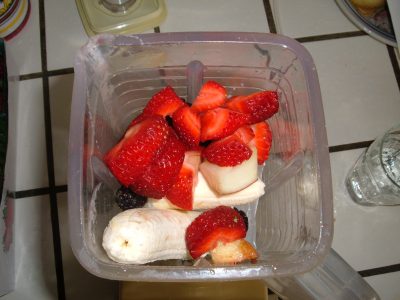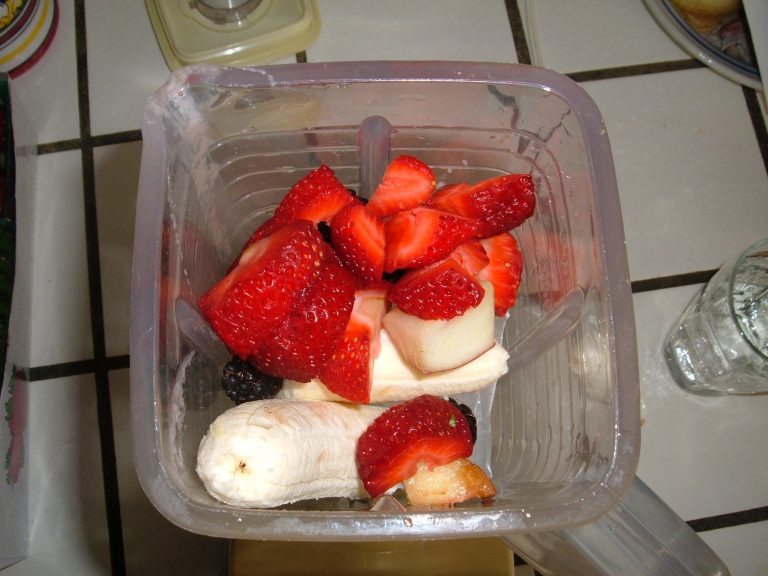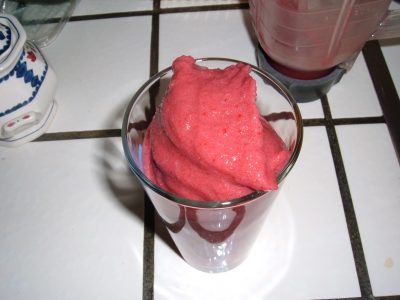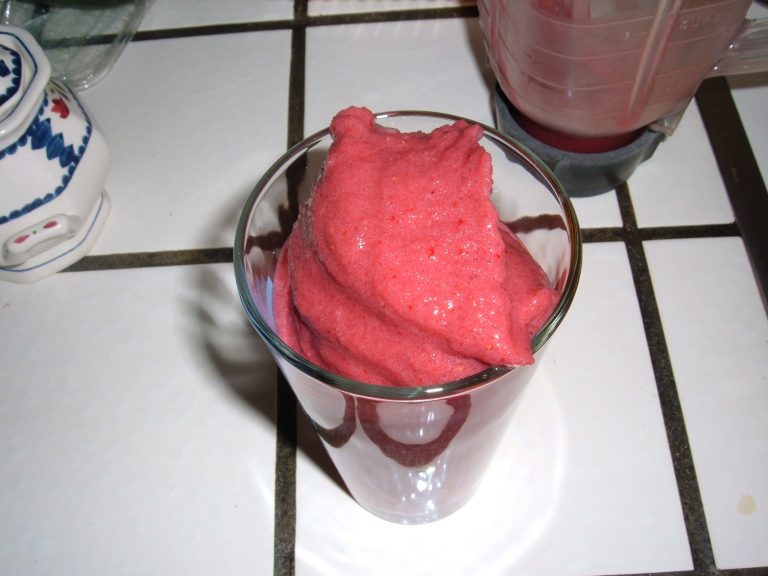 Peanut Butter Pancakes with Blackberry Banana Topping
For some unfathomable reason, the thought of peanut butter pancakes sounded really delicious to me. I followed the regular Bisquick recipe (cut in half) and added 1/4 cup of peanut butter as well. I then mashed up some blackberries and banana for the topping. Unfortunately, the actual taste wasn't nearly as inspiring as the thought of how I imagined they would taste. They were good and I would have no problem making them again, but they weren't an "I want to eat this everyday" combination.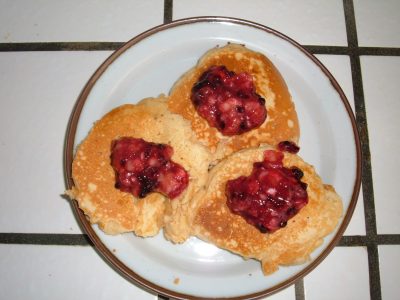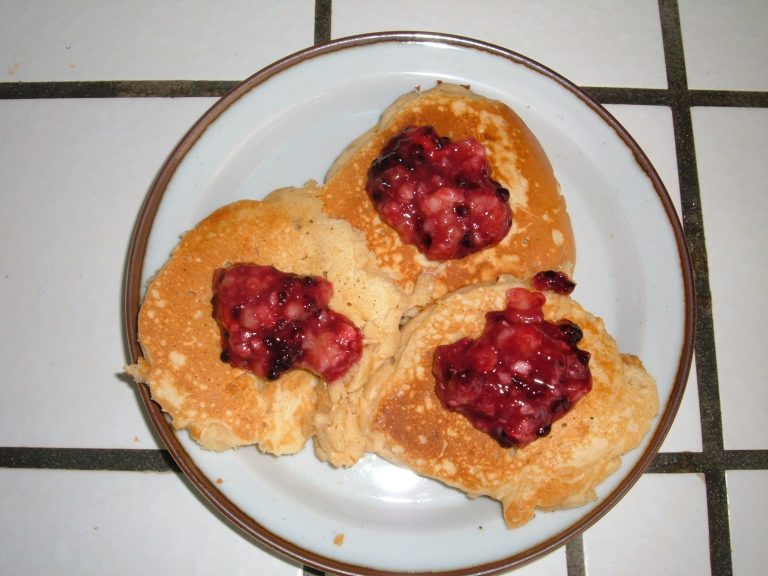 Chicken Sandwich & Veggie Pasta Soup
For lunch, I needed to use up the last of the chicken deli style meat if I didn't want to have to throw it out. I made a chicken sandwich on whole wheat toast with Miracle Whip, lettuce, tomatoes and pepper. I also had the rest of the veggie noodle soup which seemed to have a bit more of a pepper kick to it (not sure how that happened since I didn't add anything new to it) than the first time I ate it: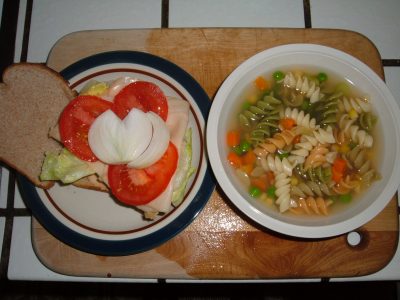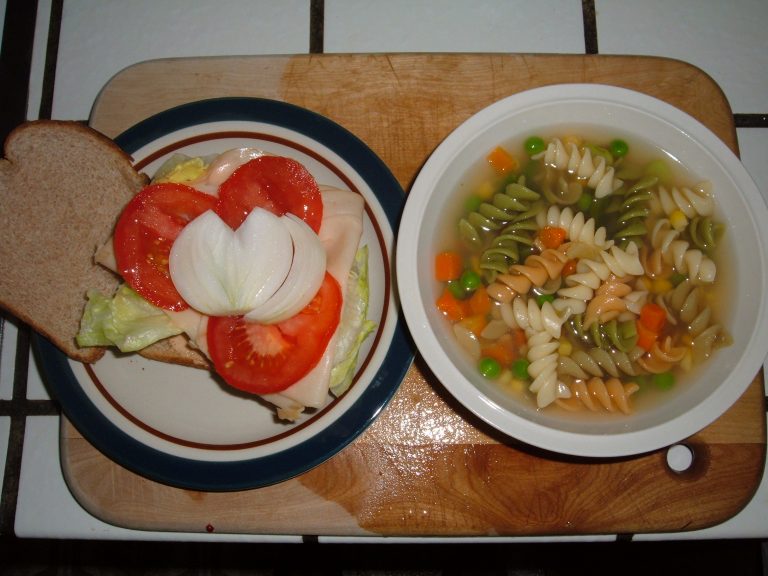 I really had to struggle on whether to make the sandwich or simply throw out the meat. I know that a lot of the readers view it as processed food and unhealthy. I could have easily thrown it out and never missed it with the current food I have, but ultimately decided that it was better to finish it rather than waste it.
Egg Fried Rice
Since I had a lot of the veggie rice left over, I decided to take it and turn it into fried rice. I simply added oil to a pan, added the veggie rice along with half a chopped onion and an egg: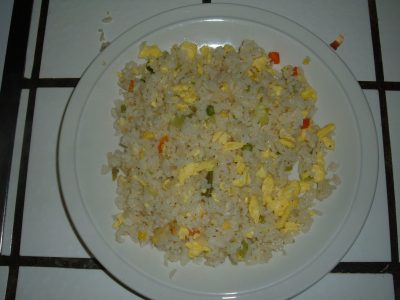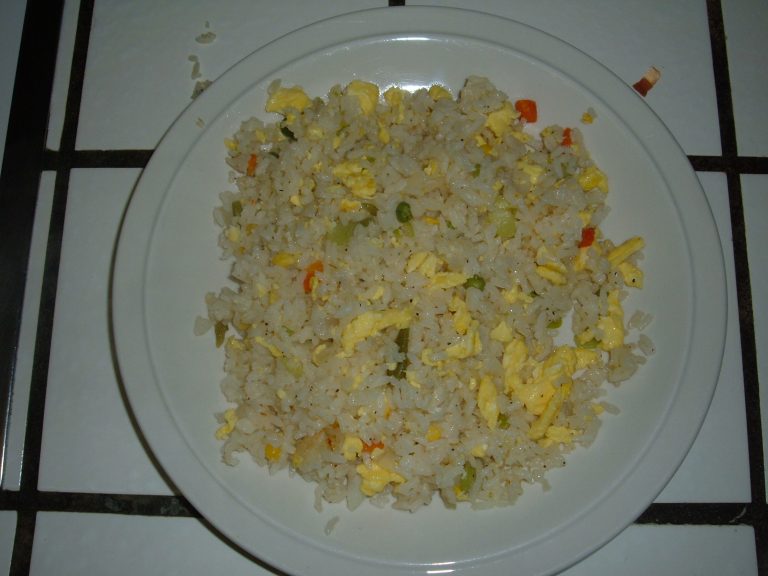 It was a bit bland for my image of fried rice that I often ate in Japan which uses ham and soy sauce to make it much more flavorful. Again, something I would definitely make again, but I would try to make some adjustments to bring a bit more flavor to it.
This is the current list of food I still have
This is the current list of what I have purchased:
Money Spent $37.50
Money left to spend: $23.50 ($1.33 must be spent at CVS)
Retail Value of everything bought: $995.24
************************

The Beginning ::: Day 51: Should I Be Allowed To Buy Things For Others To Get Free Food?

************************
Rebate Fanatic. Saving you money every time you shop online!
Sign Up and Start Saving Today