While I have done a bit of traveling while doing this $1 a day challenge, today was the first day that I traveled by plane. There was a company that wanted to meet me to do some writing for them and paid for me to fly down to LA for the day. That meant that I needed to do a little planning for my meals during the day.
The plan was to get up a bit early, have a nice breakfast and make some food that I could take along with me on the plane. Unfortunately, that plan went completely down the drain when I hit the snooze on my alarm clock three times. When I finally came to my senses, the overriding question wasn't what I would be eating that day, it was whether or not I was going to make my flight.
Not being able to prepare food when traveling causes all kinds of havoc when you are on a tight food budget. Due to the overwhelming time constraints, making something for breakfast wasn't an option. There wasn't even time to pour myself a bowl of cereal to eat. Normally in a situation like this, I would just head to the airport and grab a bite to eat there, but with airport food prices, that was not a viable option. All I could do is grab a banana and fill a small container with Kashi cereal as I headed out the door to the airport: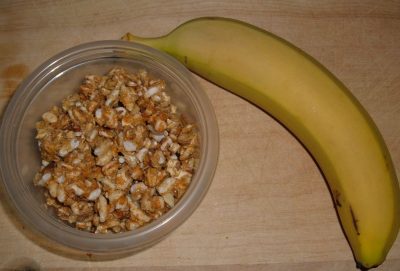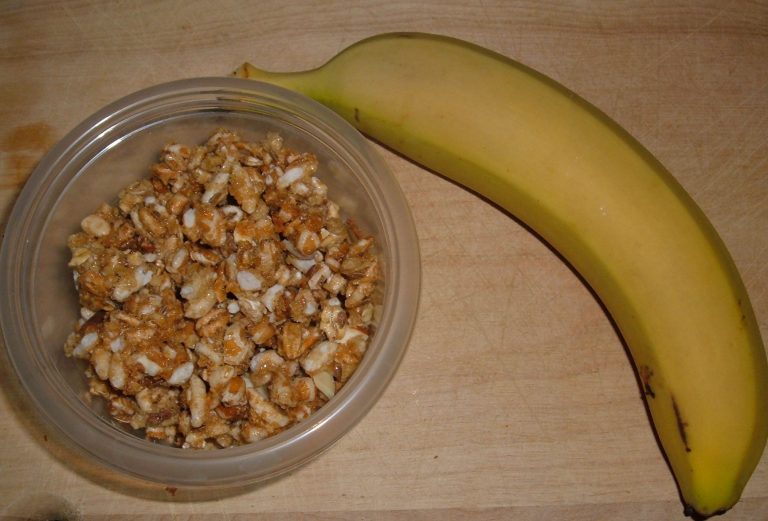 I did manage to catch my flight (barely) and was rewarded with a glass of orange juice on the flight down: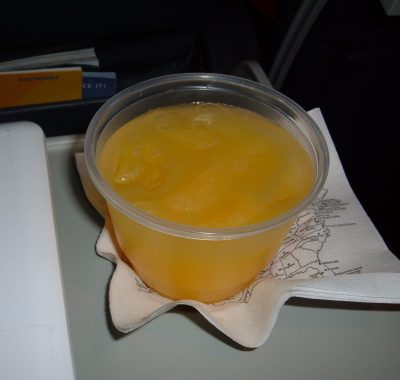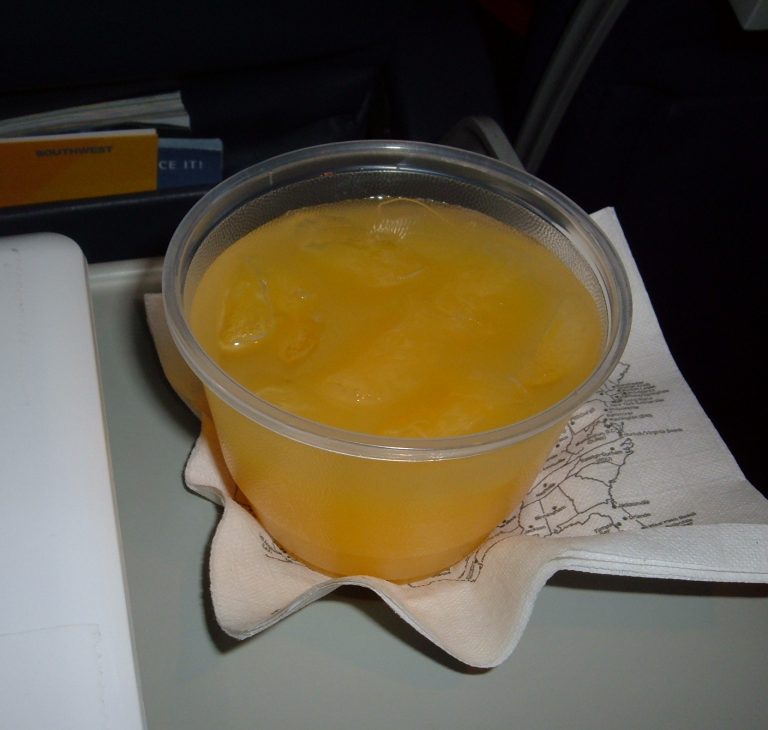 Chicken Picolla
The company did take me out to lunch so I had the chance to eat a nice restaurant meal for the first time in over a month (since I regularly ate out before this challenge began, I am surprised it had been so long). I also realized that my cooking really does suck. Granted, I have a limited amount of ingredients to work with, but even if I did have everything, I can pretty much guarantee whatever I made wouldn't turn out as appetising as the meal I had.
I believe what I ordered was called Chicken Picolla, but I could be totally off. It was grilled chicken with roasted vegetables and it was delicious. When I can even come close to making a dish like this, I will declare absolute victory in this challenge: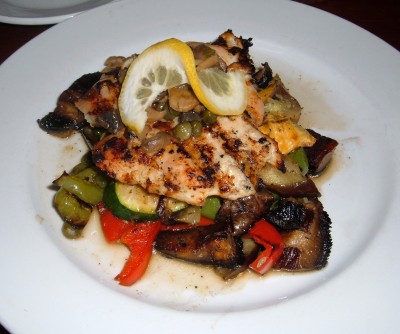 The biggest realization was that I desperately need to learn how to use spices better. The meal has so much more flavor than the typical meal that I have been eating. I also realized that I have a long way to go in this cooking adventure.
I assumed that I would be back home to fix myself a late dinner (my plane was supposed to arrive back home at 7:30). That was a bad assumption. Due to plane mechanical problems, my 6:30 flight was delayed to 8:30 meaning I had nothing to eat and 2 extra hours to kill.
Being stuck in an airport on a limited budget with no food while hungry just is not a lot of fun. I spent most of the time seriously debating whether getting a small frozen yogurt was worth sacrificing the cost of 5 days worth of food. I ran the numbers countless times knowing that I had built up a cushion and actually walked up t the counter a couple of times before regaining my senses and doing my best to suppress the hunger.
One of the things that I said I wanted to avoid during this challenge was the feeling of being hungry and I definitely failed that today, but I just couldn't bring myself to spend $5 knowing how much food that would mean if I properly used it with coupons and sales to buy food. I should have been better prepared with snacks on the chance that something like this would happen and I have learned my lesson that I need to prepare better when traveling.
I finally made it back home at 10:00 pm and I was so tired that I simply poured myself a bowl of Honey Nut Cheerios and went straight to bed…
This is the current list of food I still have
This is the current list of what I have purchased:
Money Spent $38.66
Money left to spend: $22.34 ($5.04 must be spent at CVS)
Retail Value of everything bought: $1023.17
************************

The Beginning ::: Day 55: Should I Be Able To Forage Food From Private Property?

************************
Rebate Fanatic. Saving you money every time you shop online!
Sign Up and Start Saving Today