Little did I know when I started this challenge that I would be in direct competition with squirrels when it came to getting fruit in the wild. I had already had a standoff with a squirrel in front of a lemon tree. This morning the stakes in our battle significantly increased when I caught a squirrel stealing fruit from the loquat tree I had been getting my supply from and noticed that a large amount of the fruit on it had suddenly disappeared. When you begin to forage, you quickly realize that squirrels are evil creatures sent to earth to steal what you had been planning to gather.
Despite the squirrel's attempt to deprive me of all loquats, I did manage to get a few along with a few blackberries. If you have any good blackberry recipes that can be made with what I have on hand, feel free to send them my way because from the look of the blackberry bushes, I'm going to be swimming in them (as long as those damn squirrels don't claim them first):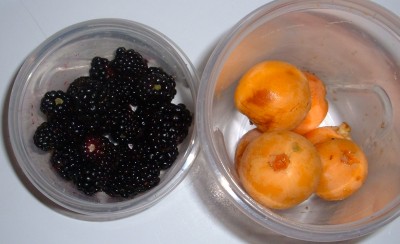 I'd also like to try a loquat recipe beyond the morning smoothies, but I'm also finding that loquat recipes seem to be few and far between. I'm debating what would be the closest fruit that I could use them as a replacement — should I be leaning toward apricots???
I decided I needed to make a run to Safeway to take advantage of the free yogurt opportunity that was ending. I had eCoupons loaded on shortcuts and cellfire, so I knew that I would be able to get 2 free when also using $1 off printable coupons. I noticed that I actually had 2 coupons for the yogurt banked in shortcuts and I wasn't sure whether they would both come off or not. Since I didn't want an overage, I decided to also buy $1 worth of bananas in case they both did come off. It was a good thing that I did (and I actually should have purchased another dollar of something) because 4 eCoupons were triggered meaning I only used one of the two printable coupons I had on hand. I'm still not sure where the extra eCoupon came from and it's a shame that I wasn't planning on buying more because I could have taken advantage of it. In the end, I purchased 4 bananas and two 4-packs of yogurt for $0.01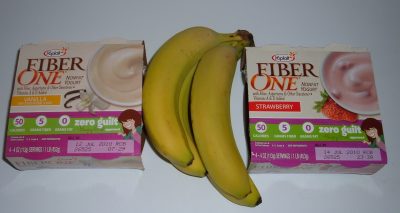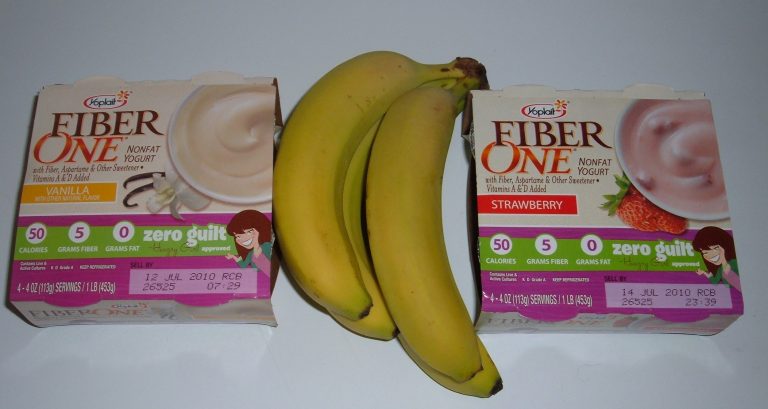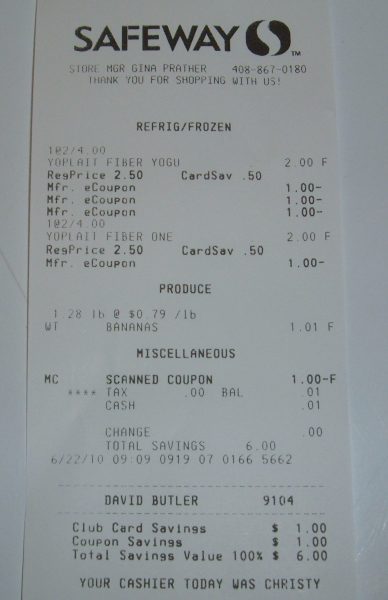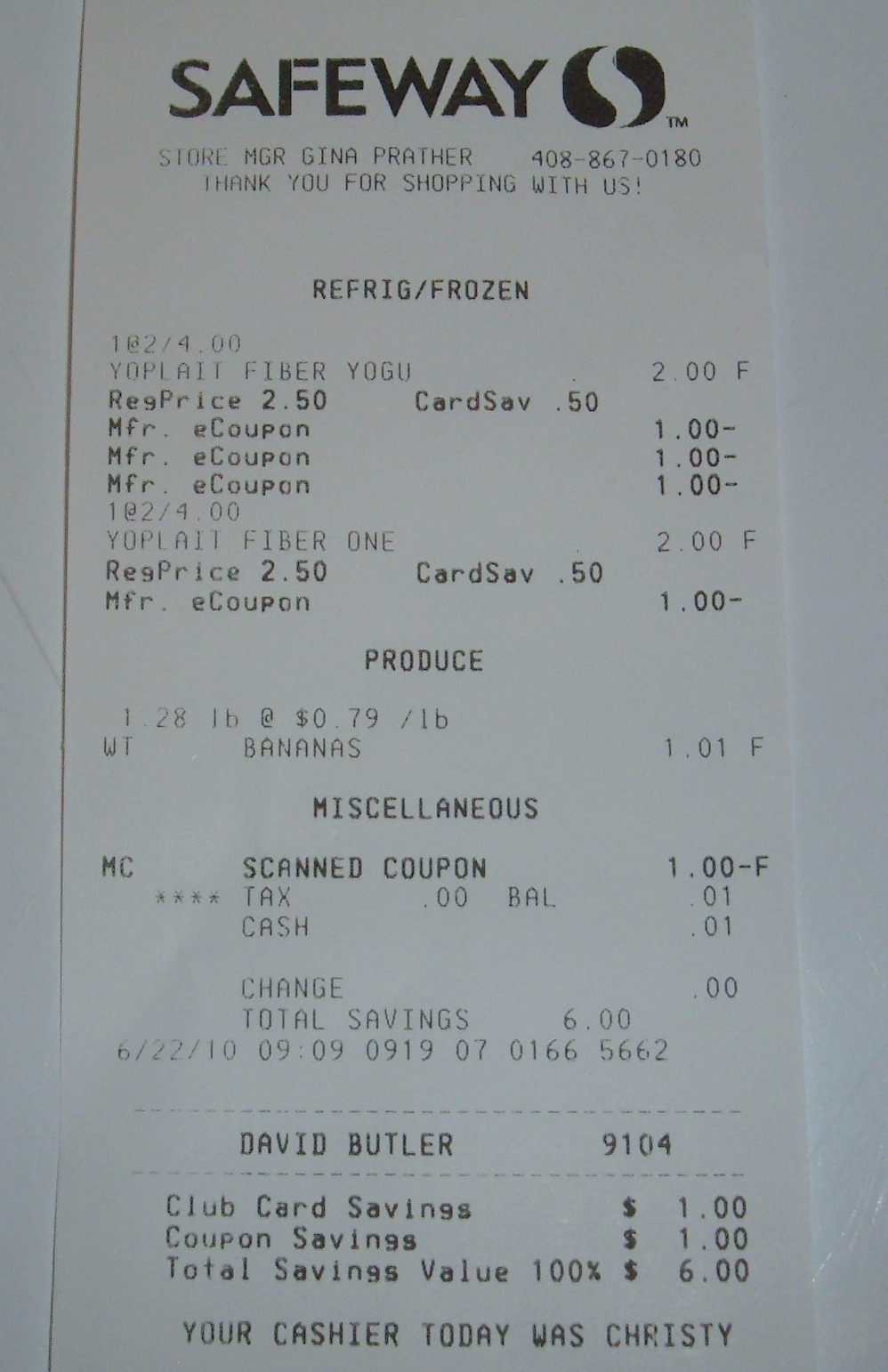 Since it was the last day of the grocery store sales week, I also decided to make another trip to the local Lucky grocery store to take advantage of their $0.33 heads of lettuce and $0.77 per lb on the vine tomatoes. The cost for the head of lettuce and the 3 tomatoes came to $1.15.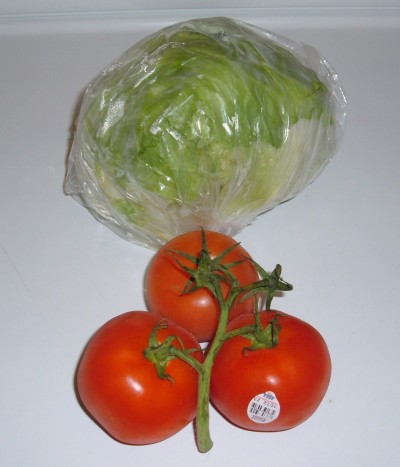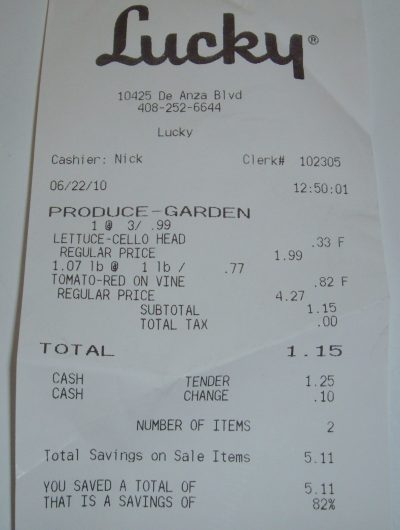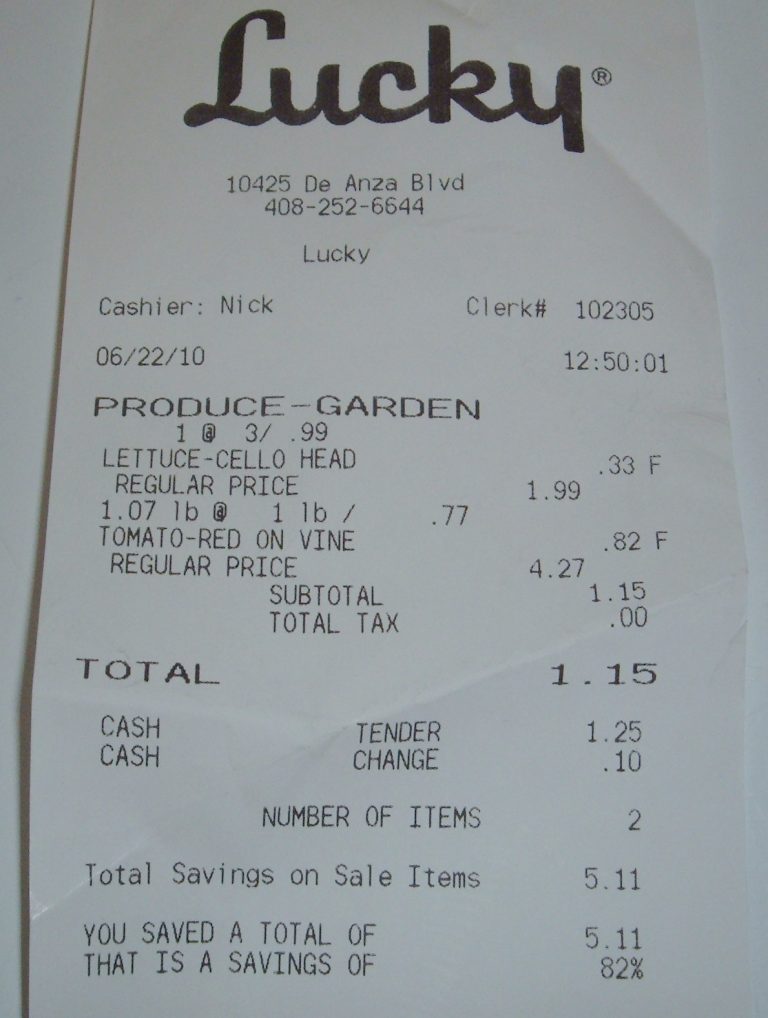 I'm hoping that in another couple of weeks that I won't have to purchase any more tomatoes for the rest of the summer when they begin to ripen in my garden.
Loquat Yogurt Smoothie
I decided to give the morning smoothie a try without the banana and replace it with one of the cups of yogurt . This definitely sweetened up the smoothie which I'm not sure is a good thing. I've become accustomed to the natural sweetness of the fruit only smoothies, and the yogurt seemed to make it a bit too sweet. On the positive side, it did make the smoothie thicker and more filling, so I think I need to get some plain yogurt for them when I get a chance.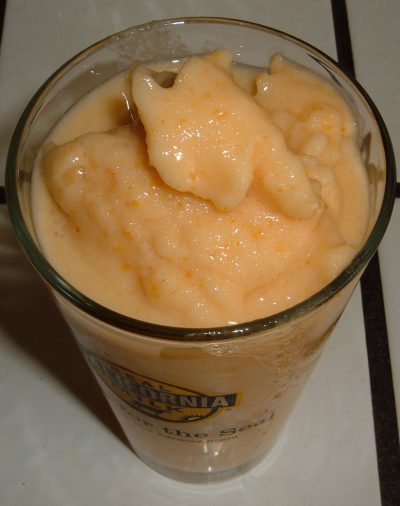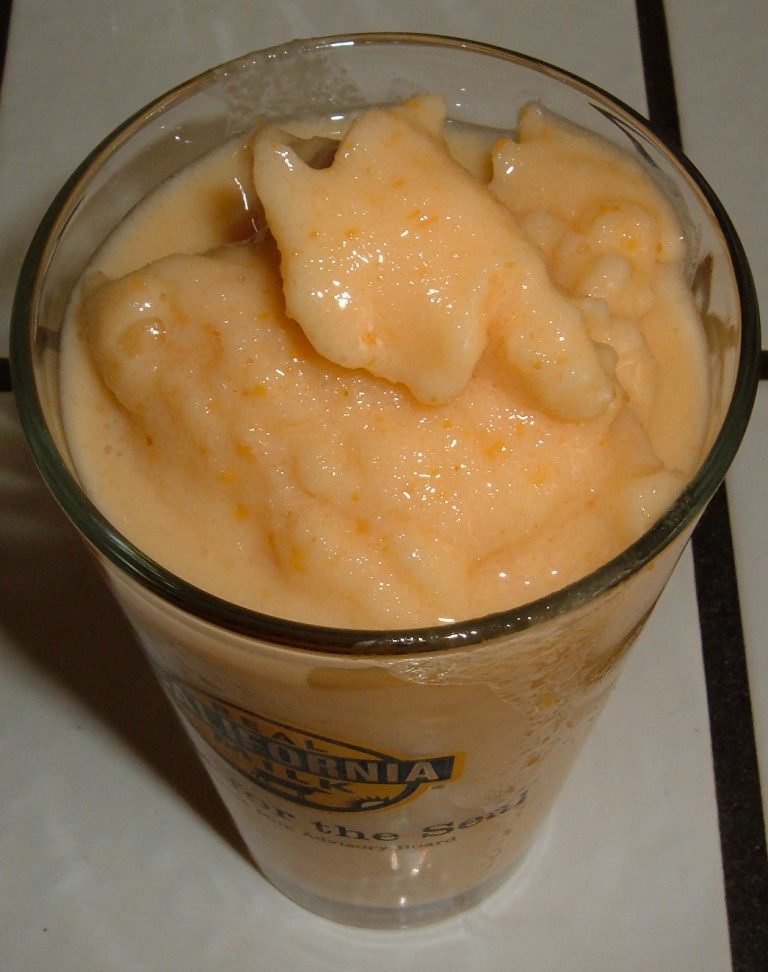 Peanut Butter Banana Pancakes
I had a bunch of peanut butter pancake batter left that I needed to use, so I decided to give them another try. I wanted to figure out how to make them better since they fell short of expectations the first go around. The pancake batter was pretty thick, so I first added a bit of milk to thin it out. I then decided to take half a banana and mush it into the mix: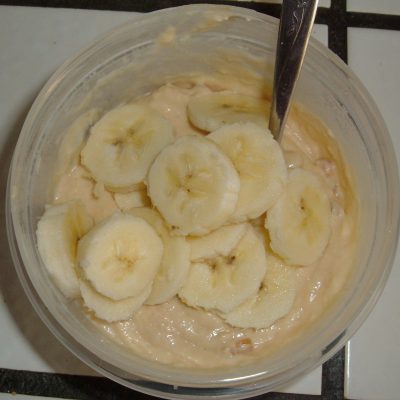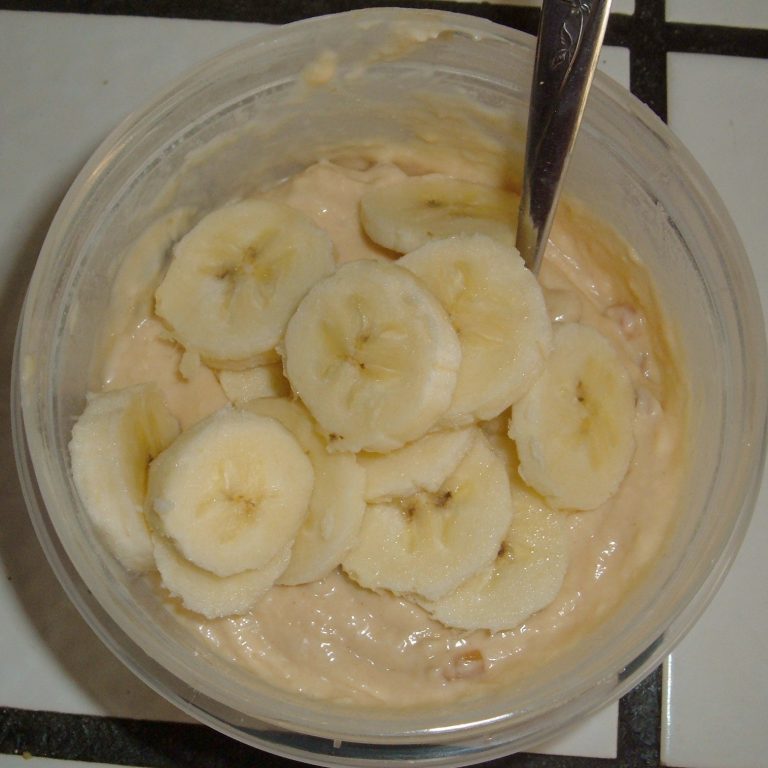 When cooking them last time, the centers were a bit mushy and maybe not quite fully cooked, so this time I pressed down hard on them to make sure that the inside was fully cooked. I then made a blackberry and banana topping and they turned out much better than the first time. I may even make them again in the near future.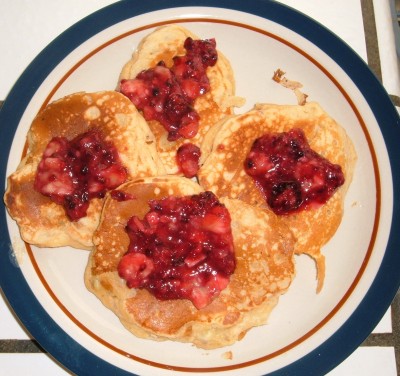 Vegetable Rice Egg Drop Soup
I knew that I was going to be gone for the whole day on the 23rd, so I decided that I should try and use as many of the leftovers that I had. For lunch, I finished off the rest of the veggie rice egg drop soup: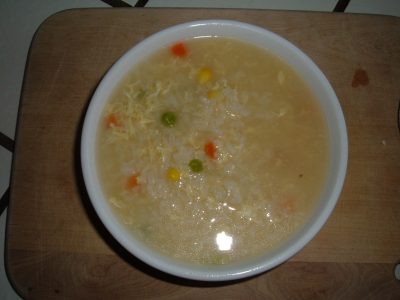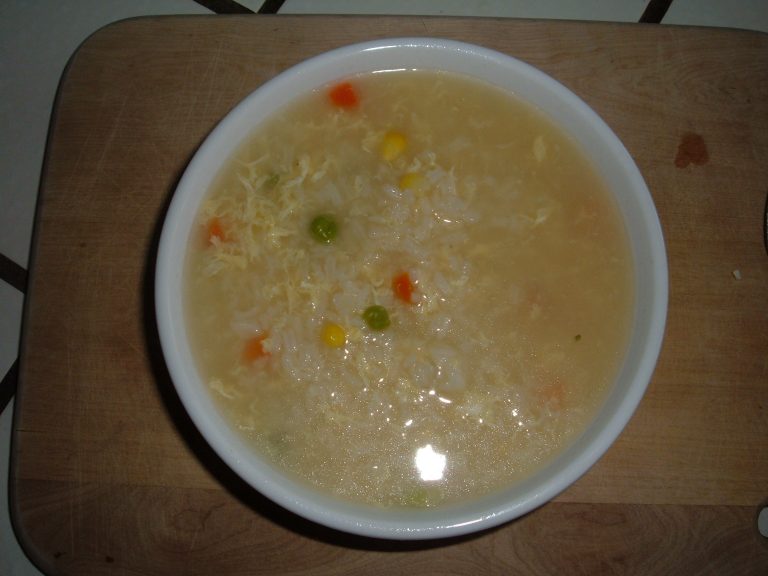 Salad and Quiche
Keeping with the finishing off the left over theme, I finished the last of the spinach quiche that I had made. I think I will be making another one of those because it was quite tasty and an easy thing to add to and lunch or dinner to make it more filling. I also made a salad with lettuce, tomato and a hard boiled egg with Italian dressing on top: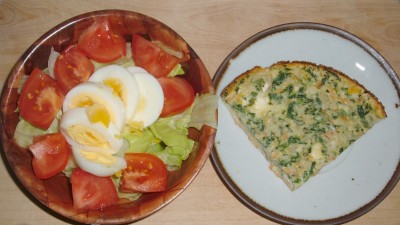 This is the current list of food I still have
This is the current list of what I have purchased:
Money Spent $38.66
Money left to spend: $22.34 ($5.04 must be spent at CVS)
Retail Value of everything bought: $1023.17
************************

The Beginning ::: Day 54: Air Travel On A Tight Food Budget Sucks

************************
Rebate Fanatic. Saving you money every time you shop online!
Sign Up and Start Saving Today