I came across an interesting dilemma today which I will put to a vote just because I'm interested to hear all of your opinions on it. Today I had a coupon for a free serving of Thai Cashew Chicken from Panda Express: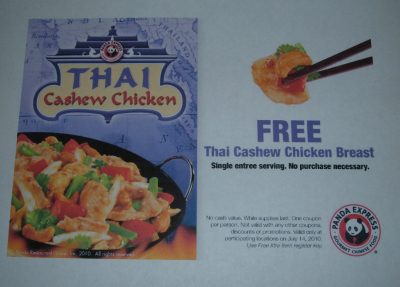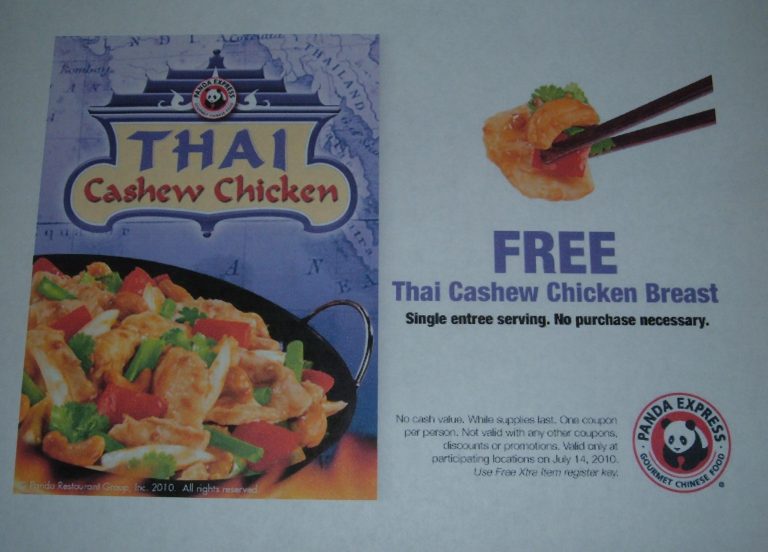 I am of the opinion that it would be wrong to go into a restaurant with no intention of buying anything and taking their condiments for my own use, but what is your opinion on the following situation? I went to Panda Express because they enticed me there with their coupon for free food. In this situation, do I have the right to take condiments that are in proportion to the meal that I purchased (in this case, with a coupon) even if I do not intend to use them on that meal? Does it matter that I received the meal for free? I was eyeing a couple of packets of soy sauce that would make great flavoring for a future meal. In this situation, did I have the right to take them for free? Please vote and feel free to express your thoughts and reasoning in the comments.
[poll id="10″]
The results of all previous polls.
Peanut Butter & Banana French Toast
So my sister still is having issues that I eat a peanut butter and banana sandwich on almost a daily basis (usually in the late afternoon when I am craving a snack or as an afternoon meal when I am on the run and don't have time to make anything but a quick meal). She said that she bet I couldn't go a week without eating one, and I said that I could do it without a problem at all — so we made the bet. So since I was banned from eating peanut butter and banana sandwiches, I decided on the first day to make myself peanut butter and banana french toast (she wasn't in the least bit amused and immediately called off the bet).
I used a recipe sent to me by Penny from The Saved Quarter:
Make a PB&B sandwich as usual with two slices of bread. In a shallow bowl that is big enough to hold the bread, whisk an egg with 1 t. water. A few drops of vanilla and a sprinkle of cinnamon are nice, but not necessary. Lay your sandwich in the egg mix and once the bottom piece of bread has absorbed some of the egg, flip it over.

You can bake it in the oven (I do four at a time and bake at 350 for 30-40 minutes, or until the egg sets.) You can also fry it in a pan over medium heat with a little oil to keep it from sticking. Flip just once after a few minutes, when the bottom piece of bread is cooked through.

Alternately, make two slices of French toast and then PB&B it. I like the meltiness of the PB as it cooks with the bread, though. You can serve it as is or add syrup.
I had a little extra egg, cinnamon and vanilla mixture and the end piece of bread, so I cooked that up as well: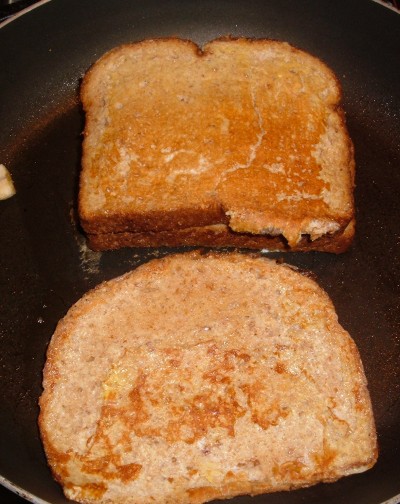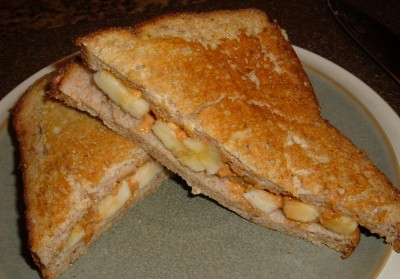 I should have gone with the baking method instead of the frying (I was in a hurry and didn't have the time to do the baking method). While it was delicious (seriously, how can you go wrong with peanut butter and bananas?) the frying allowed the peanut butter just to begin to melt, giving me just a hint of what it could taste like. I image that fully melted peanut butter in the over would take it to an entirely new level (I will certainly have to try it).
Chicken Spinach Pasta Salad
I took the leftovers of my attempt at Chicken Stroganoff and turned it into a chicken spinach pasta salad (which wasn't too difficult since it already tasted like a chicken pasta salad). I simply added the last of my fresh spinach leaves, half a tomato and a bit more salad dressing: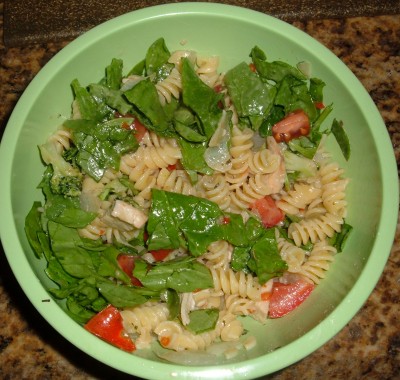 Having this as a cold pasta salad definitely made it much tastier than it had been as a warm meal.
Panda Express Thai Cashew Chicken with Rice
It doesn't happen often, but here is a certain expression of disgust that comes over some cashiers faces when they feel that you are cheating the system with your coupons even though you are playing exactly by the rules that the stores and manufacturers have put in place. I received that exact same look from the employees at Panda Express when I went to get my free meal. It was obvious that they felt that I should buy something more even though the coupon plainly stated that no purchase was necessary. Simply by giving me that nasty look, I have no intention of ever going back to Panda Express (I assumed that the promotion was to get new people in the door that would become repeat customers in the future which may well have happened if I hadn't received those nasty looks)
In the end, I received a small box of the Thai Cashew Chicken that was specifically for the promotion: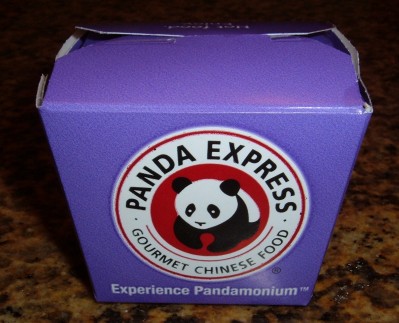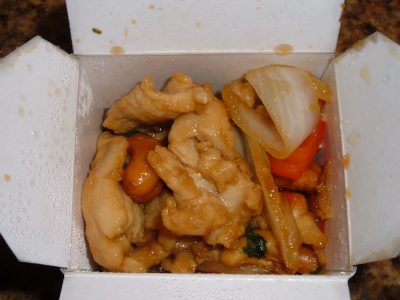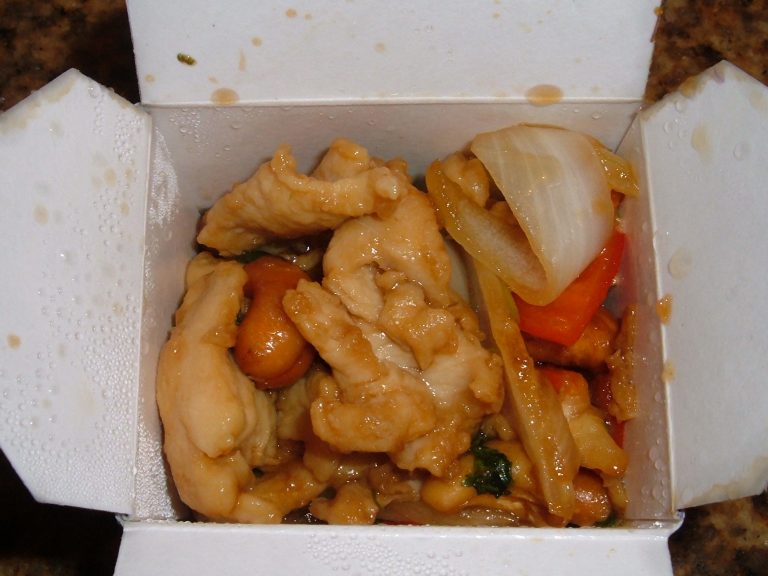 I then went home and cooked up some rice and then placed the Thai Cashew Chicken on top: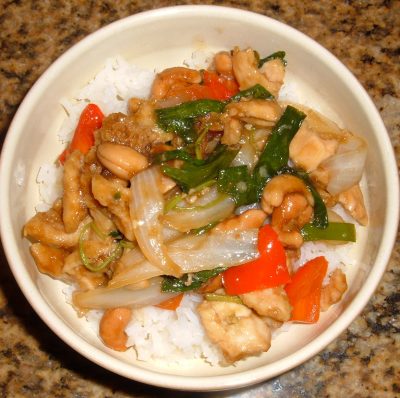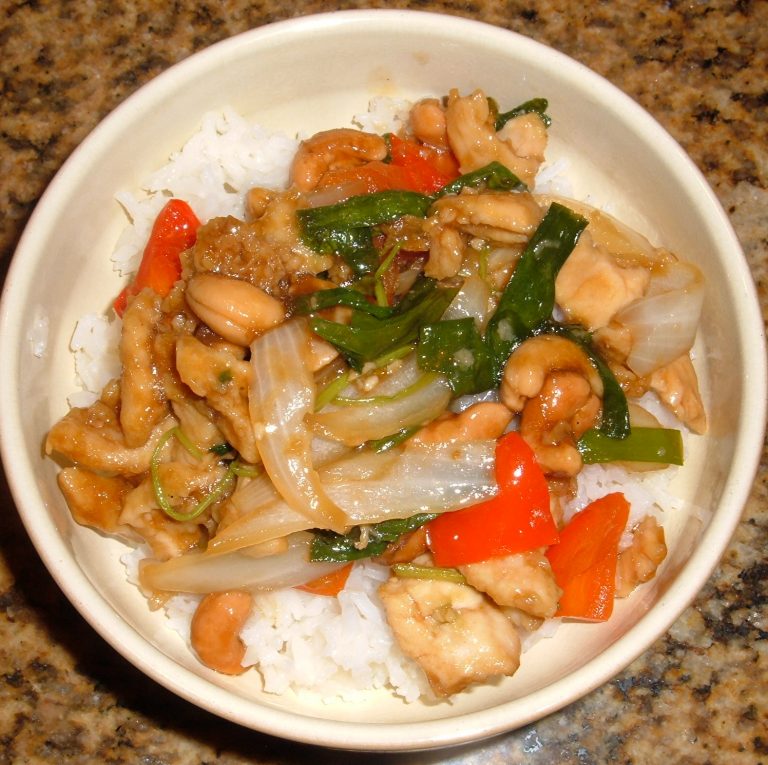 It was a nice change of pace of not having to cook myself and it wasn't bad, but the whole look thing already has cemented that I won't be heading back there anytime soon…
This is the current list of food I still have
This is the current list of what I have purchased:
Goal: 100 days eating on $1 a day
Current Money Spent: $49.15
Money Left to Spend: $50.85 ($5.83 must be spent at CVS, $1.50 must be spent at Safeway)
Retail Value of Everything Purchased: $1370.97
************************

The Beginning ::: Day 76: Cooking Rebellion

************************