It was bound to happen and I really should have seen it coming. I didn't sleep well and woke up really tired in the morning. I know from past experience that when I am tired, my eating habits go to crap, but I failed to contain the train wreck, and the result was that I went through a lot of food that I shouldn't have which I hope isn't going to come back and haunt me in the last days of this challenge (when I get like that, I need to take a nap or I just keep eating to try and stay awake).
This means that I am going to have to do a fairly big shopping this week to replenish food instead of adding little things here and there. I am going to try and hold out until Tuesday when I will get my weekly flier and see what deals are going to be available — taking that into account, I can decide whether to wait until Wednesday to do it or make the trip on Tuesday.
***************************************
This is part of a month long challenge to eat well while spending an average of only $1 a day on food. You can find the beginning and the rules of this challenge here
***************************************
Breakfast
Breakfast went off without a hitch and was the usual fare. I had a bag of oatmeal in the morning to take with my antibiotics and then a bowl of Corn Flakes a couple of hours later topped with a quarter of a banana. I also had a small glass of the spicy V8 juice on the side: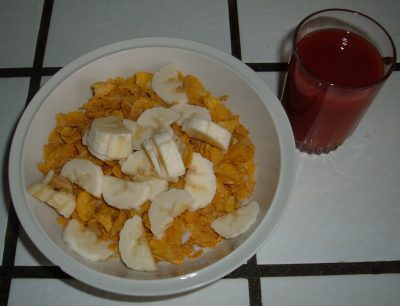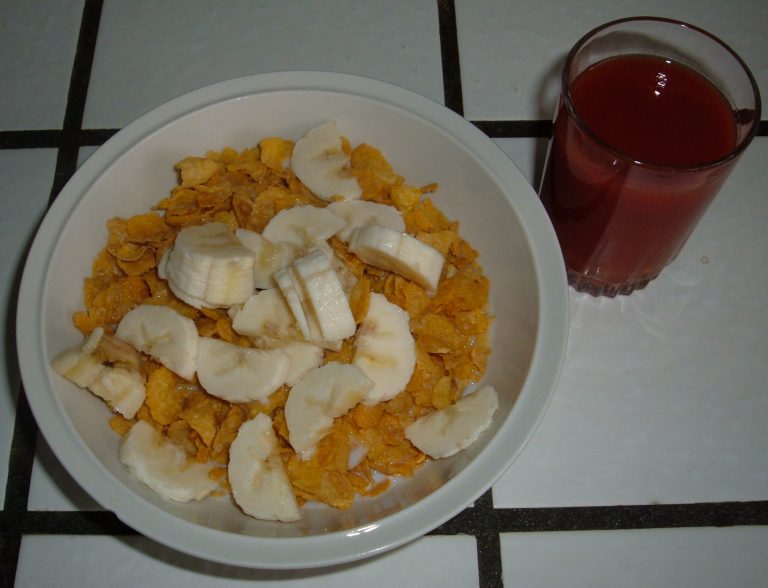 Lunch
I was still holding my own when lunch came around. I decided to use the rest of the black beans I had cooked a couple of days before and a portion of the spicy V8 cooked rice which I mixed together in a bowl. I then put a spoonful of sour cream on the side and a cooked egg on top. I then placed another spoonful of salsa on top of the egg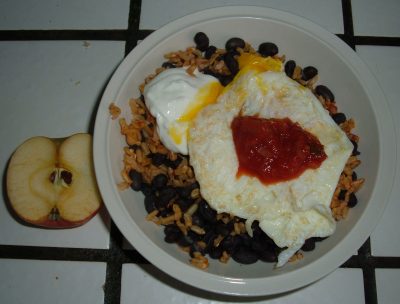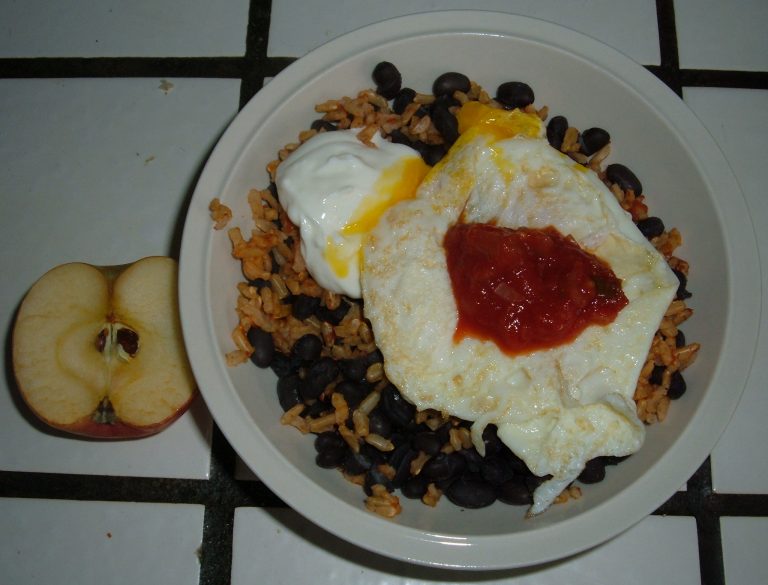 Dinner
The downfall began about 3:00 pm. I was getting hungry and instead of making myself a proper snack, I finished off the small box of Wheat Thins leaving me with only one left. Still not satisfied, I opened the last box and before I knew it, that was gone as well.
Around 5:00 pm things got busy and I knew I was going to have to go out for a bit and wasn't sure when I would be back to eat dinner. I threw together a peanut butter and banana tortilla using the last of my bananas and grabbed a whole apple leaving me with only 1.5 five left. When I did get back, it was rather late and I started eating peanut butter out of the jar taking it down from half full to only 1/4 full and eating another precious tortilla (I only have 6 left now).
I was ready to eat even more before I came to my sense and made myself go to bed before I had nothing left for the next couple of days.
Still, the loss of the Wheat Thins and a lot of the peanut butter is going to hurt unless I can find another deal on snacks real quick…
This is the current list of what I have purchased:
Money Spent $10.42
Money left to spend: 20.58
Retail Value of everything bought: $310.88
1 bottle Welch's grape & peach 100% juice
1 bottle V8 Fusion fruit / vegetable drink
1 bottle V8 spicy vegetable drink
2 boxes of Caprisun fruit drinks (10 packs)
1 jar of salsa
1 bag of black beans
1 half gallon of milk
4 boxes of Corn Flakes
1 dozen eggs
2 avocados
5 bananas
2 boxes of Quaker Instant oatmeal
14 packs of Philadelphia Cream Cheese Minis
1 package of Knudsen Light sour cream
10 apples
2 lbs of carrots
4 boxes (small) of Wheat Thins
1 jar of Skippy All Natural peanut butter
2 cans of pork and beans
1 bag of long grain brown rice
2 packages of Mission 100% whole wheat tortillas (10 count each)
Donated Food to Food Bank that was purchased with my $1 a day
4 bottles Windex multi-surface cleaner
1 can of Pork & Beans
5 boxes of cereal
50 packs of Philadelphia Cream Cheese Minis
4 boxes (small) of Wheat Thins
2 Scrubbing Bubbles Extend-A-Clean bathroom cleaner
2 Scrubbing Bubbles Extend-A-Clean bathroom cleaner refill
************************

The Beginning ::: Day 10: One Third Done

************************
Rebate Fanatic. Saving you money every time you shop online!
Sign Up and Start Saving Today