I knew when I decided to try and eat well on $1 a day that the challenge would make for some interesting quandaries which I would have to consider along the way. Little did I know how far down the rabbit hole I would eventually step in the search for free food.
It is a well known fact that men do not buy tampons, yet I found myself doing just that (not to mention the pantiliners in the basket as well) in order to make it possible for me to get some free peanut butter. I realize that by admitting that I have done this as part of the challenge, no man is ever going to attempt this challenge again. Most would rather starve to death than pick up pantiliners and tampons at the store for any reason, let alone a jar of peanut butter. I'm having serious doubts about my own sanity and manliness. The mere fact that I would actually go for this deal without considering the possible repercussions for men around the world shows that I may not be thinking clearly these days:
Woman: "Honey, can you run down to the drug store and get me some tampons?"
Man: "I'm sorry dear, men don't buy tampons…"
Woman: "That guy trying to eat well on a dollar a day bought tampons and pantiliners just so he could have a jar of peanut butter. Are you saying that you value me less than a jar of peanut butter?"
***************************************
This is part of a month long challenge to eat well while spending an average of only $1 a day on food. You can find the beginning and the rules of this challenge here
***************************************
Obviously, this is a no win situation for any man which will eventually send him to sleep alone on the couch no matter how valiantly and desperately he attempts to recover. I sincerely apologize to all men for creating this situation, and I see a very bleak future for myself when it comes to having to shop for tampons (update: I am now ashamed at my embarrassment).
I had no plans to buy the tampons, but I received an email from CVS offering me $4 off any purchase of $20 or more: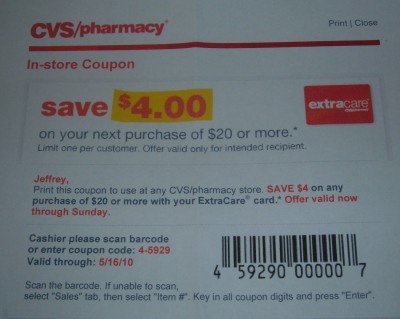 This week had a lot more opportunities than next week to get stuff for free and reach the $20 threshold — the only issue being that they included tampons and pantiliners. Since all these deals ended today, I won't go into the details since you won't be able to do them, but just give an overview of what I bought: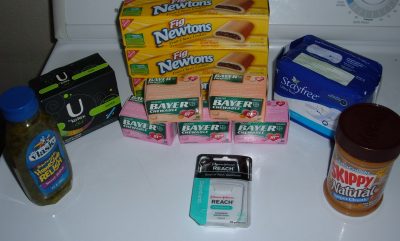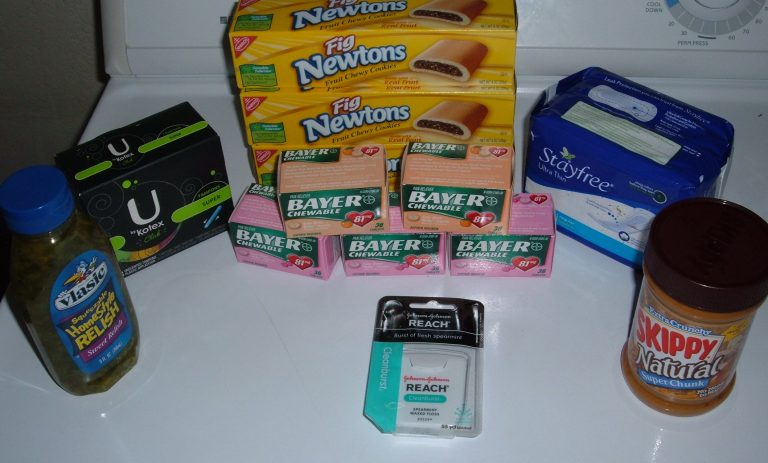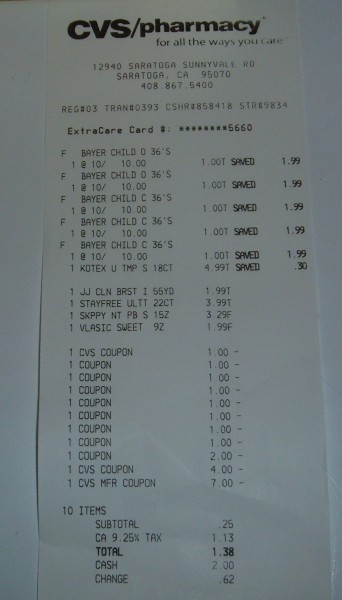 5 Bayer 36 count baby aspirin: $1.00 (used $1 off 1 Bayer coupon = Free)
1 Reach dental floss: $1.99 (used $1 off 1 J&J dental floss coupon = $1.00 and get $2.00 back for future purchase)
1 package of Kotex U tampons: $4.99 (used $1 off 1 Kotex U tampons coupon = $3.99 and get $4.99 back for future purchase)
1 package of Stayfree pantiliners: $3.99 (used $2 off 1 Stayfree coupon and get $2 back for future purchase)
These purchases added up to $15.97 meaning that if I bought $4.03 more in anything, I would reach the $20 mark to use the $4 off $20 purchase coupon. Knowing that I was going to have to buy tampons, I ended up spending an hour trying to decide if relish, mayo or dressing — along with a jar of Skippy Natural peanut butter — would really be worth going through the checkout line. I finally decided on peanut butter and relish ($3.29 and $1.99) which brought the total to $21.25.
I used all the coupons plus the $4 off $20 purchase coupon and $7 in CVS Extra Buck coupons I already had which brought the final price to $1.38 ($1.13 was taxes), but I received $8.99 back in CVS Extra Bucks — $1.99 more than I had used: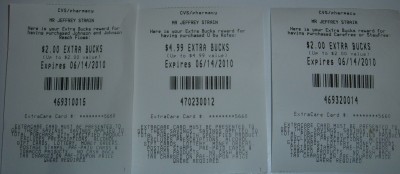 This meant that I actually made $0.67 on the transaction (I later decided that the mayo had more uses than the relish and traded it in – the mayo was $0.51 more than the relish meaning that in the end I made $0.16 profit)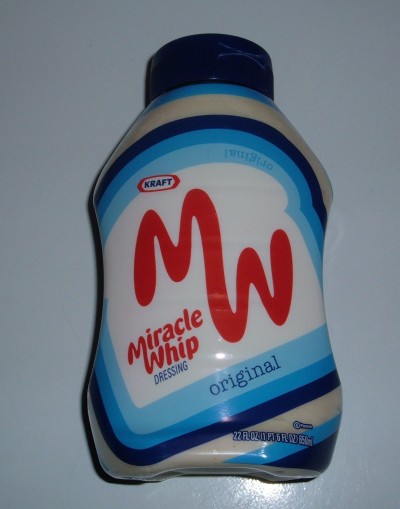 I also had a raincheck for Fig Newtons at $1 each from the previous week when they were all sold out. They had been restocked, so I purchased 3 and had three $1 off 1 coupons making them free as well: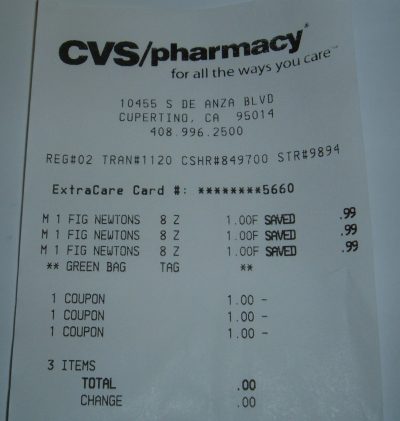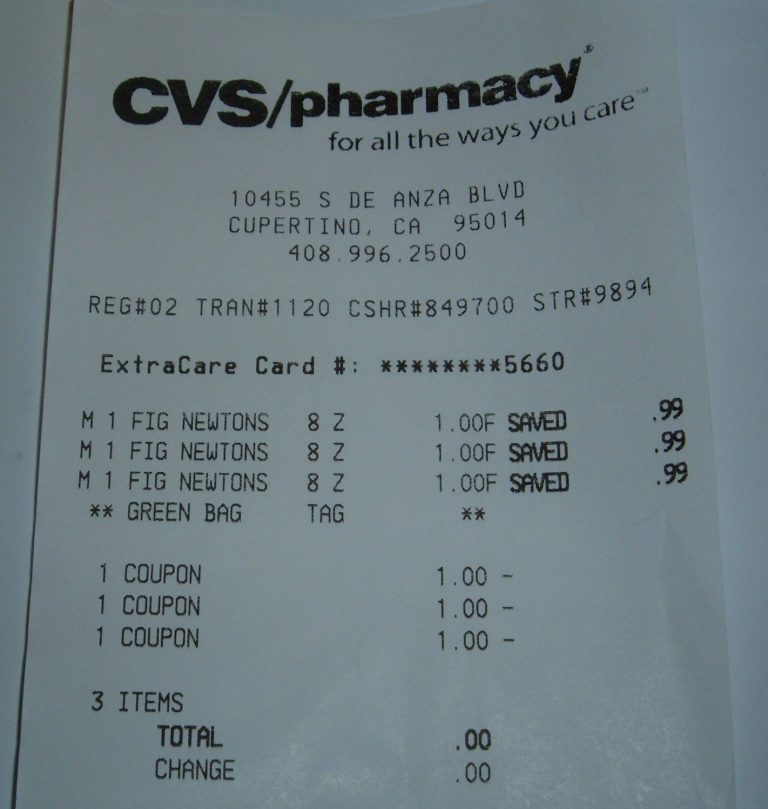 In addition to the CVS transaction, I also made a trip to Safeway to get milk and pick up a potato. The mild was 25% off and I had a $1 off milk coupon from some cereal promotion from the past which I used. For some reason, my Safeway card didn't scan meaning I paid a little more for the potato than I should have, but I didn't notice this until I was home. This transaction cost me $1.32: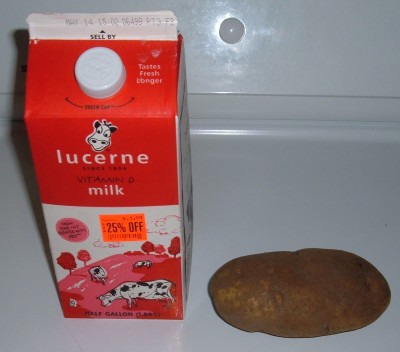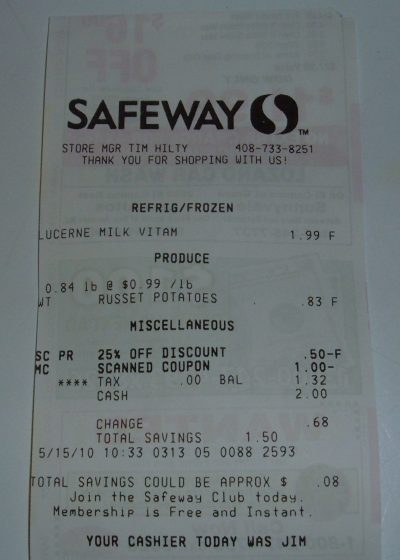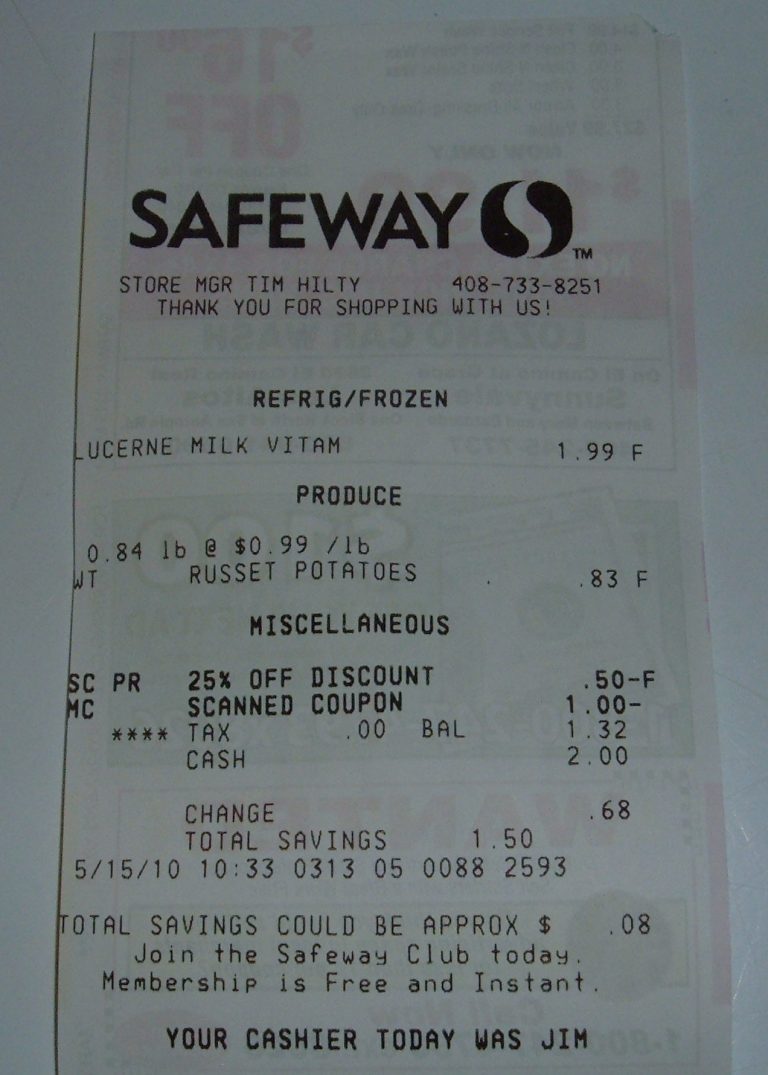 Breakfast
Since I no longer need to take the antibiotics I was prescribed at the beginning of the month, I skipped the oatmeal in the early morning, but I felt like I had less energy throughout the day, so I think I may go back to it again tomorrow and see if I feel a difference. Instead, I had my main breakfast about an hour earlier than I had been having it the last 10 days.
I had a bowl of cornflakes with banana on top (thus the need for the milk). I also grated up about 1/4 of the potato and cooked it up hash brown style. They needed salt and since I didn't have my Wheat Thins, I improvised and added salt from the bottom of the tortilla chip bag. I topped it with a spoonful of salsa. I also had a slice of whole wheat bread and a small cup of V8 spicy vegetable juice: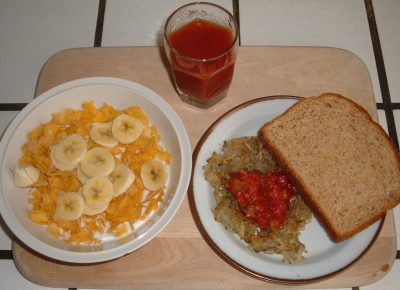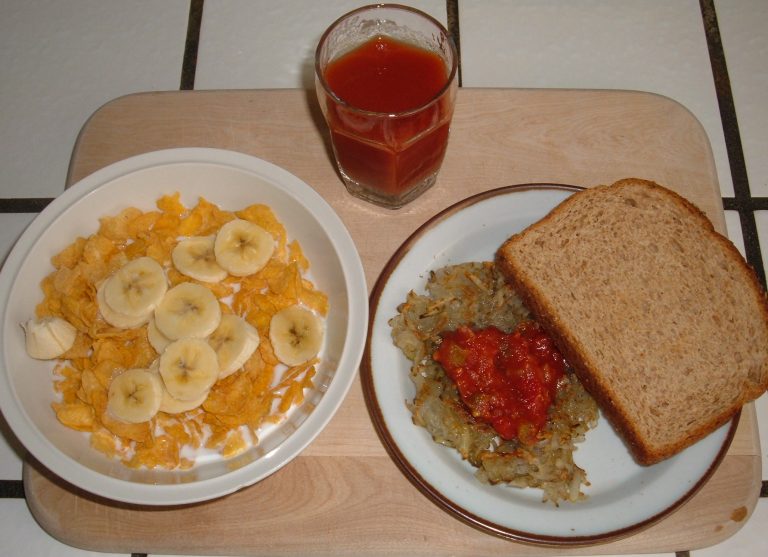 Lunch
As usual, it was a busy day and lunch had to be quickly thrown together. I had a peanut butter sandwich (I was going to make use of it right away after having to buy tampons for it) with a banana (I needed to use it up because with the increasing heat, they are ripening more quickly now). I also spread onion and chive cream cheese on a stalk of celery and added a few fig newtons as well. I poured a full glass V8 Fusion 100% Goji / Raspberry vegetable and fruit juice to round it off: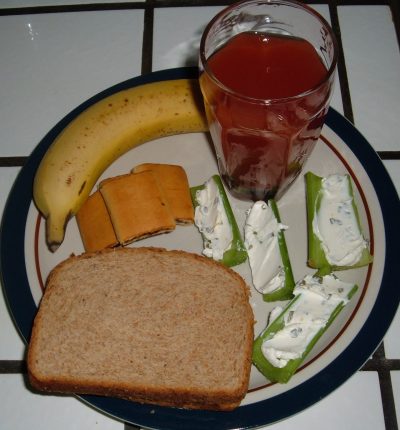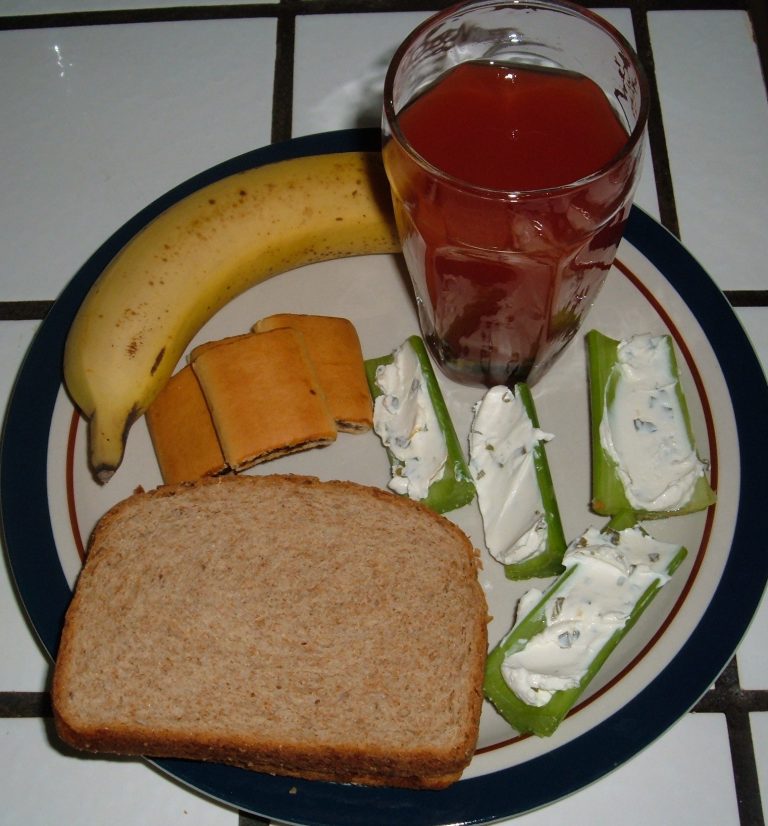 Dinner
I boiled a cup full of rotini pasta for dinner: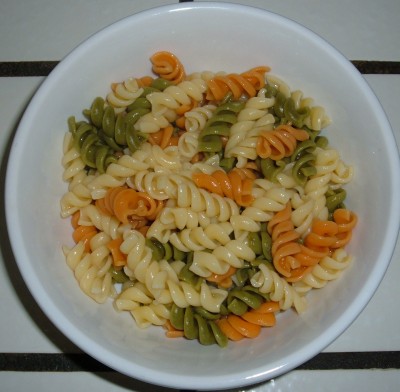 I then took a can of tuna, added Miracle Whip, a stalk of celery and half a tomato to make tuna salad. I thin placed this over the rotini to make a tuna pasta salad: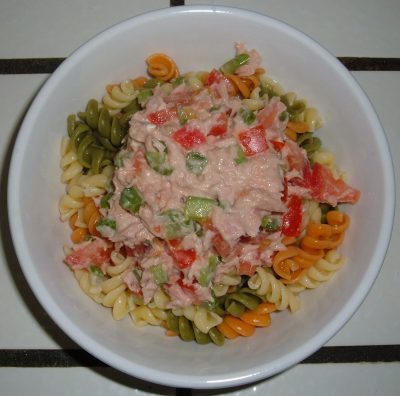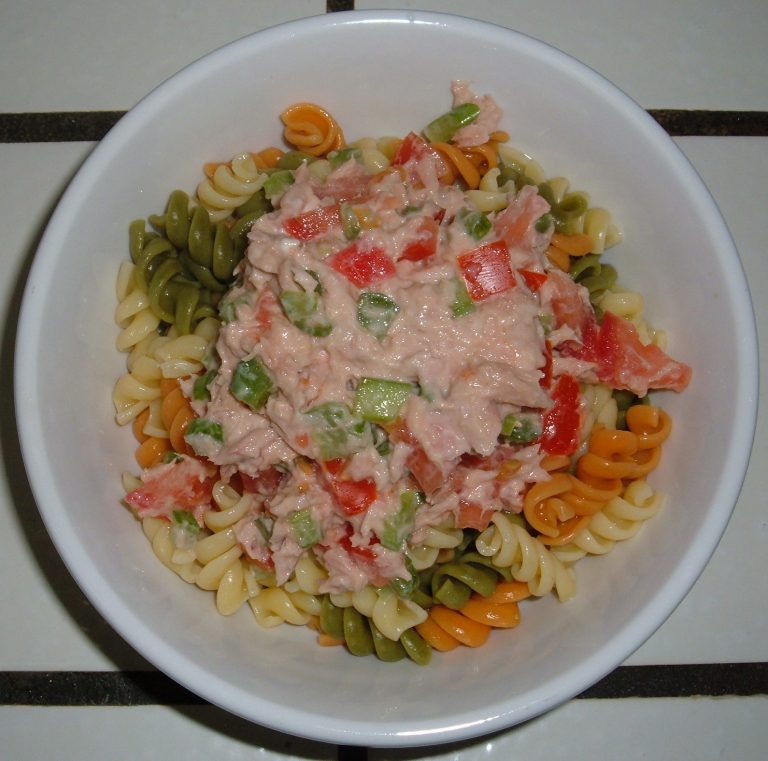 I think that these next two weeks will be a lot less stressful now that I have a decent base of food and I have my staples of milk, eggs and peanut butter with still almost half my money left to spend. It is a lot better position than I was in when this all started 2 weeks ago…
This is the current list of what I have purchased:
Money Spent $15.75
Money left to spend: 15.25 ($2 must be spent at CVS)
Retail Value of everything bought: $499.81
3 packages (small) Fig Newtons
1 jar Miracle Whip
1 potato
1 mystery purchase
1/3 lb ground beef
4 tomatoes on vine
2 broccoli crowns
1 loaf of bread
2 jars of Classico pasta sauce
2 Safeway brand pasta (spaghetti and rotini)
1 celery stalk
2 bags tortilla chips
3 cans tuna
1 bottle Welch's grape & peach 100% juice
1 bottle V8 Fusion fruit / vegetable drink
1 bottle V8 spicy vegetable drink
2 boxes of Caprisun fruit drinks (10 packs)
1 jar of salsa
1 bag of black beans
2 half gallons of milk
36 boxes of cereal
2 dozen eggs
2 avocados
11 bananas
2 boxes of Quaker Instant oatmeal
55 packs of Philadelphia Cream Cheese Minis
1 package of Knudsen Light sour cream
10 apples
2 lbs of carrots
8 boxes (small) of Wheat Thins
2 jars of Skippy All Natural peanut butter
2 cans of pork and beans
1 bag of long grain brown rice
2 packages of Mission 100% whole wheat tortillas (10 count each)
Donated Food / other items to Food Bank that was purchased with my $1 a day
1 Stayfree pantiliner package
1 Kotex U tampon package
5 Bayer children's aspirin
2 sticks of deodorant
4 bottles Windex multi-surface cleaner
1 can of Pork & Beans
32 boxes of cereal
50 packs of Philadelphia Cream Cheese Minis
4 boxes (small) of Wheat Thins
2 Scrubbing Bubbles Extend-A-Clean bathroom cleaner
2 Scrubbing Bubbles Extend-A-Clean bathroom cleaner refill
************************

The Beginning ::: Day 16: Over The Hump

************************