After getting all excited about the Kraft sample pack I received yesterday (and doing my little happiness jig around the house), reality set in when I went to the grocery store to claim my Deli Fresh sandwich meat (I was looking forward to having one for lunch) and finding that the store doesn't stock the two kinds that are listed on the coupon. My guess that it is because these are new varieties and it will take awhile before they reach store shelves. Total disappointment…
I did go ahead and pick up 3 bananas while I was there — they set me back $0.82: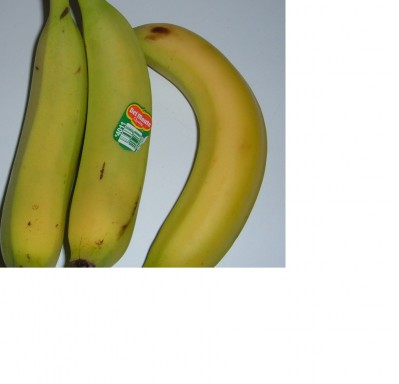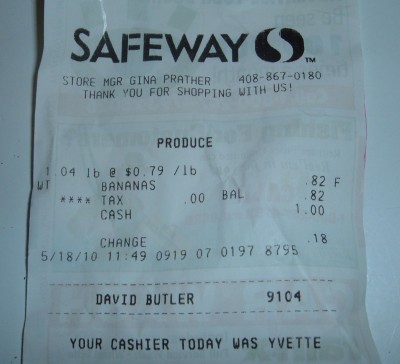 ***************************************
This is part of a month long challenge to eat well while spending an average of only $1 a day on food. You can find the beginning and the rules of this challenge here
***************************************
Breakfast
I decided to try adding the Welch's Grape/Peach 100% juice to the instant oatmeal I have when I first get up in the morning. I ended up boiling a small glass of it and adding it to the oatmeal — it certainly did flavor it, but all juice made it super sweet. It was better than eating the oatmeal plain, but way too sweet for my tastes. I will definitely have to give it another try with 1/4 or 1/2 juice and water. I think that would make it a lot better.
For my bigger breakfast, I heated up the spicy V8 rice I had cooked the night before and topped it with an egg. It was good, but I definitely like it better with salsa and added a spoonful to give it a little more zest. I also had a bowl of corn flakes with banana on top and a cup of V8 Goji / Raspberry vegetable and fruit juice (the last of that):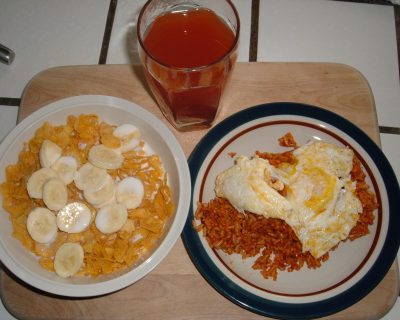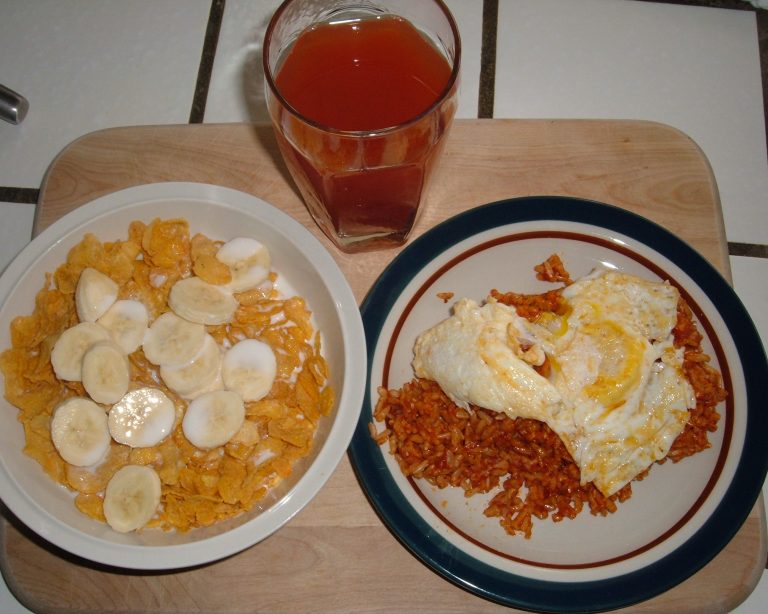 Lunch
Since my Kraft coupon not being usable totally ruined my planned lunch, I threw together a peanut butter sandwich on whole wheat toast, placed cream cheese on a stalk of celery, the rest of the banana, had a couple of fig Newtons and one of the sample bags of Wheat Thins: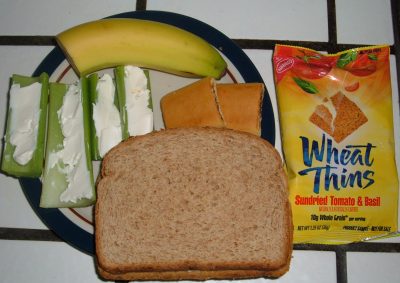 Dinner
I had a busy evening since it was the last day of the cereal sale at Safeway and I wanted to pick up a few more boxes for the local food banks before it ended. That meant that I didn't get home until about nine and I didn't want a big meal that late at night. I decided to boil up the remainder of my rotini pasta and chopped up a tomato on top: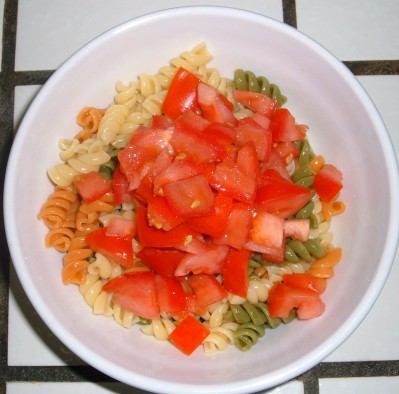 I then added a bit of Miracle Whip to give it some flavor: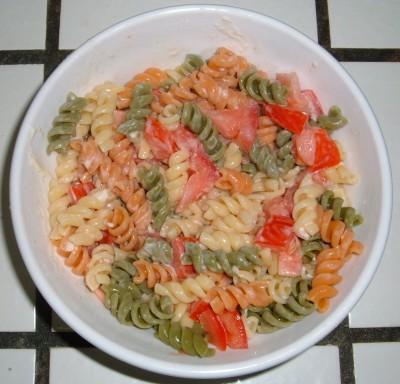 It was good, but would have been even better if I had some salad dressing. I'm not sure if there will be any sales on salad dressing in these last two weeks, but I will be keeping my eyes open just in case. I know that I have been able to get salad dressing for nearly free in the past, but as with all things when shopping this way, patience and timing are essential.
This is the current list of what I have purchased:
Money Spent $16.57
Money left to spend: 14.43 ($2 must be spent at CVS)
Retail Value of everything bought: $500.63
3 sample packs of Maxwell House Vanilla Carmel Latte
4 sample packages of Wheat Thins Sundried Tomato & Basil
3 packages (small) Fig Newtons
1 jar Miracle Whip
1 potato
1 mystery purchase
1/3 lb ground beef
4 tomatoes on vine
2 broccoli crowns
1 loaf of bread
2 jars of Classico pasta sauce
2 Safeway brand pasta (spaghetti and rotini)
1 celery stalk
2 bags tortilla chips
3 cans tuna
1 bottle Welch's grape & peach 100% juice
1 bottle V8 Fusion fruit / vegetable drink
1 bottle V8 spicy vegetable drink
2 boxes of Caprisun fruit drinks (10 packs)
1 jar of salsa
1 bag of black beans
2 half gallons of milk
36 boxes of cereal
2 dozen eggs
2 avocados
14 bananas
2 boxes of Quaker Instant oatmeal
55 packs of Philadelphia Cream Cheese Minis
1 package of Knudsen Light sour cream
10 apples
2 lbs of carrots
8 boxes (small) of Wheat Thins
2 jars of Skippy All Natural peanut butter
2 cans of pork and beans
1 bag of long grain brown rice
2 packages of Mission 100% whole wheat tortillas (10 count each)
Donated Food / other items to Food Bank that was purchased with my $1 a day
3 sample packs of Maxwell House Vanilla Carmel Latte
1 Stayfree pantiliner package
1 Kotex U tampon package
5 Bayer children's aspirin
2 sticks of deodorant
4 bottles Windex multi-surface cleaner
1 can of Pork & Beans
32 boxes of cereal
50 packs of Philadelphia Cream Cheese Minis
4 boxes (small) of Wheat Thins
2 Scrubbing Bubbles Extend-A-Clean bathroom cleaner
2 Scrubbing Bubbles Extend-A-Clean bathroom cleaner refill
************************

The Beginning ::: Day 19: Tough Day

************************
Rebate Fanatic. Saving you money every time you shop online!
Sign Up and Start Saving Today