Day 17 proved once again that you look at things from a very different perspective when you are eating on an extremely limited budget. I am still trying to digest the meaning behind the fact that it was worth it to me to buy tampons to get a free jar of peanut butter. Today I had to reflect upon how happy I became (I literally jumped out of my chair with excitement and did a little happy dance) when I received a package of free food from Kraft in the mail.
***************************************
This is part of a month long challenge to eat well while spending an average of only $1 a day on food. You can find the beginning and the rules of this challenge here
***************************************
Earlier this month you could "like" Kraft on Facebook and choose from several sample packages they were giving away. The time frame said that the packages wouldn't arrive for 4 to 8 weeks, so I anticipated that I would get mine after this challenge was over, but the package arrived today. In it were the following: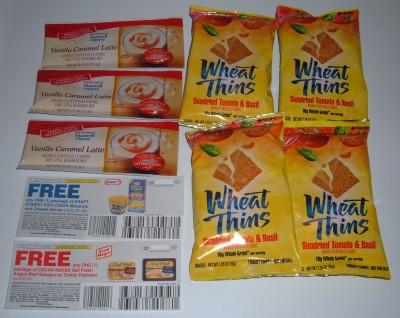 4 sample packages of Wheat Thins Sundried Tomato & Basil
3 sample packages of Maxwell House Vanilla Caramel Latte
1 coupon for a free package of Cheesy Explosion Macaroni & Cheese dinner
1 coupon for a free package of Oscar Mayer Deli fresh turkey pastrami
The wheat this will make a great snack or addition to a lunch. The more spice options from plain salt (I have been using salt from Wheat Thins and tortilla chips to give flavor to some meals). I have a feeling that the Maxwell House Vanilla Caramel Latte will end up in the trash. It is never a good sign when a coffee product has the ingredient "instant coffee" listed behind "sugar, nondairy creamer [corn syrup solids, partially hydrogenated coconut oil, sodium caseinate (from milk), dipotassium phosphate, mono-and diglycerides, artificial flavor] and maltodextrin. I will likely use the macaroni from the macaroni & cheese, but not the "cheese." I am most curious to see what the deli fresh turkey pastrami tastes like.
Breakfast
I stuck with my cup of oatmeal in the early morning even though i had run out of fruit to add flavor. I'm not sure why I do that to myself because I already know that I am not going to like it. I was just too lazy to make a trip to the store to get bananas after all the store trips I have been making recently. There was a good suggestion in the comments that I flavor the oatmeal with fruit juice which I will definitely give a try.
For the bigger breakfast, I chopped up part of my potato and fried it up and then placed an egg on top with a piece of whole what toast on the side. I also had a bowl of corn flakes and a cup of half water and half V8 Goji / Raspberry vegetable and fruit juice: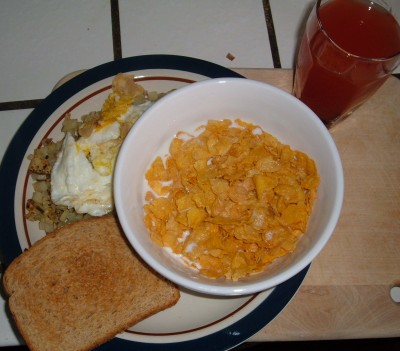 Lunch
I decided to have spaghetti for lunch and simply threw in a bunch of pasta and placed a light amount of the four cheese pasta sauce I had. While it doesn't look all that appetising from the photo, it was actually pretty good. I also discovered that I have always put way too much pasta sauce on my spaghetti in the past because I still got a good flavor with a fraction of the amount I would usually use. I also had another glass of half water / half V8 Goji / Raspberry vegetable and fruit juice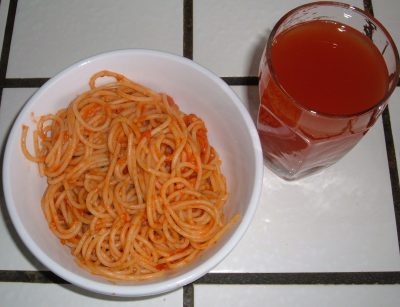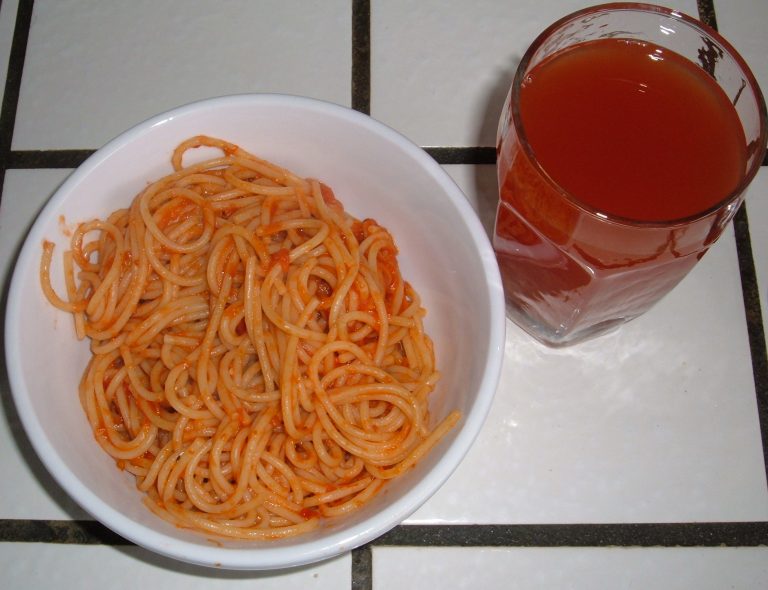 Dinner
I made another half cup of long grain rice in spicy V8 juice and used it with more of the left over black beans that I had to make a burrito (adding sour cream and salsa on top and wrapping it in a whole wheat tortilla — I only have one left). I still had more so I also placed a some is a small jar and mixed it up with sour cream and salsa to make a dip for tortilla chips. I also had a bit more of the steamed carrots and broccoli on the side.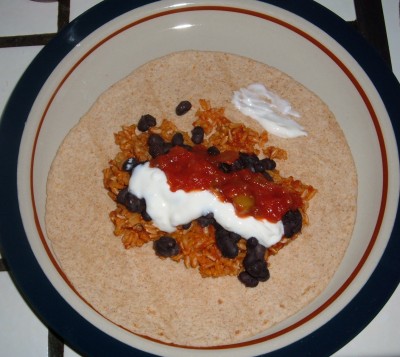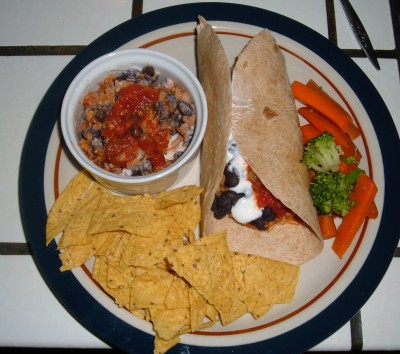 For the second day in a row, I had a snack of a Fig Newtons and a tortilla chips in between meals.
This is the current list of what I have purchased:
Money Spent $15.75
Money left to spend: 15.25 ($2 must be spent at CVS)
Retail Value of everything bought: $499.81
3 sample packs of Maxwell House Vanilla Carmel Latte
4 sample packages of Wheat Thins Sundried Tomato & Basil
3 packages (small) Fig Newtons
1 jar Miracle Whip
1 potato
1 mystery purchase
1/3 lb ground beef
4 tomatoes on vine
2 broccoli crowns
1 loaf of bread
2 jars of Classico pasta sauce
2 Safeway brand pasta (spaghetti and rotini)
1 celery stalk
2 bags tortilla chips
3 cans tuna
1 bottle Welch's grape & peach 100% juice
1 bottle V8 Fusion fruit / vegetable drink
1 bottle V8 spicy vegetable drink
2 boxes of Caprisun fruit drinks (10 packs)
1 jar of salsa
1 bag of black beans
2 half gallons of milk
36 boxes of cereal
2 dozen eggs
2 avocados
11 bananas
2 boxes of Quaker Instant oatmeal
55 packs of Philadelphia Cream Cheese Minis
1 package of Knudsen Light sour cream
10 apples
2 lbs of carrots
8 boxes (small) of Wheat Thins
2 jars of Skippy All Natural peanut butter
2 cans of pork and beans
1 bag of long grain brown rice
2 packages of Mission 100% whole wheat tortillas (10 count each)
Donated Food / other items to Food Bank that was purchased with my $1 a day
3 sample packs of Maxwell House Vanilla Carmel Latte
1 Stayfree pantiliner package
1 Kotex U tampon package
5 Bayer children's aspirin
2 sticks of deodorant
4 bottles Windex multi-surface cleaner
1 can of Pork & Beans
32 boxes of cereal
50 packs of Philadelphia Cream Cheese Minis
4 boxes (small) of Wheat Thins
2 Scrubbing Bubbles Extend-A-Clean bathroom cleaner
2 Scrubbing Bubbles Extend-A-Clean bathroom cleaner refill
************************

The Beginning ::: Day 18: Disappointment

************************
Rebate Fanatic. Saving you money every time you shop online!
Sign Up and Start Saving Today