As I have mentioned before, I should have thought through that I really don't enjoy shopping or cooking before I decided to attempt this challenge. Add another thing I should have considered to that list: eating on $1 a day is not fun when you move around a lot.
I have a house sitting job the next five days which meant that I had to take all my food along with me. It also means I have to spend time figuring out what supermarkets are in this area for any shopping I do this week. It simply adds another layer of difficulty to the project which can be time consuming.
***************************************
This is part of a month long challenge to eat well while spending an average of only $1 a day on food. You can find the beginning and the rules of this challenge here
***************************************
I don't know if it was having to move everything, a lack of sleep, eating a single breakfast this morning or the fact that the house I am house sitting for has chocolate everywhere which I can't touch (probably a combination of all of the above), but I had another one of those days where I was craving snacks all day and broke down and ate whatever I could get my hands on. This binge ended up wiping out the rest of the tortilla chips I had, my second box of Fig Newtons, several of the CapriSun juice packs and more of my precious peanut butter. I hate when this happens because it throws a huge wrench into my future meal planning plus I find when I don't have access to snacks, I tend to crave them more. Let's hope it was just a one day rampage and I can get back to my eating routine again.
Breakfast
It was a busy morning since I had to pack up and head off to the house sitting job that I have and it didn't help that I ended up getting up late. It was a rushed breakfast which consisted of a bowl of Corn Flakes with banana on top and a package of instant oatmeal flavored with 1/2 grape/peach juice and 1/2 water (this made it much less sweet than yesterday and much better).
Lunch
I decided to use my last whole wheat tortilla since it was getting old and I have decided to use up as much as I can while here without buying more so I don't have to drag back as much stuff when my house sitting gig is up. I had the old standby peanut butter and banana tortilla with a sample bag of the Wheat Thins, a few Fig Newtons and a Caprisun juice pack: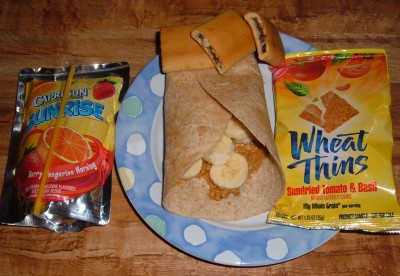 I had lunch earlier than usual (around noon versus 2:00 when I had been eating) and the munchies started about 3:00 pm. I polished off the bag of tortilla chips first, then moved onto the rest of box #2 of Fig Newtons. I also had a few more of the CapriSun juice packs before dipping into the peanut butter. It was a close call breaking down and eating some of the chocolate available (along with thoughts of going out and buying myself some), but I suffered through it and hopefully the worst is behind me
Dinner
Not surprisingly, I didn't have to make myself a big dinner after all that snacking. I boiled up some spaghetti and used the four cheese pasta sauce. I also used the last of the steamed carrots and broccoli that I had as a side dish: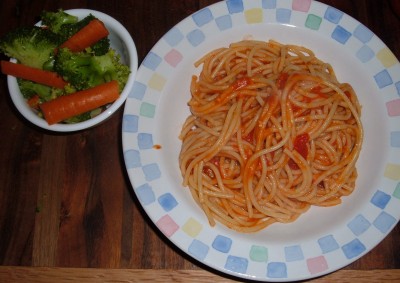 I am house sitting until next Monday and I am sure that this will throw some unexpected obstacles that I have not anticipated my way for this $1 challenge. I am glad that I have now built a small cushion where my spending is actually a bit behind $1 a day and we will cross those challenges when they appear.
This is the current list of what I have purchased:
Money Spent $16.57
Money left to spend: 14.43 ($2 must be spent at CVS)
Retail Value of everything bought: $500.63
3 sample packs of Maxwell House Vanilla Carmel Latte
4 sample packages of Wheat Thins Sundried Tomato & Basil
3 packages (small) Fig Newtons
1 jar Miracle Whip
1 potato
1 mystery purchase
1/3 lb ground beef
4 tomatoes on vine
2 broccoli crowns
1 loaf of bread
2 jars of Classico pasta sauce
2 Safeway brand pasta (spaghetti and rotini)
1 celery stalk
2 bags tortilla chips
3 cans tuna
1 bottle Welch's grape & peach 100% juice
1 bottle V8 Fusion fruit / vegetable drink
1 bottle V8 spicy vegetable drink
2 boxes of Caprisun fruit drinks (10 packs)
1 jar of salsa
1 bag of black beans
2 half gallons of milk
36 boxes of cereal
2 dozen eggs
2 avocados
14 bananas
2 boxes of Quaker Instant oatmeal
55 packs of Philadelphia Cream Cheese Minis
1 package of Knudsen Light sour cream
10 apples
2 lbs of carrots
8 boxes (small) of Wheat Thins
2 jars of Skippy All Natural peanut butter
2 cans of pork and beans
1 bag of long grain brown rice
2 packages of Mission 100% whole wheat tortillas (10 count each)
Donated Food / other items to Food Bank that was purchased with my $1 a day
3 sample packs of Maxwell House Vanilla Carmel Latte
1 Stayfree pantiliner package
1 Kotex U tampon package
5 Bayer children's aspirin
2 sticks of deodorant
4 bottles Windex multi-surface cleaner
1 can of Pork & Beans
32 boxes of cereal
50 packs of Philadelphia Cream Cheese Minis
4 boxes (small) of Wheat Thins
2 Scrubbing Bubbles Extend-A-Clean bathroom cleaner
2 Scrubbing Bubbles Extend-A-Clean bathroom cleaner refill
************************

The Beginning ::: Day 20: Forgetfulness Is Costly

************************
Rebate Fanatic. Saving you money every time you shop online!
Sign Up and Start Saving Today